Here's Where You Can Rally In Support Of Sex Workers This Weekend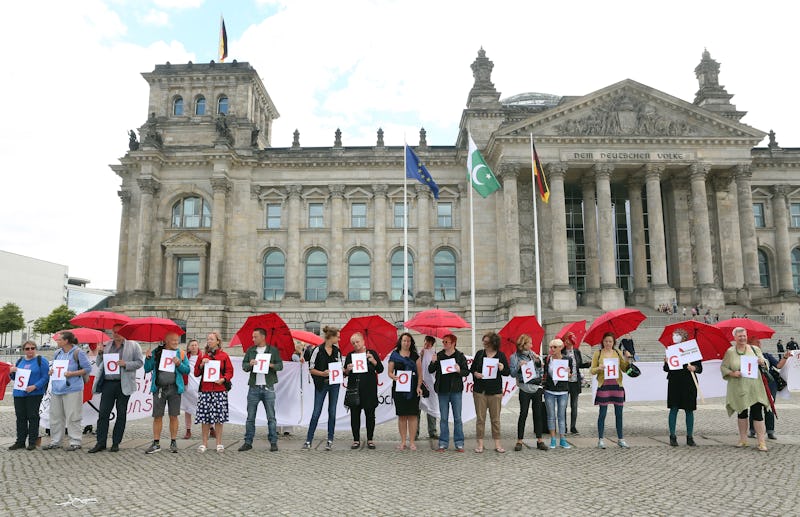 Adam Berry/Getty Images News/Getty Images
On June 2, sex workers and their allies will dress in red and march through cities across the country. The marches are in recognition of International Whore's Day (IWD), which was created to commemorate the 1975 occupation of Église Saint-Nizier in Lyon, France — as well as five other churches — by thousands of sex workers, who were protesting inhumane working conditions. They were tired of police brutality, the closing of their hotels, and the criminalization of pimps, which targeted their friends and lovers.
This year, 43 years after that protest, sex workers are still fighting for their rights worldwide. In the United States, all forms of sex work are stigmatized and many are illegal. And this year is particularly important, as the US government recently passed a law called SESTA/FOSTA which has closed off access to clients, referral networks, and payment for sex workers throughout the United States.
"Now is the time to show your support for sex workers because in the wake of SESTA and other legislation passed designed to target sex workers and our civil rights, every day something else is being ripped away: Our marketing platforms, our Instagram accounts, websites and recently the hashtags we use like a bat signal to flag each other down in order to mobilize," writing instructor, stripper, and performer Antonia Crane tells Bustle. "In this moment, sex workers are being criminalized and forced to hide, which is the opposite of being free — liberated."
In honor of that, marches will be held in Los Angeles, New York, DC, Chicago, the Bay Area, Austin, and Las Vegas. While each city has its own planned speakers and events, attendees can expect to hear from sex workers, sex worker rights advocates, civil rights advocates, freedom of speech advocates, among others. Marchers will be wearing red and carrying red umbrellas, a symbol of the sex work community. Sex workers and allies interested in attending this those cities can find more information on the Survivors Against SESTA page.
In addition to the marches, sex work advocacy groups are planning actions across the country — but IWD isn't just a thing in the United States. As the name suggests, it's a worldwide day of action and, in fact, it's much more widely recognized in Central and South America. IWD in the United States is being presented by Survivors Against SESTA with the goal of making sex workers rights as central an issue as it already is in Latin America.
During this particular moment in political history, when marginalized groups are banding together, speaking out, and pushing back against a political system that seems determined to keep them oppressed, sex workers are a particularly maligned group. However, Lola Balcon, community organizer for Survivors Against SESTA, tells Bustle that the sex work community includes people from a wide range of backgrounds: women, POC, trans people, non-binary people, immigrants, and LGBTQ folks in particular.
"We are another group of marginalized people who deserve the exact same rights of other people," Balcon says. "Sex work is a thing and I'm encouraged by the number of people who are are allies who are coming forward and saying 'What can we do? How can we help?'"
So if you're interested in helping — in doing something to support the rights of this intersectional group — show up on June 2. And after June 2? Vote. Donate. Volunteer. Be vocal about your support of sex workers. It takes a lot of voices to make change happen and yours can be one of them.