Ivanka Trump Backs This Anti-Trafficking Bill — But Sex Workers Say It Puts Them In Danger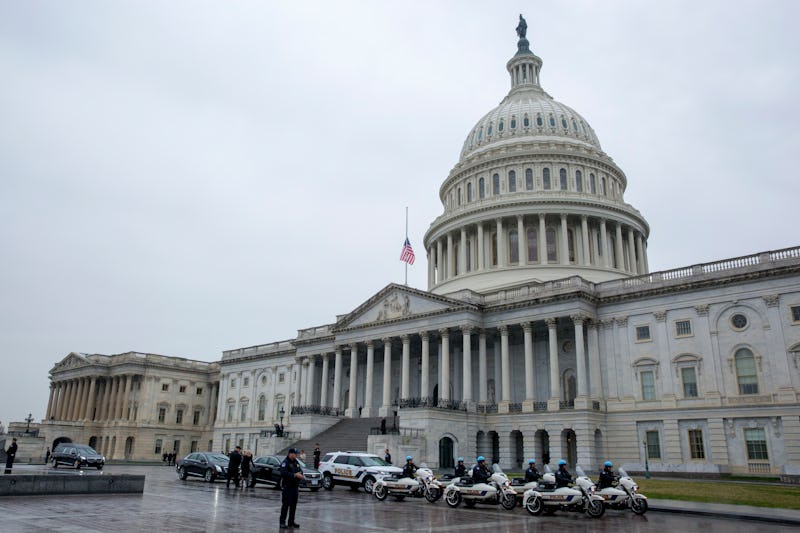 Pool/Getty Images News/Getty Images
On Wednesday, the Senate passed the bipartisan Stop Enabling Sex Trafficking Act (SESTA), a bill that ostensibly aims to strengthen America's sex trafficking laws. But sex workers and sex trafficking victim advocates oppose SESTA, as does the American Civil Liberties Union (ACLU), various internet freedom groups, and even the libertarian Cato Institute, and it's worth taking a look at why.
SESTA is one of the few pieces of major legislation to enjoy broad bipartisan support. Before the Senate voted on it, Ivanka Trump promoted the legislation on Twitter, and proclaimed that she is "committed to ending this shameful crime & restoring safety & hope for our citizens." Seth Meyers and other celebrities starred in a video promoting the bill, and when it came up for a vote, it received the support of senators from Kirsten Gillibrand to Marco Rubio. In fact, only two senators — Ron Wyden and Rand Paul — voted against it.
But SESTA's opponents have been arguing for months that the bill fails to distinguish between forced sex trafficking and consensual sex work. As a result, opponents say, the legislation will end up punishing and threatening the livelihood of sex workers, a marginalized group that already lacks basic protections under the law.
Others, such as the Electronic Frontier Foundation, have argued more broadly that the bill is a threat to freedom of speech on the internet in general. The ACLU wrote in 2017 that the bill threatens "political, artistic and commercial speech [on the internet] without improving the plight of sex trafficking victims." The Cato Institute, which rarely agrees with the ACLU on anything, has called the legislation "the death of an open internet."
In essence, SESTA would make it easier for authorities to take action against websites that are perceived to be facilitating sex trafficking. The bill centers on Section 230 of the Communications Decency Act, a 1996 law that protects website operators from being held legally liable for the content that their users post. SESTA would modify Section 230 to remove those protections for website owners if the websites in question are "publishing information designed to facilitate sex trafficking or otherwise facilitating sex trafficking."
The central problem with the bill, opponents say, is that it will allow authorities to shut down websites that many sex workers rely on regularly to stay safe. One such website, Backpage, has been targeted by lawmakers and prosecutors in the past, and is frequently cited by SESTA's supporters in Congress as justification for the bill's existence.
But sex workers and their advocates say that Backpage is in fact an invaluable resource for sex workers — a place to share information about problematic or violent clients and trade general tips on how to stay safe in an incredibly dangerous line of work.
On Instagram, adult performer Lorelei Lee outlined the argument against SESTA:
This bill claims to target human trafficking, but does so by creating new penalties for online platforms that are overwhelmingly used by consensual, adult sex workers to screen clients, to share "bad date lists," to work indoors, and to otherwise communicate with each other about ways to stay alive. Data shows that access to these online platforms decreases violence against sex workers, but I don't need data to know that my friends are safer with the ability to screen clients, to share information, and to work
I know that supporters of these bills want to end violence against women and against marginalized people of all genders. So do I. SESTA will only increase violence against the most marginalized.
The Sex Workers Project, an advocacy group for sex workers, made a similar point against the House of Representatives' version of the bill, known as FOSTA. In February, the organization argued that the legislation "will turn the harm reduction tools like bad date lists, online community support and opportunities for screening for violence into a Federal crime, punishable up to 10 to 25 years."
The bill does have some supporters outside of Congress. They include the National Center on Sexual Exploration, a controversial advocacy group that opposes pornography and the decriminalization of sex work, as well as UNICEF, much of the film industry and the president's daughter.
FOSTA passed the House of Representatives in February. Now, House and Senate lawmakers will rewrite the two bills into one unified piece of legislation and vote on it again, at which point it will head to President Trump's desk for a signature.