This Industry Change To On-Screen Sex Scenes Is SO Necessary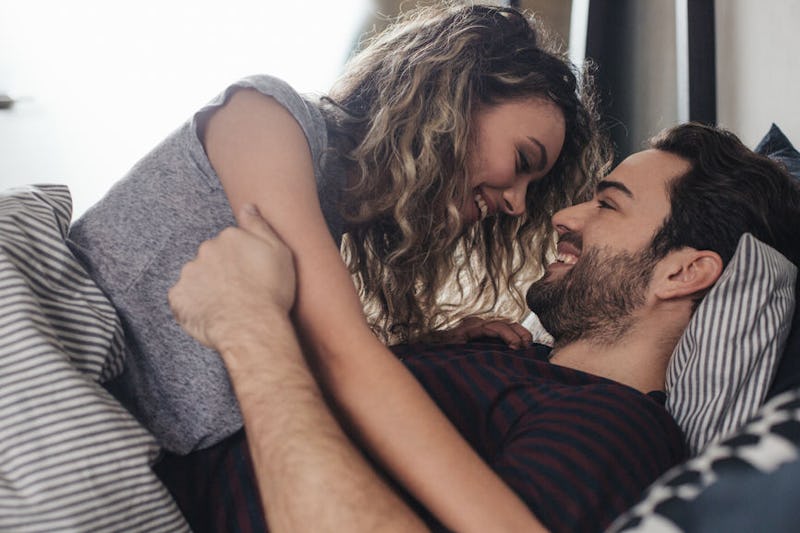 Lumina/Stocksy
Filming a sex scene is a sensitive matter, especially in an industry that's come under recent scrutiny for the widespread exploitation and abuse of women. That's where intimacy coordinators Ita O'Brien and Alicia Rodis come in. O'Brien's worked on productions like Netflix's Sex Education, Channel 4's Humans and Electric Dreams, and film The Girl with All the Gifts, while Rodis worked on HBO's The Deuce and now consults on sex scenes for the network. So what, exactly, is an intimacy coordinator? Here's what O'Brien and Rodis do, and why their roles are quite so vital.
As the Radio Times explains, an intimacy coordinator — to put it somewhat simply — choreographs sex scenes, much like a stunt coordinator might choreograph an on-screen fight. But the role goes deeper than that. O'Brien's responsibilities also include determining whether all actors have given proper consent to all aspects of the scene, minimising the crew on set, ensuring the use of suitable genital coverings, and making sure "proper and anatomical" language is used to describe the scene.
The role of intimacy coordinator, O'Brien told the magazine, has flourished in the wake of the Harvey Weinstein scandal and the subsequent conversations about widespread sexual misconduct in the entertainment industry. "This has been able to happen post-#MeToo because the injury has been emotional and psychological," she said. "Anyone might have spoken about it before but it wasn't given the time of day. It wasn't given credence until Weinstein happened and women were saying, 'I've been mistreated and I have trauma from this.' And finally people are saying, 'Okay, we understand, we're taking notice and we're listening.'"
Alicia Rodis, intimacy coordinator for HBO, pinpointed another crucial moment that influenced public perception of her profession: Donald Trump's Access Hollywood tape, in which he boasted about grabbing women "by the pussy." "I think that was a huge turning point in companies and institutions saying, 'Oh, what are we doing to change that narrative that women can just be grabbed? That people can just be grabbed?'" she told the Guardian.
The Radio Times cites the infamous rape scene in 1972's Last Tango in Paris, after which actor Maria Schneider, then 19, said she felt "a little raped" by the 48-year-old Marlon Brando. Schneider, as the Guardian reports, recalled in 2007 that the details of the scene weren't in the original script, saying, "I should have called my agent or had my lawyer come to the set because you can't force someone to do something that isn't in the script, but at the time, I didn't know that."
Director Bernardo Bertolucci confirmed in a 2013 interview that he didn't tell Schneider the specifics of the anal rape scene, saying, "I think she hated me and also Marlon because we didn't tell her that there was that detail of the butter used as lubricant."
Ita O'Brien told the magazine that had she been there as an intimacy coordinator, she'd "get the actor and director to talk to [her] about what they wanted from the scene and make sure that for all parties there's clear transparency, clarity and understanding about what's being asked and then talk about the shape of the scene and the physicality that's wanted."
So what about the specifics? O'Brien said she typically doesn't condone tongue kissing on set. "The basic guideline is that your personal body should not be penetrated and there shouldn't be an exchange of fluids. So absolutely no tongues," she said. "But there are situations when it's really intimate and a director wants it — if both actors are happy and everybody's agreeing, you can go for it." Actors can use safe words or the "traffic light system" ("Green: everything's fine, amber: I'm a bit shaky, red: stop," O'Brien explained) to shut down the action should they require a break.
The cast, crew, and scriptwriters should always use "anatomical names" when directing, writing, or discussing sex scenes, O'Brien said. "It makes a big difference, it's respectful language." An intimacy coordinator should also reduce the crew on set for the scene.
O'Brien also offers emotional support to the cast and crew involved in a sex scene. "Part of my work as an intimacy coordinator is that I will check in with the actors before they come to set," she told the Radio Times. "I'll check out what the content is, what the concerns are and do the risk assessment. Then at the end of the day I'm encouraging them to do a warm down or put in practices where they can really let go of the character."
"A couple of days later I will check in with them to make sure that they're comfortable with what happened on set, making sure it's book-ended," she added.
Rodis' company, Intimacy Directors International, consulted experts to ensure they could properly choreograph sex scenes, including psychologists, social workers, and trauma experts to understand how to best support the actors involved. "The art is uncomfortable," she told the Guardian. "Doing these scenes is uncomfortable. We want to make sure everyone's safe."