Here's Everything You Need To Know About Apple's New iOS 12 Update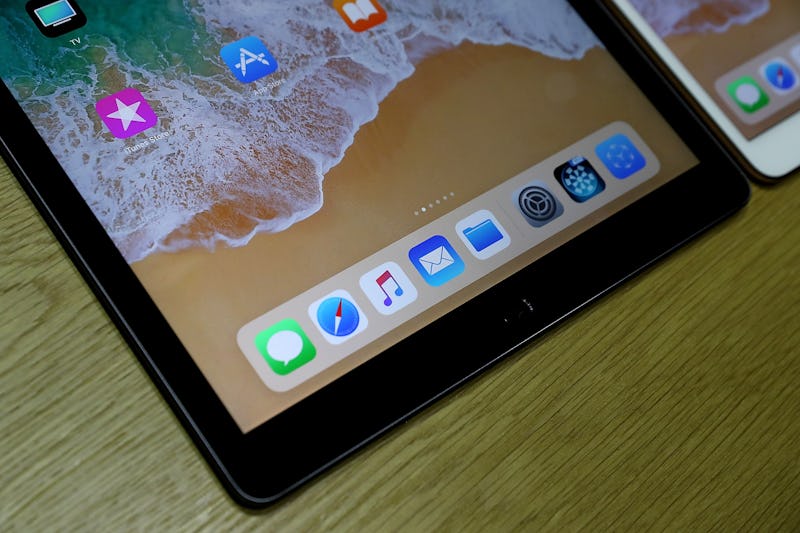 Justin Sullivan/Getty Images News/Getty Images
Change can be refreshing — especially when it comes to our iPhones. So if you're due for a little digital makeover, get ready to plug in. Apple's Worldwide Developers Conference (WWDC) is happening in San Jose, CA on Jun. 4 until Jun. 8, and you'll want to know what's new in iOS 12. Shake off last year's software and slip into something a little more comfortable. Literally. The latest announcements from Apple WWDC 2018 is centered around ~wellness~ and performance.
The conference is an annual gathering for developers discuss and declare all things software — and, true to form, Apple's WWDC 2018 officially announced that iOS 12 is the next update coming to iPhones, Macbooks, iPads, and other products that the previous update, iOS 11, worked on.
Even better, according to the news revealed during the conference, those digital bugs that slow down your iPhone and iPad's speed have been exterminated. Additionally, opening apps will be faster and preserving battery life will be easier.
Measure App
It was announced today that Apple will release the "Measure" app. This app will enable augmented reality because we're living in the future, people. This app will use the ARKit to measure objects in the real world.
Faster Performance
Apple's Senior Vice President of Software Engineering, Craig Federighi, announced that the software team doubled down on performance for iOS 12. Scrolling through your phone and jumping from app to app? With the updated operating system, your phone will be "more responsive." After putting a phone through a "stress test" the device performed twice as fast when it came to launching apps. And the software will detect when there's "a burst of activity" to ramp up processor performance and then ramp it down to preserve battery life. Thank you.
New AR Capabilities
In the updated operating system the physical and digital space combine. With new augmented reality capability, things are going to change from files to browsing Safari to messages. In the market for a new Fender guitar? Click on the AR icon of the guitar of your choice on the website in your Safari app for a closer, more in-real-life effect. You can see what the guitar will look like IRL and as its real size. I don't know about you, but I'm shook.
A New Way To Search For Photos
We love photos. We re-live moments through our photos. And now it's easier than ever to do just that with a new search feature. Sure, with iOS 11 you can organize your pictures with a map and face recognition, but searching is getting an upgrade and it basically eliminates a purpose to scroll through thousands of pictures. Users can now search by broad categories and locations. For example, search "hiking" and you'll get a hoard of pictures you took in the woods. There will also be featured photos to remind you of the good times.
Siri Will Be Your New Best Friend
If you think you and Siri have a good thing going as is, just wait for iOS 12. It was announced today that Siri will pretty much be your new best friend, assisting you seamlessly with the day to day. You will be able to assign personalized Siri specific shortcuts to apps. Lost your keys? Tap and say, "I lost my keys." Siri will activate the Tile app so you can get to your keys a little faster.
You'll also be able to set reminders and receive suggestions so you'll never forget to call Grandma on her birthday ever again. Need to know how long it will take you to get home? And want your favorite station to play when you get in the car? Simply refer to Siri who will let you know it will take approximately 15 minutes with current traffic before starting NPR.
News and Voice Memo Update
The News app will experience a browse tab makeover, making it easier to find new sources. News will also be brought to Stocks. And now, if you're more of an iPad person, you'll be able to use Voice Memo on the device!
Apple Books
Apple Books dropped the "i" but there's so much more to the update than that. The library of e- and audio books will bookmark your "page" so you can pick up where you left off.
Car Play Will Support 3rd Party Navigation Apps
Don't text and drive. You shouldn't fiddle with your phone at all when behind the wheel! That's why CarPlay is essential. Because we're so connected with our iPhones, brining the home screen to the car's screen makes everything easier and prioritizes safety. Now, CarPlay supports 3rd party navigation apps so you can pull up Waze on the dashboard.
Screentime and App Limits
Digital wellness. It is a thing. And we should pay attention to it. Hey, after many cozy years with my iPhone I'll confess that I can totally relate to a mosquito drawn to a lamp. And sure, maybe I need to be more responsible to the amount of time I spend on my phone. So, if your relationship with your technology surpasses sidekick and is a full fledged additional appendage at this point, Apple has a bit of a digital detox for you. And of course it's all in the apps.
To avoid distraction during the day, Apple will introduce the Screentime and App Limits feature. Screentime "empowers you with how you spend time." It will provide a report for how much time you're spending on your phone and break it down app by app. Prepare yourself for a reality check. After becoming shook by the amount of time you're tuned into a screen, you'll be able to correct your course with App Limits. Here, you'll be able to, you got it, set your own limits. And when you're almost at the end of your allotted Instagram time, you'll receive a notification.
Do Not Disturb App
Ever wake up to a phone littered with notifications? You can now set your phone to "Do Not Disturb" before bed and your phone will snooze right alongside with you. Don't worry, you'll still get the messages you received while you finally, actually got to rest. But your phone will wake up with you, slowly, so your eyes aren't barraged with news and messages the second they open.
Animoji and Memoji in Messages
Are you ready to basically become your own Pixar character? Because that's what is essentially happening with Memoji. Create your very own, very realistic Memoji — I'm talking down the amount of freckles — and chat. As a digital representation of you. Memoji can be sent as a reaction to a text or even in place of your face in FaceTime. Stick out your tongue and your Memoji will too. Guys. I'm ready to be animated.
Animoji will add Ghost, Koala, Tiger and T-Rex to the roster.
Group FaceTime
First of all, with all the new digital wellness features, you can pretty much mute all those group text notifications if they're becoming too much and taking away from your day to day work. This announcement, as you can imagine, got a applauded response because that group text notification life is too real.
But now you can turn a group text into a Group FaceTime. And guys, the capacity isn't just for two to three friends. Group FaceTime can support up to 32 participants. I don't even think I talk to 10 people simultaneously. So that's incredible, to be honest. You can live it up on Group FaceTime from your iPhone, iPad, Mac and even tune in audibly with the Watch.