Here's What Jubilee From 'BiP' Has Been Doing Since She Last Left Paradise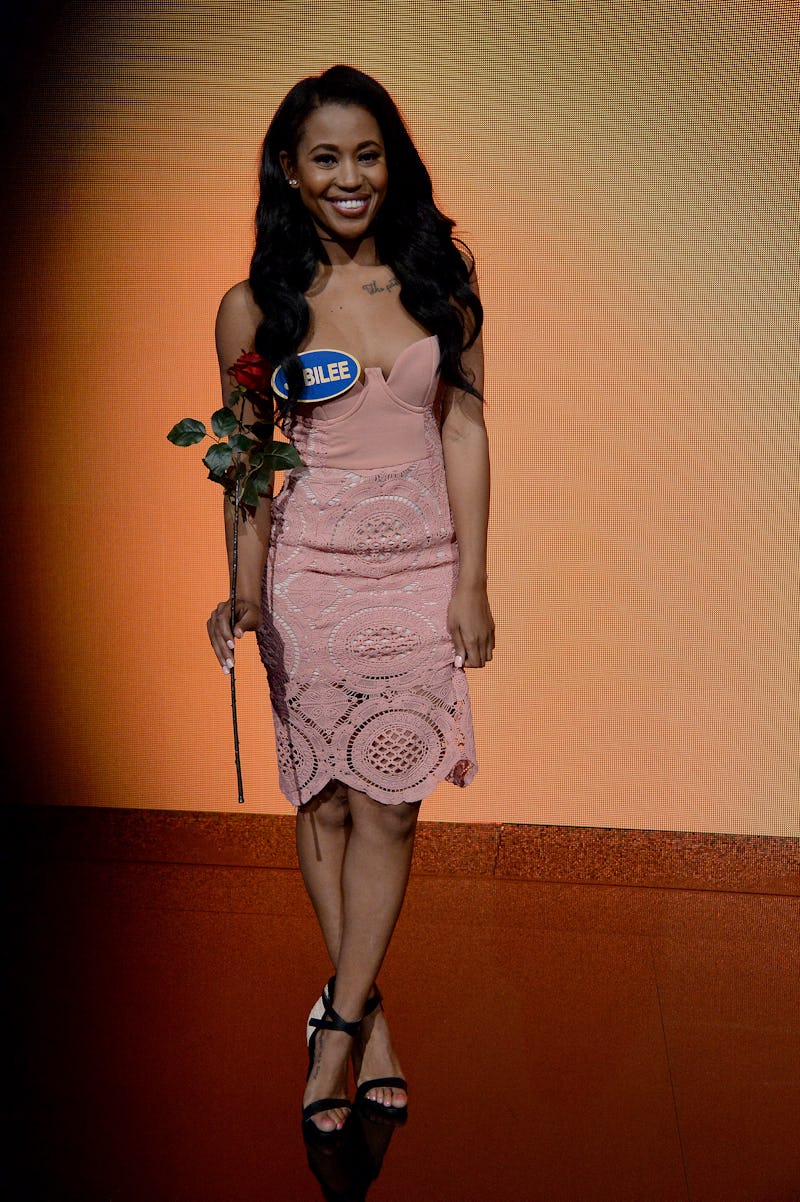 Eric McCandless/ABC
The new arrivals in week two of Bachelor in Paradise have definitely shaken things up in Mexico. Couples that looked established are being broken up, and Venmo John has suddenly become a hot commodity, going on two back to back dates with newbies Caroline and Jubilee. Yes, that's right, Jubilee is back, and the veteran Bachelor Nation member (and literal United States Army veteran) is in Paradise for a second time, looking to find love. She revealed when she arrived that she had officially finished her final tour of duty for the military, and has moved fully into civilian life. But what is Jubilee's job now?
The former Bachelor contestant quite literally can do it all. She first appeared on Ben Higgins' season of The Bachelor, and while Ben was attracted to her independent and fierce personality, Jubilee was eventually sent home. During her stint on the show, Jubilee revealed that she had been a member of the military since the age of 18.
During her last tour of duty, Jubilee had moved up in the ranks to become a sergeant, according to Life & Style. As she told Venmo John when the two were bonding over their shared tech nerdiness, Jubilee worked on programming computers and radios during her service.
Now that Jubilee has officially moved into civilian life, she is trying her hand a few different things. Life & Style reports that Jubilee has had some work as a model, and has also been studying to become a cardiovascular sonographer. Clearly, the veteran has had incredible successes so far in her career. And she's just getting started.
Alas, Jubilee has had a bit less success in her love life. She failed to win Ben Higgins' heart on The Bachelor, and her first appearance in Paradise found her smack in the middle of a love triangle (or love quandrangle?) when she went on a date with Jared, who was simultaneously being pursued by Caila and his now-fiancé Ashley I. Even though it seemed like she and Jared had totally hit it off, he ended up giving someone else his rose that week, sending Jubilee home.
Maybe the third time on a Bachelor show will be the charm for Jubilee, although she's already managed to find herself in the middle of another love triangle. Jubilee is known for her forceful personality, and that attitude was on full display when she walked over to ask John on a date right in front of Caroline, who he was quite literally cuddling with when she came over. But this is Paradise after all, and a certain amount of selfishness is kinda required in order for anything to work out.
Jubilee and Venmo John really did seem to click on their date. The two were able to bond over their shared experience working with programming and their desires to live an ambitious life. In a moment of uncharacteristic self-awareness for the Bachelor franchise, Jubilee even asks John why, after all his successes, he is even on this show (seriously, John, what are you doing here?).
But whether or not Jubilee manages to find love with Venmo John, or anyone else on this season of Paradise, something tells me that she'll be just fine either way.