Prince Harry's Unexpected Nickname For Kate Proves Their In-Law Bond Is Tight AF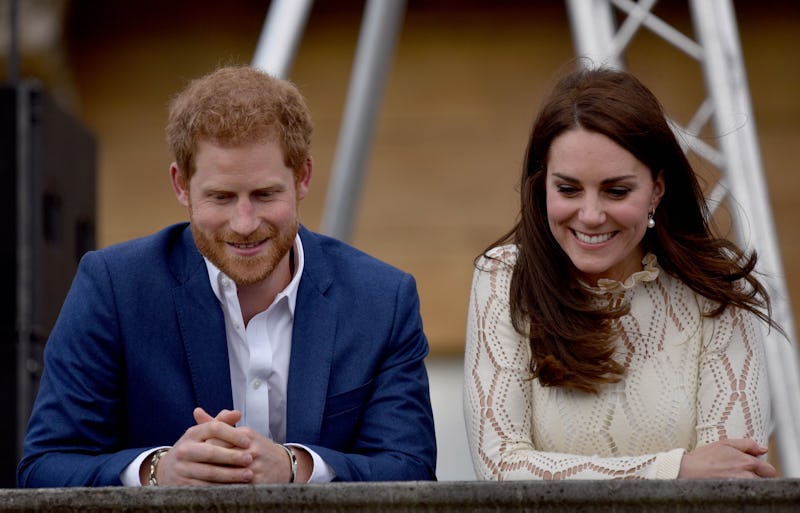 WPA Pool/Getty Images Entertainment/Getty Images
If you flick through photographs of the royal family, you'll find that Prince Harry and Kate Middleton are frequently together and always seem to be in good spirits. Not everybody is lucky enough to get on so well with their siblings-in-law, but this pair seem to get on like a house on fire — and it turns out, Harry even has a nickname for the duchess. So, what is Kate Middleton's nickname? Well, he doesn't call her Kate (the moniker she's already famed for), and nor does he address her by her actual first name, Catherine.
Harry's nickname for Kate was let slip a while back on BBC Radio 1, according to International Business Times, as radio presenter Scott Mills quizzed his guests Prince William and Kate Middleton about life at the palace. During the interview, the host told the royal couple about a podcast he'd listened to, during which Harry casually referred to Kate as Cath
"I heard a podcast with Prince Harry, where he said 'William and Cath' and that really confused me," he said. "Is that just a thing in the family?"
Hold up, Cath? As in Kathy Beale from EastEnders? The nickname doesn't exactly scream royal, does it? Love it.
Upon hearing Harry's nickname for her, the Duchess told the radio presenter: "I'm not sure. I'm not that familiar with it. I'll answer to most things though."
Ironically enough, her popular nickname Kate is actually one she's not terribly fond of according to the Daily Mail. A source alleged it was a name the press gave her and it's stuck ever since unfortunately — even though she apparently wants people to go back to calling her Catherine.
An ex-classmate told the paper: "No one ever referred to her as Kate — ever."
However, the duchess has reportedly taken it all in her stride, as the source continued: "It doesn't irritate her, even when the photographers shout her name out. She's not so precious as to correct them. But her family and close friends have always called her Catherine and that's the way she prefers it."
According to Hello! magazine, prior to her wedding to Prince William, the palace allegedly had to clear things up via a statement on its website. The message apparently read: "Miss Middleton uses both names equally, and she has never expressed a preference for either Catherine or Kate since her engagement to Prince William. Catherine is the name that Miss Middleton grew up with in her family, and Kate is the name that she tends to use in a work context."
I was absolutely delighted though when I did a bit of digging and managed to uncover Kate's unusual childhood nickname; Squeak. While visiting her old primary school St Andrew's in her hometown Berkshire, the International Business Times reported that supposedly she and her sister had both been hilariously named after the school's guinea pigs.
"There was one called Pip and one called Squeak," she was apparently overheard saying, "so my sister was called Pippa and I was Squeak."
In all honesty, I'm gutted that the name "the Duchess of Cambridge Squeak Middleton" hasn't caught on. Somebody please try to make fetch happen here, I want to see the day where Squeak Middleton makes it into a serious news headline and nobody bats an eyelid.
As for what Prince William calls her? Well, he has a few pet names for Kate. While at an event with England's women's football team, the International Business Times reported that he accidentally let it slip that he calls her "the missus" on occasion.
When quizzed by reporters if Prince George and Princess Charlotte would be making an appearance in the football stands any time soon to watch a game, he responded: "I'll have to pass that by the missus, see how I can get away with it."
Too cute. Fingers crossed that more royal nicknames slip through the net. Although, I highly doubt anything can really compete with Squeak Middleton.