This Creepy Welsh Drama Has Broken Records On iPlayer & Now It's Coming To BBC One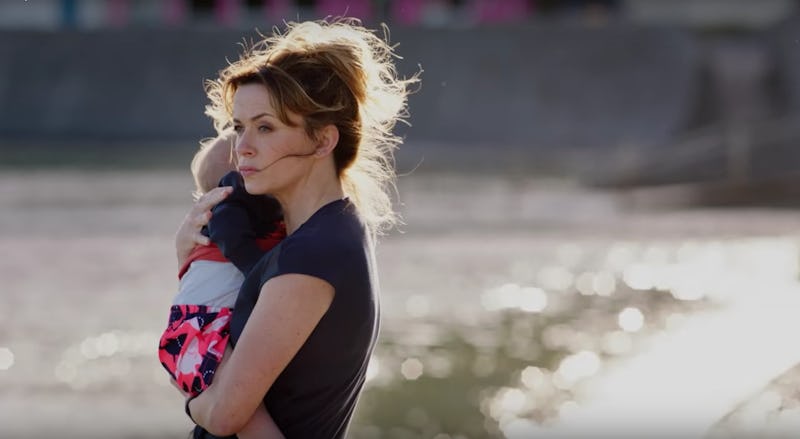 BBC
Over the past five years, British television has increasingly invested in noirish Welsh crime dramas. First, there was Hinterland, the bilingual detective drama now in its third series that's aired on S4C, the BBC, and Netflix. Next, Hidden, currently five episodes into its debut series, also showing on the BBC. And in July, record-breaker Keeping Faith will premiere on the BBC, after drawing 9.5 million viewers on iPlayer after it aired on BBC One Wales. Another bilingual drama, filmed in Welsh and English, it stars Torchwood's Eve Myles in the title role. So what exactly is Keeping Faith about, and why's it causing such a stir?
According to Digital Spy, the crime drama — airing at 9 p.m. on July 12, on BBC One — centres on Myles' Faith Howells, a solicitor married to her business partner Evan. When he goes missing, Faith is not only obliged to return to work, despite being heavily pregnant with their fourth child; she's also forced to defend herself against accusations that she was involved with her husband's disappearance. The situation becomes yet more complex when Faith finds evidence to suggest he was living a double life — evidence like a fake ID and a wig, as the Telegraph reveals.
Things get ever worse for Faith as she desperately searches for her husband. After discovering mounting debts at the Howells' joint firm, plus an enormous life insurance policy taken out by her husband (to the tune of £1.25 million, according to Crime Fiction Lover), the suspicion surrounding Faith intensifies.
Not the best of times for the poor woman, then. She's more vital to the drama than other crime thrillers, Digital Spy suggests, writing, "It becomes less of a whodunnit, and more of a study on Myles' Faith, trying to keep afloat as she unravels a web of lies and deceit." And Keeping Faith strikes different notes to its genre companions, too: the plot "unfurls at a leisurely pace", the Telegraph says, adding that upon Faith's discovery her husband's deceit, "it's as if an episode of The Archers has been hijacked by the writers of Twin Peaks". Intriguing!
The show's also been celebrated for being "quintessentially Welsh", as the Telegraph puts it — a very deliberate tonal choice by the team behind it. Writer Matthew Hall told the BBC, "There's a sort of Welsh way of conducting yourself which is different to the English way, and we tried to capture that," adding, "Certainly the Welsh bits of my family are far more emotionally expressive, are more inclined to tell you how they feel. They're more Mediterranean in temperament almost, and I wanted Faith to be like that."
Adding it to your schedule yet? You'll be joining a sizable fanbase. The BBC reports that alongside its iPlayer viewership, almost 300,000 viewers watched each episode when they first aired on BBC One Wales, "the highest audiences for a non-network drama shown in Wales for over twenty years". Faith's signature yellow mac has been sported in tribute by BBC Breakfast hosts Louise Minchin and Dan Walker, the BBC adds, and even scored its own Twitter account.
The show was a career-changer for lead actor Eve Myles; according to Digital Spy, she considered leaving the industry before being offered the role. "I'm the type of character who likes to be challenged, and I wasn't being challenged. Then this came through, and I thought, 'What bigger challenge would I have?'" she told the site.
And it wasn't just embodying Faith that tested Myles — it was speaking her language. Though she was born in Ystradgynlais, Myles didn't speak Welsh before accepting the role. But because the series was filmed simultaneously in English and Welsh, she learned the language. "That Eve Myles learnt Welsh for the part provides an inspiration for Welsh learners everywhere," Amanda Rees, S4C's director of content, told the BBC.
If you can't stop trying to suss out what happened to Hidden's Mali Pryce, have powered through every series of Hinterland on Netflix, or are still haunted by the final series of Broadchurch, it's well worth tuning into Keeping Faith when it hits the BBC. A multi-dimensional female lead in a compelling crime thriller played by a Doctor Who universe alum? Consider me very much on board.