Fans Have Theories About Kylie's New Surprise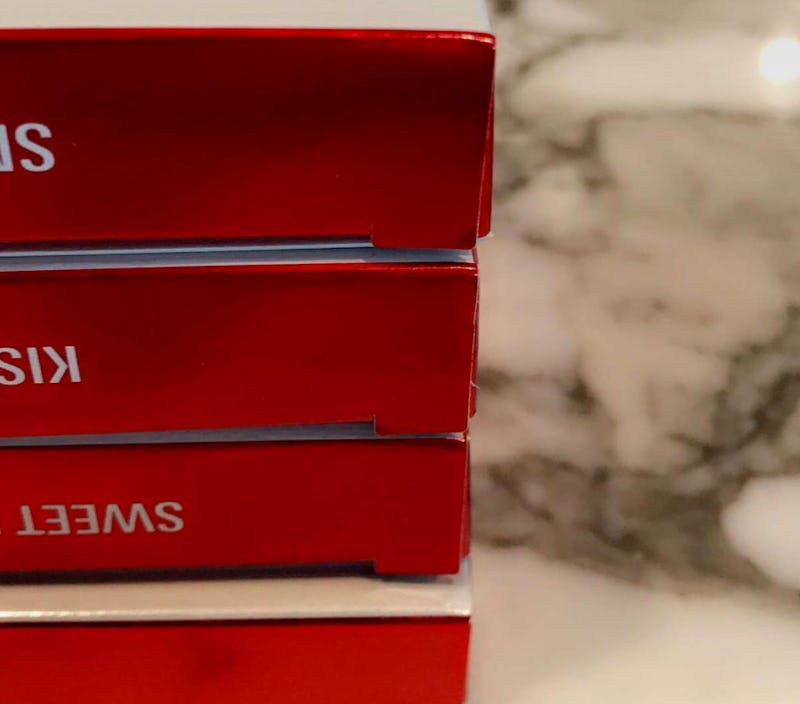 Another holiday, another Kylie Cosmetics surprise. Kylie Jenner and Kylie Cosmetics teased a possible Valentine's Day surprise via socials, posting an image of red-capped boxes. Only a sliver of the names of the products was visible in the carefully shared photo, with Jenner noting on Snapchat that she loves holidays and that she will reveal more details on Wednesday, Jan. 25. The waiting is the hardest part. So to pass the time, Kylie Cosmetics diehards got insanely creative and came up with loads of theories about what Jenner and her brand just teased in the Instagram comments.
Below are screenshots of some of the more plausible theories. Some obsessives think there is an eyeshadow palette involved. Others think there are several red Lip Kit shades designed expressly for Valentine's Day, which is closely associated with that color.
We won't know until Jenner pulls back the curtain and shares the holiday surprises later today. But speculating is certainly fun.
The one thing I am confident is in store for Kylie Cosmetics fans? Oh, just another #ByeMoney moment. Or several.
We can never, ever accuse fans of Jenner's makeup brand of being anything less than devoted, either.
Let's dive into the suggestions, as there are plenty of good ones. But first, the tease that launched the theory is below.
You really can't tell what each item is from the corner of packaging. You just get a hint of the names. But it's obviously a Val Day surprise, since that's the next maj holiday on the horizon.
This caption accompanied that post! Stalk those Snaps.
Could it be more Kyliner? Palettes? Lip Kits?
All red shades? Or maybe the packaging is what's red, since Jenner's 2016 Birthday Edition Collection was gold-dipped and the 2016 Holiday Edition was silver-slicked.
Some fans are guessing possible product names.
More guesses!
I think Kylie Cosmetics fans really want the brand to have created the fifth eyeshadow (or Kyshadow) palette.
Fans are hoping for pinks.
So, yeah, fans have theories, hopes, wishes, and desires. All will be revealed via Jenner's Snapchat feed at some point. I wonder which of these guesses and suggestions will end up being right, if any.
Image: Kylie Cosmetics/Instagram (1)