Here's How Melania Trump Has Tried To Combat Cyberbullying ... So Far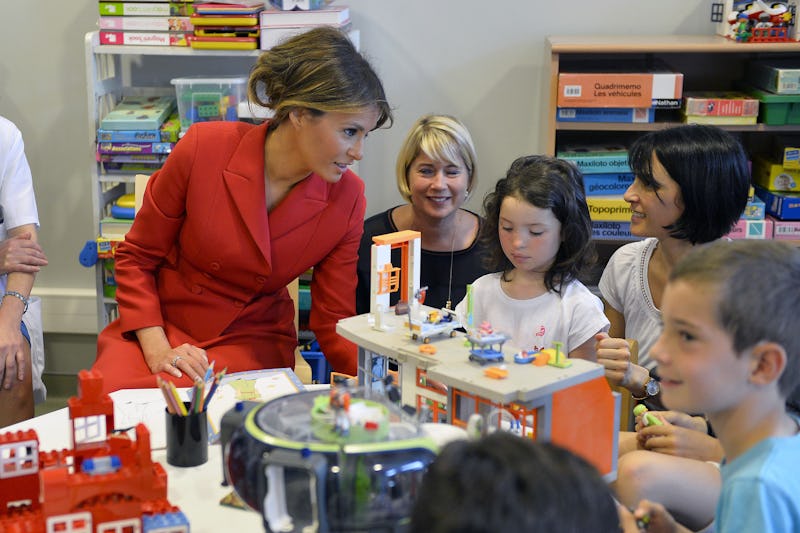 Aurelien Meunier/Getty Images Entertainment/Getty Images
Nearly a year and a half into her White House tenure, what Melania Trump is doing about cyberbullying suggests her official platform as first lady will focus on children and their well-being. She's revealing her specific goals during a Rose Garden ceremony on Monday. If Trump's prior actions are any indication, her platform will include a large umbrella of topics, from combating cyberbullying to improving emotional health among young people.
"Tomorrow is the day!" she tweeted on Sunday. "Very excited to announce my initiatives. Tune in live at the @WhiteHouse at 3 PM!"
Trump has led a thus-far quiet existence at the White House. For example, she waited nearly five months to join her husband in Washington, D.C., so their young son, then-11-year-old Baron Trump, could finish out his school year. But her solo appearance at former First Lady Barbara Bush's funeral in Houston, paired with this announcement, shows she might take on a more active public role.
"Her focus all along has been children and this launch is meant to formalize what her role will be for the next three to seven years," Stephanie Grisham, the first lady's spokeswoman, told The Washington Post.
It's unclear how prominent a place cyberbullying will take in Melania Trump's platform, but she certainly worked to address the problem earlier in the year.
In March, the first lady hosted executives from Amazon, Twitter, Snap, Google, and Twitter to discuss cyberbullying and internet safety. During the summit, Trump acknowledged her skeptics but said the criticism of her choice to focus on cyberbullying will not stop her.
"It will not stop me from doing what I know is right," she said, according to New York magazine's The Cut. "I'm here with one goal: helping children in our next generation."
In February, the first lady addressed a luncheon for governors' spouses (in town for the annual meeting of the National Governors Association), and asked for their help in promoting kindness and compassion. By promoting those values, Trump said, according to Vanity Fair, kids would be better equipped to deal with "many of the evils" in society.
"I am asking you all to join me today and commit to promoting values such as encouragement, kindness, compassion, and respect in our children," she said. "With those values as a solid foundation, our kids would be better equipped to deal with many of the evils in our world today, such as drug abuse and addiction and negative social-media interactions."
In April, Trump hosted a dozen children at the White House for what CNN described as "a listening session about the emotional issues they face" at home and school. "I want to help children everywhere be their best, so with your help, we can achieve positive results," she told the children present.
No word on how her husband's own tweets will factor into a platform having to do with cyberbullying, especially since he mostly insults adults, like Sens. Kirsten Gillibrand and Rand Paul.
For those suggesting Trump is introducing her goals rather late in the game, it's worth noting there isn't a standard time frame for a first lady to announce her platform. For example, Michelle Obama's platform on exercise and healthy eating was debuted 11 months into her time as first lady while Laura Bush's platform on early childhood education and literacy began within six months, according to CNN. It just varies according to first lady.
You can watch the livestream of Trump's announcement Monday on a livestream via the White House, or most major TV networks. Regardless of whether or not her platform focuses in on cyberbullying specifically, you can bet it'll prioritize helping children.