What Is MS-13? Trump Blames Immigration Policies For The Gang's Murders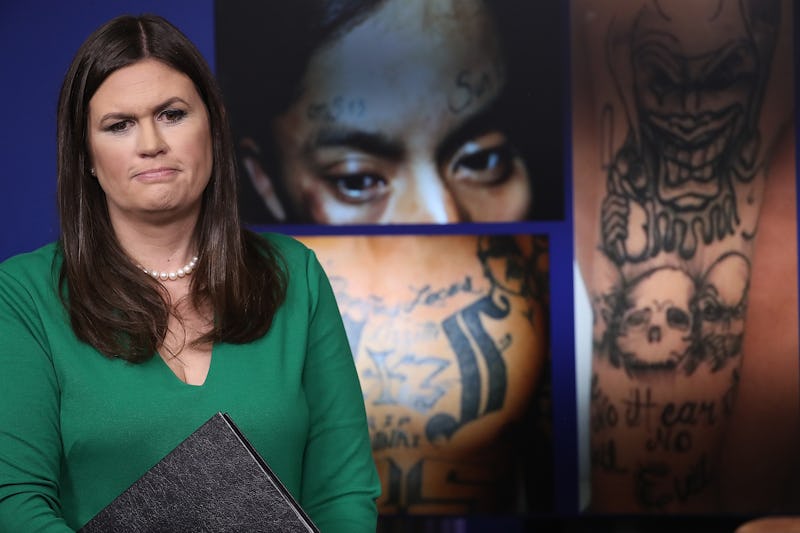 Win McNamee/Getty Images News/Getty Images
President Donald Trump has invited Evelyn Rodriguez as his guest to the State of the Union address on Tuesday. Rodriguez is the mother of 16-year-old Kayla Cuevas, who was killed by MS-13 gang members on Long Island in 2016. That same year, MS-13 was responsible for nearly a murder a month in Suffolk County, New York. But what is the MS-13 gang? And what message is Trump aiming to send by implicitly bringing them up?
A little background: MS-13 is an international gang founded in Los Angeles by Salvadoran refugees in the late 1980s, according to The New York Times. They have since grown to 6,000 members across the United States, peaking at 10,000 in the early 2000s. Many of the gang members are undocumented immigrants, mostly from El Salvador, which is why Trump uses their crimes to justify a need for harsh immigration regulations.
Trump and Attorney General Jeff Sessions attributed the high killings in Suffolk County to the increase in illegal immigration of young people from Central America. When he visited Suffolk County Community College in 2017, Trump said aggressive immigration reform is the answer to the gang violence.
Recently, a string of gruesome murders on Long Island were linked to MS-13, including that of 15-year-old Angel Soler, who was killed in Roosevelt with a machete — the teenager was reported missing back in July, but his remains were not located until October. Soler had fled his native Honduras four years earlier to escape gang violence, and had been threatened by the group before his murder.
A few months after Cuevas and her friend, 15-year-old Nisa Mickens, were found dead by an elementary school in Suffolk County, four young Latino boys were killed by the MS-13 gang in nearby Central Islip.
According to The New Yorker, MS-13's motto is "Kill, Rape, Control." Republican lawmakers, like Ed Gillespie, the 2017 Republican gubernational candidate in Virginia, have referenced this slogan and used footage of gang members in campaign ads to talk about immigration reform.
The Republican Party has claimed there are direct links between the rise in immigration of young people from Central America and MS-13's crimes. Iowa Senator Chuck Grassley cited a report at the Senate Judiciary Committee that he says proves "the government's total failure to establish an efficient process and meaningful oversight of the placement of these children has led to the current MS-13 crisis."
Only, according to The Atlantic, Trump and his officials misunderstand the gang. While MS-13's activities might seem more aggressive in some areas, the gang operates like most other domestic gangs, and deportations, authorities say, aren't the solution.
Indeed, MS-13 started because of deportations. The gang began with Salvadoran immigrants in L.A., until under the Clinton administration, federal agents tried to empty prisons by deporting undocumented gang members back to El Salvador, which had been left essentially lawless following the civl war.
More than 2,000 criminals were deported to El Salvador over a four-year period. With the new tactics they'd acquired from U.S. gangs, they took over neighborhoods and feuded with another U.S.-born gang, Barrio 18. A crackdown by police forced 31,000 young people behind bars; most of them were later be released without charges. This is believed to have increased MS-13's ranks — by forcing people who had loose gang affiliations to get more involved. Worsening conditions in El Salvador caused another mass migration, forcing MS-13 to spread beyond Los Angeles to the East Coast.
However, Jorja Leap, professor at the University of California who spent 10 years studying MS-13, told The Atlantic that toward the end of the last decade, the gang's power waned significantly, and aside from a few high-profile murders, the group is mainly being used by the Trump administration to bolster their case for a crackdown on immigration.
They just don't kill people, they cut off body parts. And this is what makes them an exciting boogeyman for Trump and [Attorney General Jeff] Sessions.