There's A New "Occupy" Protest & This Time It's About Trump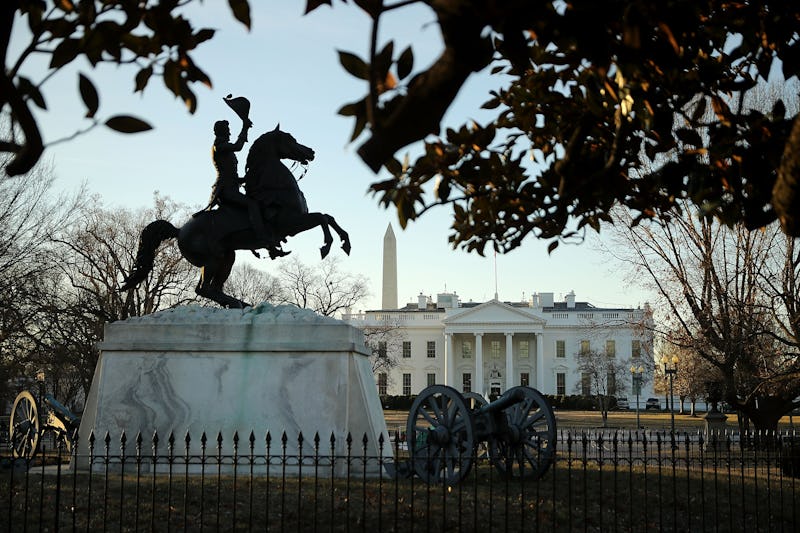 Chip Somodevilla/Getty Images News/Getty Images
Normally, Lafayette Park is one of those pretty, history-drenched spots in Washington, where you walk around wondering whose footsteps you might be following. You're right across from the White House, close enough that you can practically see into the front windows. Now, though, the most important thing to know about this D.C. spot is what Occupy Lafayette Park is — because the square might just be full of anti-Trump protestors.
Because of its sight line straight to the White House, Lafayette Park is a frequent spot for rallies and gatherings when people want to protest something that the Trump administration has done, like for example the travel ban. Now, the country seems to be at a fever pitch after Trump's meeting with Russian President Vladimir Putin, which has gained the name "Treason Summit" on Twitter. Occupy Lafayette Park is an impromptu, grassroots rally set up to protest Trump's actions in Helsinki, where the meeting was held, and demand his impeachment.
The first Occupy Lafayette Park rally happened at 8:30 p.m. on Monday night, according to organizer Adam Parkhomenko, who posted about it on Twitter.
"If you aren't in DC contact anyone you know in the DC/MD/VA area and tell them to get over to the White House at 8:30," Parkhomenko wrote on Twitter. "Trump is a criminal and everyone talks about showing up. Now is the time to do so. This is INSANITY."
The first protest seemed to be a success, with even people like Texas Democratic Rep. Joaquin Castro stopping by. The organizers aren't stopping there, though — and now they're getting some high-profile help.
"Exciting news: I just got off the phone with @MichaelAvenatti who is cheering on #OccupyLafayettePark and he's coming to DC for night two: Tuesday at 7 PM," Parkhomenko posted on Twitter on Monday. "Spread the word and let's make sure we build on what's taking place tonight in a big way tomorrow!"
Avenatti then jumped in to push the protest himself, to his 630,000 followers.
"To everyone who can, please be there tomorrow night in front of the White House at 7pm. Today's events mark a critical point in the history of our republic," Avenatti wrote on Monday.
There wasn't an official count of how many people came out to this unofficial welcome home greeting party for Trump, but the pictures show rows of people facing the White House with signs.
Some of the biggest signs at the protests had phrases like "Trump is a traitor," "Traitor in chief," or the simple yet powerful "LIAR" in lit up lettering. It was a significant turnout, and is likely to grow even more on the second day given the increased publicity.
The aim of the protest is a simple one, according to Parkhomenko.
"For the record, I am not aimlessly just tweeting that you should show up at the White House at 8:30 PM tonight," he wrote on Monday. "I really want to piss off Donald Trump and protect our country. Please help me piss off Trump and make sure he hears us tonight. Spread the word."
The protest, of course, can't launch impeachment proceedings, unless it convinces enough members of the House of Representatives to pass at least one article of impeachment. Trump has received some criticism even from some Republican members of Congress over his meeting with Putin, including Speaker of the House Paul Ryan — but Ryan is still unlikely to push that criticism into the beginning of impeachment proceedings.
Even if Occupy Lafayette Park doesn't achieve that particular goal, it's at least a way for its participants to vent their anger over what happened in Helsinki — and that public venting in itself is still a useful thing to do.