The 5 Living Former U.S. Presidents Have United To Help Hurricane Harvey Victims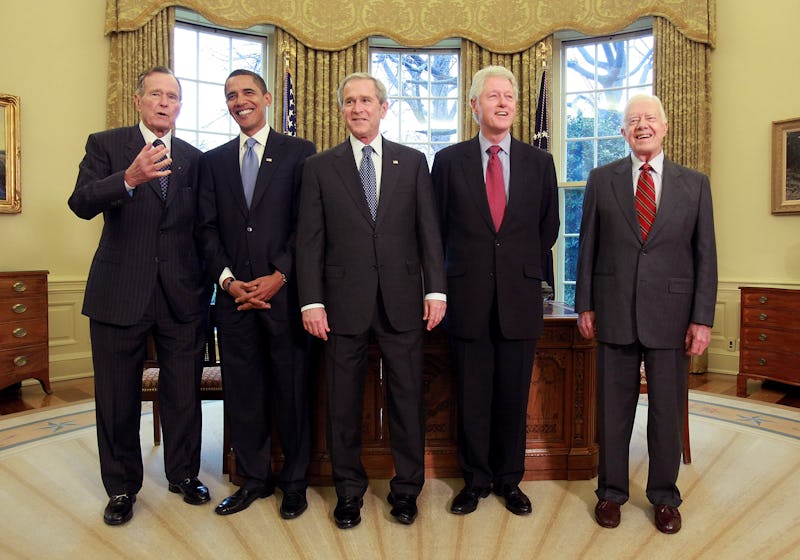 Mark Wilson/Getty Images News/Getty Images
Numerous organizations and private citizens have come together to help victims since Hurricane Harvey hit Texas. And now the five living former presidents are issuing a similar plea with the One America Appeal. While sharing a video introducing the initiative, former President Barack Obama on Thursday evening tweeted, "Americans always answer the call." The video featured leaders from both Democratic and Republican parties. Figures like Bill Clinton, Jimmy Carter, George W. Bush, George H. W. Bush, and Obama himself all collectively urged viewers to donate to relief efforts taking place in Texas.
The Lone Star state has witnessed some of the worst destruction in the wake of Hurricane Harvey, with thousands of locals uprooted from their homes, toxic floodwater inundating residential areas, power outages in commercial zones, and dozens killed, according to local officials. The One America Appeal website also cited some grim figures about the disastrous effect of Harvey including the National Weather Service's estimation that the east of Houston stood in 51 inches of rain.
In spite of such terrifying chaos, Texans and out-of-state helpers have gone out of their way to help vulnerable people. As the younger Bush can be seen saying in the video, "People are hurting down here, but as one Texan put it, 'We've got more love in Texas than water.'"
The One America Appeal describes itself as a joint effort on its FAQ page, where it also mentions that the funds are being collected under a special account at the George H. W. Bush Presidential Library Foundation. According to the website, the donations will be given to the Houston Harvey Relief Fund and Rebuild Texas Fund, two funds working to help victims in the Houston area and additional affected counties.
This year's Atlantic hurricane season has been incredibly active with Hurricane Harvey as well as the formation of Hurricane Irma, Katia, and Jose. Hurricane Irma has been recorded as the most powerful Atlantic hurricane, packing terrifying winds of 185 mph, and registering on earthquake-detecting seismometers, according to meteorologists.
Keeping this in mind: One America Appeal's website noted that it also plans to help Americans in the pathway of Irma, not just Harvey victims. The website says "preparations are in place to do so" and "what started as a specific appeal to address historic flood damage in Texas will be expanded to help victims from both storms."
Former President Clinton also tweeted a similar note:
Hurricane Harvey shattered homes and lives. Irma is just as dangerous. Americans lift each other up. Join us to help.