Why You'll *Definitely* Recognize This 'Westside' Star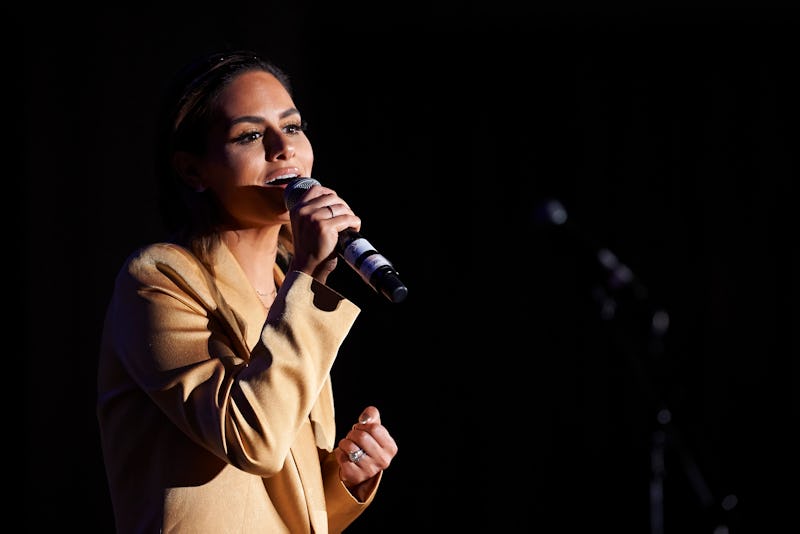 Cooper Neill/Getty Images Entertainment/Getty Images
The music business is a tough industry to be in, so if you want to make it far, you have to be willing to do whatever it takes. That's the basis for the new Netflix reality show Westside, in which a group of L.A. musicians develop their craft while clawing their way toward their biggest dream: stardom. One of its nine cast members may look a little familiar to you if you were an American Idol fan back in the day, but considering it's been seven years since her stint on the show, what Pia Toscano is doing now may give you a better idea of what to expect when Westside hits Netflix.
Toscano grew up singing, but she came into the public eye on Season 10 of American Idol. She caught viewers' attention with her big ballads, and it was a huge shock, according to USA Today, when she was eliminated in ninth place in the competition. The judges considered Toscano a frontrunner and were angry and emotional when she was voted off, but because they had already opted to use their one save on Casey Abrams earlier in the season, they couldn't do a thing to save her. So, she was sent packing, with Scotty McCreery going on to win.
Since American Idol, Toscano has been steadily working on her music, whether it be developing original content or re-arranging popular songs for covers.
Recently, the New York native went on tour with mega hitmaker David Foster to help showcase the many, many hit songs he's written over the years. She's also sung alongside Andrea Bocelli and hung out with Jennifer Lopez; Toscano's husband, Jimmy R.O. Smith, is a dance captain for the performer, and you can see him next to J. Lo at almost every show she does.
With Westside, it's obvious that Toscano is not giving up on singing. According to Variety, the eight-episode series "follows the lives, loves, and assorted struggles of nine aspiring artists as they pursue ever-elusive success in the modern-day music industry." It features documentary-style footage interspersed with music videos, and it's a grittier take than those who watched programs like American Idol and Glee may be used to — it shows the elusive search for fame and all of the pitfalls that come with it.
"I struggled with my career," Toscano told Variety. "As you can see on the show, I went from being a household name and touring and having a record deal to losing it all — very quickly."
For Toscano, Westside allows her to tell her story in a real way, minus the competition of other singing-focused reality shows. "What I love about Westside is that it's the first of its kind," she told Variety. "I'm finally able to tell my story and peel back those layers and write and collaborate with other incredible artists." Because they aren't pitted against each other, Toscano continued, all of the musicians on Westside "grew and learned from each other."
It's this communal atmosphere that makes Westside so interesting, and it is giving Toscano a chance to do the one thing she's been trying to do for over a decade — become a star.