How The Next Season Of 'Pose' Will Incorporate Even More Identities & Experiences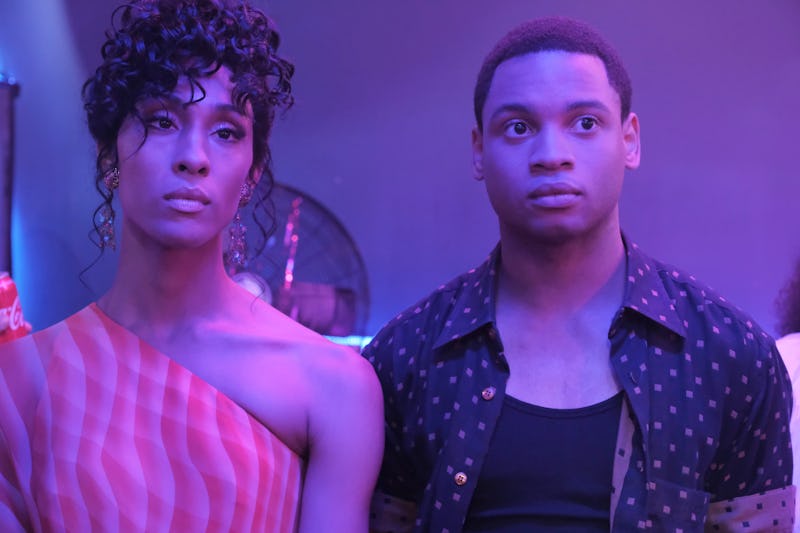 JoJo Whilden/FX
Pose is ended its triumphant first season on Sunday, July 22, and fans were undoubtably hungry for more, even before that final trophy is awarded. What will Pose Season 2 be about? The '80s set drama will return in 2019, and the possibilities are endless. Major spoilers ahead for the Pose Season 1 finale.
Season 1 ends with our heroes on top: Angel chooses her sisters over Stan; the House of Ferocity is flattened; Elektra Abundance comes to the rescue of House Evangelista; and Blanca is crowned Mother Of The Year. Despite the many twists and turns and backstabbing throughout Season 1, there's no cliffhanger. Family wins out in the end.
However, despite the way that everything wraps up neatly, Pose should absolutely not become an anthology like other Ryan Murphy productions such as American Horror Story or Feud. There are too many stories you can tell with these characters, and it would be a travesty to dump this amazing cast. Lucky for us, it doesn't look like that is going to happen.
"There's a rule in the writers room that we do not talk about what we're going to do, but I think that it's really going deeper every episode," said Janet Mock about plans for the second season in an interview with Billboard. "As viewers kind of notice, we tend to focus in on a character that we may not have known as much before, right? For example, [one] week will really be central around Lil Papi's character, his relationship with Blanca and things [that] have been alluded about throughout the season. There will be some of the origins stories of characters that we may not have heard as much from before, but whom people of course love because they are either on Team Abundance or Team Evangelista."
In the same interview, Mock was asked about the possibility of including a transmasculine character. The first season did an incredible, nuanced job of portraying all of the minor divides in the LGBT community having to do with race, gender, sex, and beyond.
"There are a lot of intersections of identities and experiences in our community that we want to make sure that we get to highlight more of in season two," Mock said. "We'll get to introduce some new characters. We don't know who they are yet because we have not sat down together as a room to unpack that and pitch ideas, but there are a lot of intersections that we want to include. There were a lot of folks that existed and who exist who really hold up the ball community and also the queer movement who were gender nonconforming or butch women, so we want to make sure that we tell some of those stories."
So, where could the show go in Season 2? The finale is set in 1988, and that year might be a good place to start. National Coming Out Day was founded in October 1988, according to the Human Rights Campaign. The next year, in December 1989, the AIDS awareness/activism group ACT UP staged a huge protest called "Stop The Church" at St. Paul's Cathedral. Participants distributed condoms to passers-by, and several thousand people showed up. Around the world, Apartheid was ending and the Soviet Union was collapsing. Ever so slightly, this was a time of change. The late '80s were also the very beginning of the commercial internet.
Though Pose is covering a niche part of LGBTQ history and popular culture, what happens in Season 2 could depend on the year it takes place. The series could also skip ahead to the '90s, where ball culture edged towards the mainstream and was appropriated by artists such as Madonna and captured on film by the 1991 Sundance Grand Jury prize-winning documentary Paris Is Burning.
So, expect the original cast to return and expect to delve further and further into that world. Will other fan favorite performers from the Murphy-verse show up in Season 2? While one of the joys of Pose is discovering actors who may not have otherwise been cast, one can only hope! Hopefully there will be more singing from Billy Porter and Mj Rodriguez, as well. If there's any show you can count on to deliver — face, body, and everything else — it's Pose.