Why This 'Pose' Star Is Proud To Represent "The Minority Of The Minority Of The Minority"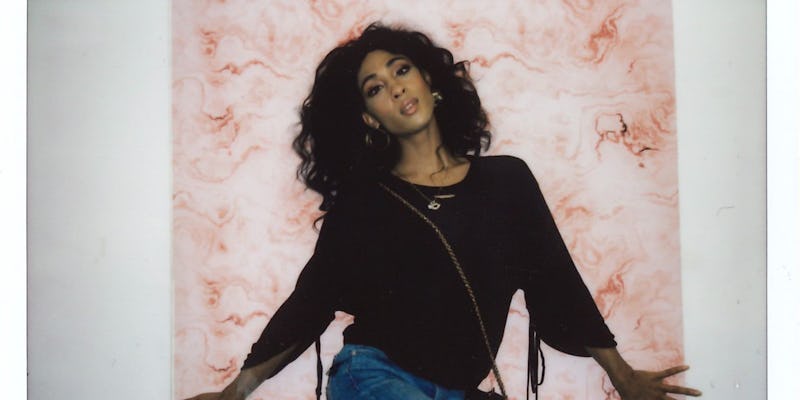 Bustle
When celebrities hang out with Bustle editors, we want to give them the chance to leave their mark. Literally. So we hand them a pen, a piece of paper, a few questions, and ask them to get creative. The rest is up to them. This time, Pose star Mj Rodriguez is leaving her mark in the Bustle Booth.
If you're cast as a lead in a groundbreaking and beautifully realized series from one of the most prolific and respected producers in Hollywood, you can pretty much count on being recognized on the street. But for Mj Rodriguez, who plays Blanca on FX's Pose, the fan experience is unique. Her character is the founder of the House of Evangelista, a physical and emotional home for young people looking for support, community, and glory in the underground ball scene. And Rodriguez's spirit is so nurturing in that part that Pose viewers feels like a part of the family, too.
"That's the most rewarding part is hearing kids come to me and call me 'Mother,'" she says during a mid-July visit to Bustle HQ. "I've always wanted to be a mom, and now I get a chance to be a mom on a different type of platform."
If you're a fan of the show, you probably know by now that Rodriguez is no stranger to the subculture depicted in the series. She became a part of a New York City house as a teenager. And while Pose is set in the '80s — a different era than the one she knows best — her mentors are reaching out to praise the show and her performance. "[My house father] contacted me," Rodriguez recalls, "he said, 'I'm so proud of you. You're doing exactly what you've always loved to do but you're doing it the right way, and it's being done the right way.''
Doing it "the right way" in a series like this involves amplifying the voices of those not often represented in media. Pose not only employs a record-breaking five lead transgender women of color as actors, but also makes sure that individuals who can speak to this experience are in the driver's seat when it comes to shaping these stories from behind the camera. It was particularly special for Rodriguez to work with presenter and activist Janet Mock, who broke another barrier by writing and directing the poignant episode "Love Is The Message." The actor says that the two had been in touch before the show came to fruition, and so she felt "proud, like a little sister would be proud of their big sister" watching Mock "maneuver through all of this."
"Love Is The Message" also gifted Rodriguez with a show-stopping number that the Berklee College of Music graduate naturally made into a breakout moment. At the cabaret Pray Tell (Billy Porter) puts on for an AIDS ward, Rodriguez's character sings a heartbreaking version of "Home" from the musical The Wiz, and is eventually joined by her co-star. The chemistry Porter and Rodriguez share on stage has deep roots, too — they first met when Rodriguez was 19 and starring as Angel in an Off-Broadway production of Rent; the future Tony winner was an assistant director.
"He was someone I looked up to and that I've always wanted to work with," Rodriguez says of sharing the song with Porter. "It was just magical."
Both Blanca and Pray Tell learn during the course of the season that they are HIV positive, which adds another powerful layer to this scene, where they're bravely endeavoring to bring joy to people whose decline may be their future, too. But the epidemic isn't the only source of worry, fear, and frustration for these characters. Pose directly addresses some troubling sexual politics that its women are victim to, including the fetishization of their bodies, as well as male partners using and then discarding them.
"I think those stories are very important to tell because they are very, very prominent in our community and when I say 'community' I'm not just talking about the trans community, I'm talking about women in general," Rodriguez says. "This is something that happens to all of us all the time, and men do this. This is not anything new. But we're showing it from the spectrum of our end, because we are the minority of the minority of the minority. So being black, being trans, and being a woman — men like that, they feel like it's easy to make us disposable, because they feel like we're nothing."
With honest storytelling like this, Pose is moving the needle forward in terms of trans representation in pop culture. And that's certainly reason to celebrate. But the cause has also suffered its share of setbacks, too. Earlier this month, the conversation was reignited when Scarlett Johansson was cast as a transgender man in the film Rub & Tug. After much backlash online, she released a statement to Out.com on July 13 saying she was dropping out of the project "in light of recent ethical questions," adding that she understood "why many feel [this character] should be portrayed by a transgender person." When Rodriguez and I spoke, Johansson was still attached to star in the film.
"I'm an actor first before anything and I don't like to knock anyone's hustle," she says, when asked about cisgender actors taking on transgender characters. "But I do like for people to be inclusive. I like for people to show respect in the way... where they know if they can play a part like that, then you need to also make a way for us to play cisgender roles. Or you just need to make it known that we all are women and we need to play the roles that are allotted to us. The talent comes first before our identities."
She continues, "I can play a cis role. I've played cis roles before and the reason why I can play a cis role is because I'm a woman, and I know the experiences of a woman, and I know what I go through every single day as a woman, and I can relate to any other woman when I walk down the street. If you cannot relate to a specific life, you have to do research on it before you play it then you probably shouldn't be playing it."
It remains to be seen what the future holds for Rodriguez in the way of roles, though she does say she'd be down to play a "boss bitch" of some kind in Ryan Murphy's long-running anthology, American Horror Story. For now, she's right at home playing every aspect of Blanca: from her stylish but frugal looks ("It gives me very, very bebop girl [look], you know, like back in the day," she says of one ensemble) to her mission to better the lives of the "children" she's taken in.
"I want [Blanca] to see them succeed and have her know that they have made plans down the line for them to actually be steady and stable. As you may know, back in the '80s, it was hard for women like us," Rodriguez says. "[Blanca] doesn't have the best house, but there is a roof over these kids' heads, there's food that is being put in their mouths, and she's making a way out of no way."
She's doing her best, but will Blanca beat out her former house mother and rival Elektra (Dominique Jackson) for Mother of the Year in the June 22 finale? Rodriguez's Bustle Booth answers tease a very shocking end to the season. Fortunately, it's a done deal that Pose is returning for Season 2.