There's A $2 Version Of Halo Top At Trader Joe's With Flavors You'll Be Obsessed With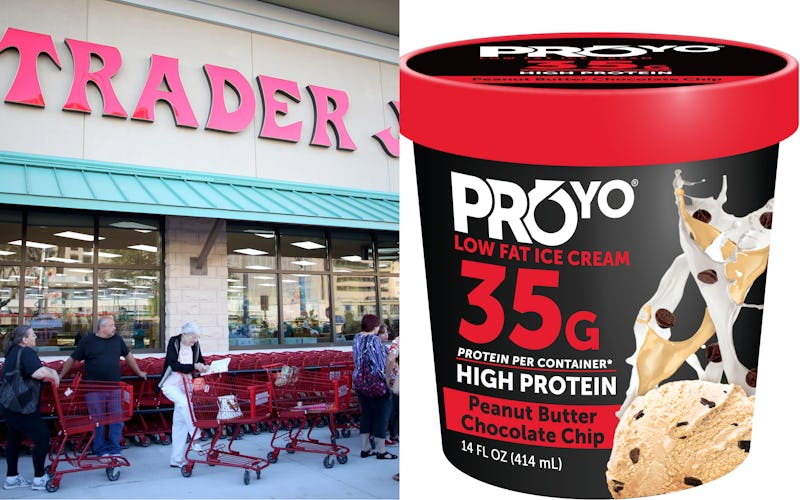 Joe Raedle/Getty Images News/Getty Images; ProYo
If you are among the people who have bought so much Halo Top ice cream that you're considering buying stock in it (guilty as charged), then this latest news on the high protein ice cream front might be a game changer: Trader Joe's is carrying a high protein ice cream called ProYo ice cream, which appears to be similar in nature to Halo Top. The game changing factor? Unlike Halo Top and its competitors, Enlightened and Breyer's Delights, which all typically retail for $5 or $6 per pint, TJ's appears to be selling these pints for $2 a pop. (Bustle has reached out to Trader Joe's and ProYo ice cream for details on availability, and will update upon response.)
UPDATE: Nathan Carey, founder of Swell Foods, has responded to Bustle's request for comment with this statement below.
Earlier this year, we decided to makeover our packaging to Swell Foods to better connect with fans of better-for-you ice creams who would be excited by an option that offered an excellent source of protein - 10g per 1/2 cup serving - while also getting amazingly delicious taste and real ice cream texture. To boot, our ice creams are made with only clean ingredients you can recognize, and compared to the competition, we use fewer ingredients to make all our indulgent flavors. Plus, each serving still only has 120-calories and less than 2.5g of fat. No matter what flavor you choose, you get this same best for your bite nutrition.
When we decided to go through this makeover, we had some leftover inventory of ProYo, and so created a limited time offer with Trader Joe's. While ProYo will only be available at Trader Joe's while supplies last, what's awesome is Swell Ice Cream is the same product, just in different packaging and can now be found nationwide. Like you shared, Bustle readers can find a store near them by visiting the Store Locator. We also periodically share deals on our Instagram for Swell Ice Cream (hint - a new offer may be coming soon!). We've been so flattered to see the excitement ProYo has generated at Trader Joe's - getting crushed on always makes a person feel good - and we hope we can keep fans satisfied with our new Swell Ice Cream.
EARLIER: The ProYo pints were first shared by popular Instagram account @traderjoeslist, who posted images of them from a Trader Joe's store on Aug. 15. It's worth noting, per PopSugar, that ProYo seems to have since rebranded itself to "Swell" ice cream, and that the site for ProYo redirects to the site for Swell Foods. It's also unclear if these are a regional offering, or if they'll be available in Trader Joe's stores nationwide — or if the offering is here to stay. The sign in front of the ice creams posted by @traderjoeslist read, "Get some while it's here!," possibly indicating that this is a temporary offering rather than a permanent one.
Here's the Instagram post that is setting all TJ's fans abuzz.
It isn't clear based on the image exactly what flavors participating Trader Joe's will have in stock, but the Swell Foods website can give some indication of what to expect. The flavors listed on the site include Cookies 'N Cream, Peanut Butter Chocolate Chip, Chocolate Chip Cookie Batter, Mocha, Coconut, Dark Chocolate Toffee, Vanilla Bean, and Dutch Chocolate. Based on the nutrition label shared on @traderjoeslist, it does look as though the peanut butter flavor is one of the options you may be able to find at Trader Joe's.
If you want to try Swell ice cream and you're not sure whether or not your local TJ's has it in stock, the website also has a feature to locate stores where pints are sold (although it's worth noting that TJ's doesn't appear to be on it — at least not within a radius that I checked).
That being said, even if you don't find the new ice cream offering at your local TJ's, a trip will be well worth it for the chain's latest dessert offerings. Most recently, the store launched its own Neapolitan Joe-Joe's, an ice cream-flavored twist on its iconic cookie. In July, the store also announced on its blog that it was launching individual-sized cakes in Chantilly Cream Vanilla Bean and Dark Chocolate Ganache, which may or may not pair excellently with a glass of wine and whatever new rom-com Netflix has decided to grace us with this week. So really, no matter what expectations you have walking into TJ's, you're bound to walk out #blessed.