Rose's Necklace In 'The Last Jedi' Means More Than You Think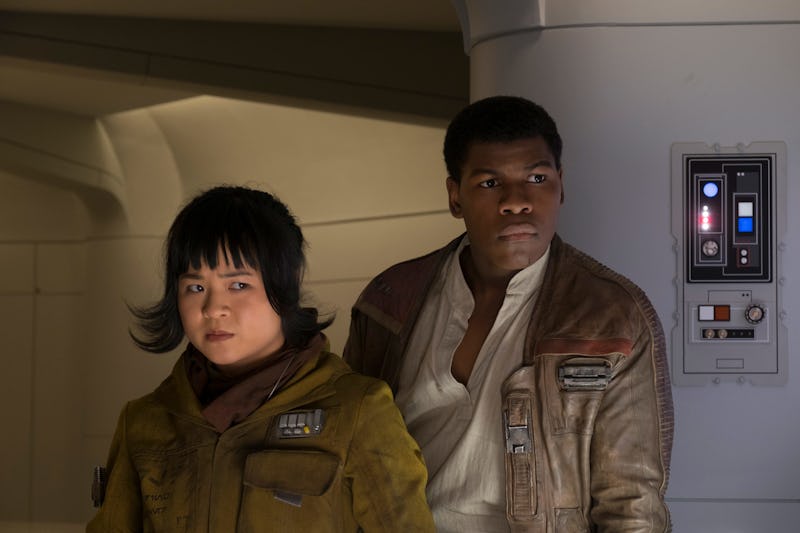 Star Wars/ Walt Disney Studios Motion Pictures
Spoilers ahead for Star Wars: The Last Jedi. At the end of The Last Jedi, Rose Tico is still a bit of a mystery. Just like Finn, Poe, and Rey before her, there are things about her past that simply can't be revealed in one action-packed film. One of the mysteries is Rose's moon necklace in The Last Jedi, a piece of jewelry the mechanic and adventurer never takes off, despite it clashing somewhat with her Resistance coveralls.
The moon necklace is with Rose for her entire journey throughout The Last Jedi, proudly on display as she goes from maintenance worker to full on Resistance hero. It stands out in a franchise that doesn't usually adorn its heroes with much jewlery. (The Last Jedi director Rian Johnson revealed on Twitter that the film included more accessories thanks to a request by Carrie Fisher for more "space jewelry.") It also stands in contrast to Rose's determined personality.
"Something that I really like about Rose, she's sort of always on a mission. She is a very practical person, she's very pragmatic," actor Kelly Marie Tran told Entertainment Weekly. One wouldn't necessarily associate someone who is overly practical to be wearing a moon necklace while on a secret mission, suggesting that the necklace is far more important to Rose than it might seem.
"That is definitely something that is significant Rose's backstory," Tran told EW. "It is an object that she kind of has throughout the film and it is representative of more than the object itself to her." In other words, don't let looks deceive you, Rose's moon necklace isn't just a trinket she carries around for good luck. It's actually half of one full necklace — the other half belonged to her late sister, Paige. It's no wonder Rose is so protective of the item.
According to the official character description of Rose, she is a character who "has hated the First Order since she was a child." John Boyega, who plays Finn and shares a journey with Rose in The Last Jedi, revealed in an interview with Entertainment Weekly that Rose was someone whose "[home has] been destroyed by the First Order." Together, these two aspects of her character hint at a wound in Rose's past, something that drives her to go after a bigger role in the Resistance in The Last Jedi, like, say, the loss of her family. Rose's sister, Paige, also worked for the Resistance in the film, but their parents are nowhere to be seen. Looking at the necklace as a possible family heirloom would give it more than enough significance and even more meaning to warrant such protective behavior from Rose.
The necklace might be the most important accessory Rose has in the film, but it wasn't what Tran chose to take home as a memento from set (at least not that she's revealed publicly). In an interview with "The Star Wars Show," Tran revealed that while she didn't sneak away with anything from The Last Jedi set, she was given an electrical tie that Rose used as a hair tie in the film. "Rose in her hair has these electrical wires instead of a hair tie, and so she [my makeup artist] gave me one of those," she said. Of her character's choice of practical hair care, Tran added, "She's such a nerd."
Meanwhile, Rose isn't the only one with significant jewelery in the film. Fans have been speculating over necklaces spotted on Luke Skywalker and Poe Dameron for months. Jyn Erso, the hero of Rogue One, also had a necklace passed down to her by her mother that played a significant emotional role in the film. Could Star Wars necklaces be the new must have accessory? It certainly looks like it, and Rose is ahead of the trend.