'Star Wars' Kelly Marie Tran's 'Vanity Fair' Cover Is Groundbreaking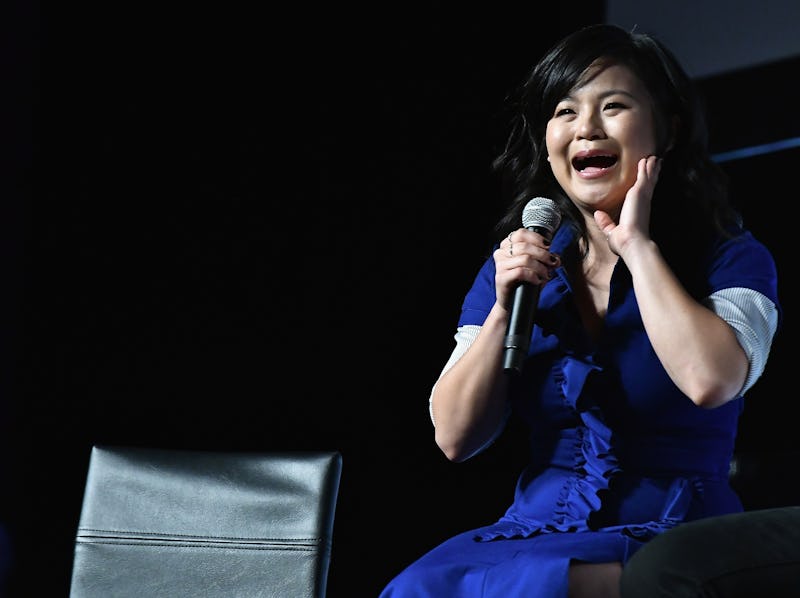 Gustavo Caballero/Getty Images Entertainment/Getty Images
It's not even out in theaters yet, but Star Wars: The Last Jedi is already breaking a lot of barriers. Just this week, the film became responsible for a huge milestone: making star Kelly Marie Tran the first Asian woman to be on the cover of Vanity Fair, as astutely noted by Twitter user @nerdyasians. Before we as a society trip over ourselves trying to applaud the magazine for its step towards diversity, we need to acknowledge one very real fact: Tran being the first Asian woman to cover Vanity Fair is absolutely insane. It's great to see her featured, but this is really something the magazine should have done a long, long time ago.
Tran, who will make her Star Wars debut in The Last Jedi as Resistance worker Rose, appears on one of three Star Wars covers, shot by the legendary Annie Liebovitz. The covers were released on Tuesday, and when @nerdyasians pointed out that Tran was the first Asian woman to cover Vanity Fair, many people were truly taken aback. Vanity Fair was first launched in 1913, but the magazine as we know it today began in 1983. Depending on how you look at it, that's 104 or 34 years without any Asian women on the cover — a huge number regardless. (Asian men have been similarly absent from the magazine, though Tiger Woods appeared on the cover in 2010.) Assuming one new issue was released every month, that means there have been at least an estimated 400 covers in the magazine's history, all published with no Asian women on the cover. Until now.
Tran's appearance on the cover is huge for Asian women who have been craving more visibility in the mainstream media. In a world where media-sanctioned race and beauty standards are forced upon us at every turn, seeing Tran recognized on the cover of a magazine validates Asian women everywhere. It tells us that we are seen and that we are valuable enough to be featured prominently in a major American publication.
However, this Vanity Fair cover is just one small step in the right direction. It's disappointing, for example, that Tran is placed not only to the side of her co-star John Boyega, but behind him. Granted, she has a smaller role in the movie, but the fact that half of her body is essentially covered by Boyega's elbow isn't great. Furthermore, Tran's groundbreaking Vanity Fair cover doesn't change the fact that Asian women and Asian men have been absent from the cover for years, or the fact that an Asian woman has yet to be on the cover of Vanity Fair by herself.
Prior to Tran's cover, two other Asian female actors came close to the Vanity Fair cover. First there was Lucy Liu, who was technically featured on the three-page cover of the 2004 Hollywood Issue. However, Liu was a casualty of the magazine's longstanding habit of keeping performers of color in the foldout sections of their Hollywood Issue. Ziyi Zhang, another Asian actor, similarly appeared on the foldout of the Hollywood Issue the following year. Neither women was on the front cover presented on magazine stands — which is to say, the actual cover. Just like Hollywood, Vanity Fair has been relegating Asian women to the background for years.
And it's no wonder that an Asian woman has yet to have a solo cover of the magazine, as Hollywood itself has yet to truly back an Asian female star. In a world where Scarlett Johansson can play the lead in a Manga adaptation and Emma Stone can play a movie character who is half Asian, it's no surprise that major magazines wouldn't put Asian women on their covers, but instead choose to feature white star after white star.
Yet by featuring an Asian woman as a major character in The Last Jedi, the Star Wars franchise pushed Vanity Fair to break this particular glass ceiling. Just like casting Boyega as the franchise's first black lead in The Force Awakens, or Diego Luna as the first Mexican Star Wars hero in Rogue One, the casting of Tran is already making an impact on pop culture. On screen representation matters, and this Vanity Fair cover is proof that diversity in Hollywood can have an impact on the media at large. If Star Wars continues to diversify the galaxy far far away, it could usher in a new era for Hollywood — one where no one will feel excluded just because of their ethnicity.