Why Ashley Can't Be Trusted On 'A Million Little Things'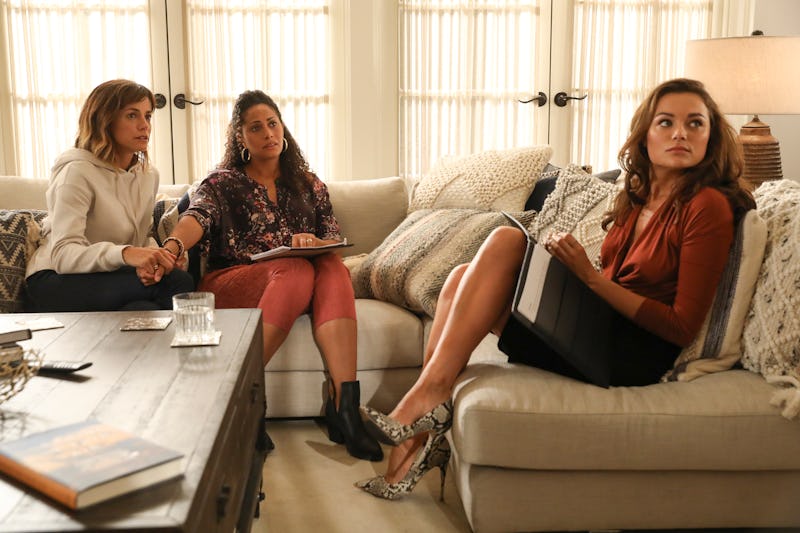 Jack Rowand/ABC
Spoilers ahead for Season 1 Episode 2. A Million Little Things may as well be called A Million Little Secrets, and Jon's assistant Ashley is keeping about 999,999 of them. After the first two episodes, it's clear she's hiding something (many somethings) and may not actually be acting in her boss' best interest. Ashley's probably gone rogue, friends, and it's all in service of not letting anyone know what Rutledge is on A Million Little Things.
In the premiere episode, viewers saw Ashley hide Jon's note to his wife Delilah and also delete 12 files off his computer that contained the word "Rutledge." Then, in Episode 2, the details of her cover-up kept growing. To start, Ashley opened up the letter Jon wrote to Delilah. From what I could make out, it seems that Jon was trying to tell Delilah something that even faithful assistant Ashley didn't know.
"There's an envelope behind the painting ... Ashley had no idea I was going to do this ... ask her what she's doing, as I don't want you ... doesn't know what you know, she will be protected."
What does Delilah know that Ashley wouldn't? Why does Ashley (assuming she's the "she") need to be protected? The answers will likely make themselves known as the season goes along. But, for now, Ashley does know about this since she read the letter. Viewers watch her get the envelope from behind the painting and open it up to reveal an Orchard Circle life insurance packet that's made out to Jon's three guy friends and some strange woman named Barbara Morgan. It's yet to be determined who that might be, but it's odd nonetheless. The life insurance document was also in an envelope marked Rutledge, whose true meaning eludes us. But, since Jon dealt in real estate, it's presumably a place.
The files Ashley deleted seemed pretty legalese in nature, with file names like "fee schedule," "letter of intent," "initial application," etc. One thing that stands out is a file called "Delaware provisions." The show takes place in Boston, so perhaps this piece of Rutledge real estate is in Delaware? (Or maybe it's in Delaware County, Pennsylvania where, in real life, Rutledge is a borough name.)
It's unclear why Ashley is so intent on hiding Rutledge from Delilah and Jon's friends. As the show's suggested several other times, he had everything planned to a T. Why would he have neglected to delete those Rutledge files if that's what he truly wanted to do? And since he told Delilah about the Rutledge envelope in his letter to her, he clearly didn't want it to be a secret.
Ashley is taking things into her own hands, and she certainly doesn't seem like someone who can be trusted. After the first episode, some fans speculated that Ashley and Jon were having an affair, but it seems more likely that Ashley had one-sided feelings for Jon. Now she's taking his affairs into her own hands and deciding what she believes is best, even if it's not what Jon actually wanted. She's so secretive about her boss that she wouldn't even tell his friend Gary the phone password so he could get the hockey tickets off it. She took the phone and put the password in herself, when no one was watching, before handing it back.
Ashley could be hiding much more than just Rutledge, and her motives are thus far pretty suspect. If more secrets threaten to come out in future episodes, look to Ashley to see if she's trying to cover them up.
If you or someone you know is experiencing suicidal thoughts, call the National Suicide Prevention Hotline at 1-800-273-8255 or text HOME to the Crisis Text Line at 741741. You can also reach out to the Trans Lifeline at 877-565-8860 or the Trevor Lifeline at 1-866-488-7386, or to your local suicide crisis center.