Sally Yates Is Staying Under The Radar ... For Now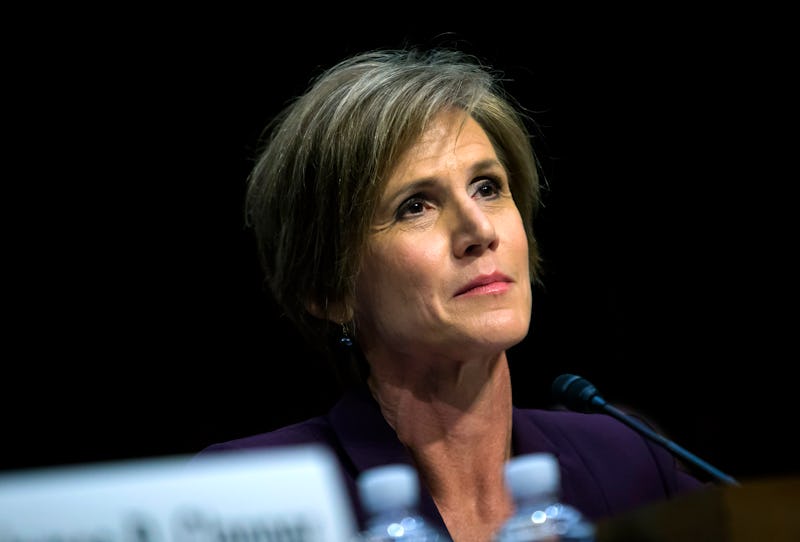 Eric Thayer/Getty Images News/Getty Images
Just 10 days into his term, on Jan. 30, President Donald Trump fired acting Attorney General Sally Yates for refusing to enforce his travel ban executive order. On Monday, Yates returned to Washington, D.C. to testify before the Senate Judiciary Subcommittee on Russian interference with the 2016 presidential election and former National Security advisor Michael Flynn. Now that her time at the White House has ended, what will Yates do next?
Yates was mostly out of the headlines once the dust settled after her firing. However, she has been spotted out and about in Atlanta a few times, most notably at a February race relations panel with former Attorney General Eric Holder. At the event, she received a standing ovation upon entering the conference center from fans who admired her courage in standing up to President Trump. She also received pleas from constituents to run for governor of Georgia. Yates didn't directly deny a plan to run for office but instead responded that she was just there for the panel.
So, will she run for office? Only time will tell. Yates has certainly appealed to Americans committed to resisting Trump's policies and has become somewhat of a hero among Democrats and progressives. During her testimony on Flynn and Russia, she remained cool and answered questions from the committee with grace under pressure. Some would even go so far as to say that she outwitted Sen. Ted Cruz about constitutional law.
Yates has earned a group of staunch supporters, who are so passionate that they got #SallyYatesIsAPatriot to trend on Twitter ahead of her testimony. Now, she's got Democrats tossing around her name for governor. The Democratic Party is looking for some new politicians for voters to get excited about, and Yates could be that person for a state that went to President Trump in the election. Her new supporters could certainly gain her some momentum if she were to run. But she hasn't officially announced anything either way, so it's a little too early to speculate.
Another option for Yates is to go into the private sector. Being fired by the president probably wouldn't negatively impact her job search. In fact, Bloomberg reported that it's possible some law firms either wouldn't care about the incident or would be even be more interested in her because of it. And with her level of experience, it makes sense.
Then again, Yates might like having a break from the demands of practicing law. Maybe she'll take a few years off, taking a page out of former President Barack Obama's book and go kitesurfing in the British Virgin Islands. Whatever she decides, the country will be highly anticipating her next move.