This New Apple Feature Will Help You Limit How Much Time You Spend On Apps You Use Too Much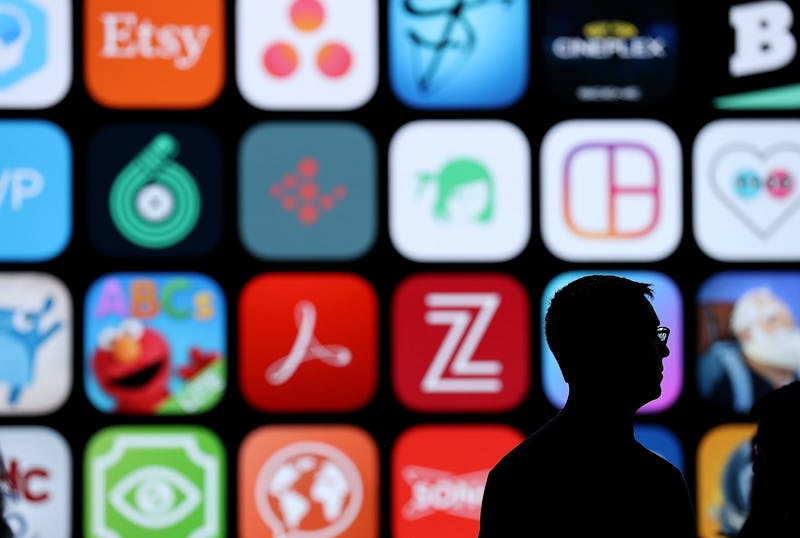 Justin Sullivan/Getty Images News/Getty Images
Each year at their Worldwide Developer Conference (WWDC), Apple unveils new technology to make your iPhone smarter and more enticing. However, this year, the company pivoted and announced an initiative that will actually help you use your phone less. If you haven't heard of the new Screen Time feature in Apple's iOS 12, which is part of their new Digital Health package, it's going to provide deep insight into how you're using your iPhone, which could be somewhat horrifying.
Craig Federighi, senior vice president of software engineering at Apple, announced the Screen Time feature in his keynote speech during WWDC 2018. "Screen Time empowers you with both insight and control over how you spend your time," Federighi said during the keynote. "Every week you get a weekly activity summary that details how you used your iPhone." Screen Time also gives you a detailed activity report — aka, so you can no longer ignore how much time you're spending looking at photos of cute dogs on social media.
The report will also break down how you use your phone during the day and during the night when you should be sleeping, as well as how often per hour you're picking up your phone, and which apps are sending you the most notifications. "Equipped with this insight you can make decisions about how much time you want to spend with your device each day," Federighi said. Additionally, the new feature will allow you to even set app limits, so you can set time limits on any apps you find you're using more than you'd like.
Get Detailed Activity Reports
You likely already know that you use your phone too much, and perhaps you panic when it's out of your line of vision. But, do you know exactly where you're spending all of your time scrolling? This is where iOS 12's detailed activity reports for its forthcoming Screen Time feature can help by providing you with a deep dive into your iPhone activity.
If you think you're only spending an hour a day on Instagram but your activity report reveals that you're really spending five hours a day liking puppy pictures, and you don't think you have the willpower to stop on your own, Screen Time has tools to help you slow your scroll.
Set App Limits
For chronic scrollers who aren't able to limit their screen time without help, the iOS 12 Screen Time feature can police your iPhone app activity. "We know there are people who'd like a little extra help in managing their use of apps, and for them we've created App Limits," Federighi said. "If in your activity report you see an app where you might want to be spending a little less time, you can set your own limit."
Here's how it works. When you're using an app you've applied a limit to, you'll receive a notification letting you know that your time on that app is almost up. Once you've reached your self-imposed limit the app will switch to a screen letting you know that it's time for you to move on.
"We'll let you grant yourself an extension if you want," Federighi said, "but we'll give you a reminder later to move along." If you think you can outsmart iOS by switching to your iPad to continue looking at picture of kittens on Twitter, the tool applies the limit across your devices.
Do Not Disturb At Bedtime
If you already have your phone set to go into Do Not Disturb mode at bedtime, then you know that while you won't hear the notifications, that doesn't stop them from showing up on your screen. And, it's no secret that opening up your phone to glance at the time and being greeted with a screen full of stuff you don't want to see can prevent you from getting back to sleep.
Enter Do Not Disturb during Bedtime. This new iOS 12 feature will hide your notifications while your phone is on Do Not Disturb so you can use your phone to check the time without being reminded of your eleventy-million Monday-morning meetings. In the morning when your Do Not Disturb period comes to an end, your phone screen will show a gentle morning greeting.
"In the morning when you wake up, you're gently eased into your day," Federighi explained. "You can tap when you want to start confronting those notifications." Do Not Disturb will have other new features too, including one that will allow it to synch with your calendar so the phone you forgot to silence isn't ringing during your best friend's wedding or during a job interview.
Control Your Notifications
Just because your phone isn't on Do Not Disturb doesn't mean you want to see a notification every time someone likes your snap. Federighi said iOS 12 will offer a feature called Instant Tuning, which you can access right from your lock screen. Instant Tuning allows you to send notifications of your choice directly to your notifications center so they don't show up on your lock screen. You can also use Instant Tuning to turn off notifications altogether. Additionally, Siri will suggest you turn off notifications for apps you're no longer using.
"We also wanted to give yo help managing large numbers of notifications," Federighi said, and announced that iOS 12 will offer support for grouped notifications. "Notifications are grouped not just by app, but also by topic and thread, and it gives you a great overview of the notifications you've received." He added that with a single swipe you can triage the notifications on your screen. This was basically the mic drop moment of the WWDC 2018 keynote, and it's definitely something to look forward too.