Starbucks' New Spring Frappuccino Is A GORGEOUS Shade Of Strawberry Red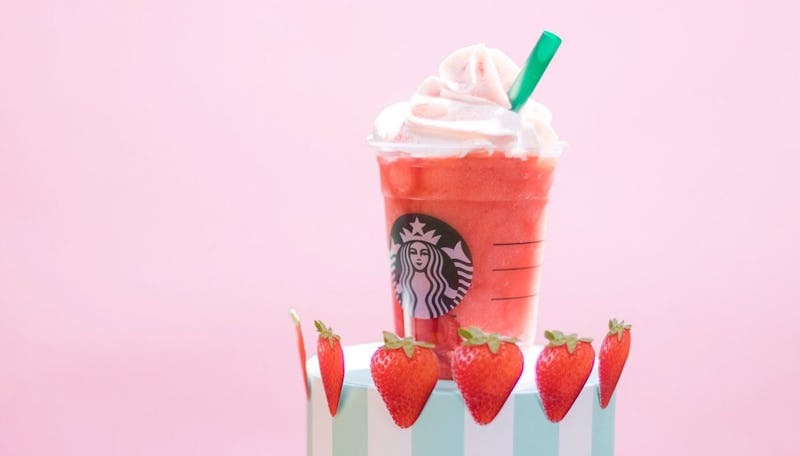 Starbucks
While most of the United States remains under ice and snow in April, Japan is already getting a taste of spring. Literally, all thanks to Starbucks. A new Frappuccino has debuted — and it's a perfect treat for spring. So, what is Starbucks' Strawberry Very Much Frappuccino? If you're in the US, I have sad news to get out of the way first: It's only being sold at stores in Japan through May 29. If you're located in Japan, however — or just so happen to be traveling there (I'm totally not checking Google Flight airfare right now) — it's maybe the perfect blended drink to ever cross the menu.
Starbucks Japan is no stranger to adding vibrant drinks to their menu. It was only back in February that we got to gawk at pictures of the millennial pink Pink Medley Tea Latte. But now we're heading into a new season. Namely, spring. And when I think of the season I imagine strawberries, plump with sweet juice. Apparently, so does Starbucks. As a result, the Strawberry Very Much Frappuccino is full of them. It's like a smoothie — but with coffee.
According to the description on Starbucks Japan, the Strawberry Very Much Frappuccino is what happens when "sweet and sour strawberries and creamy blend together." But the extent of the fruit in the drink doesn't stop there. It's a full blown feature of spring's most popular fruit.
The blended beverage also features strawberry pulp, or sauce, from the sweet and sour varieties of the fruit. It's topped with a strawberry whipped cream and a special red powder. Together, it morphs into a show stopping cup that's perfect for your Instagram ~vibe~. Starbucks Japan describes the drink, saying that it's, "made from strawberries from top to bottom so that you can enjoy all aspects of strawberry until you finish drinking." This could be spring's Pumpkin Spice Latte for a few reasons. It's a seasonal treat that embodies the time of year and because it's only available for a short, limited time. The woe of a limited menu item is felt globally. According to Hypebae, the drink will run in select Japanese stores until May 29.
Customers lucky enough to be in close proximity to Starbucks' vibrant Strawberry Very Much Frappuccion have thankfully been posting about it online so that we can live vicariously through them. Twitter user @hannri_eri says, "The #STRAWBERRYVERYMUCHFRAPPUCCINO is pretty good. A lot of fruit and a little crushed ice. I approve." Another Twitter user gushes, "I'm so happy to be alive for the new Starbucks Frappuccino." So, if you're not in Japan, you're apparently missing out on one of the most well received frappes yet.
One genius Twitter user seems to have chocolate syrup swirled on top of the whip in a professional move. Chocolate and strawberries have long been a harmonious pairing. Chocolate dipped strawberries anyone? Ask for yours with a serving of chocolate sauce to elevate the frappuccino to new levels of delicious. Just be cautious of brain freeze. You might slurp this concoction up a little too quickly.
With the mid April debut of Starbucks Japan's Strawberry Very Much Frappuccino has a lot of customers saying, "thank you berry much". This frappuccino has blended more than coffee and ice into it. It's managed to blend a whole season into a cup. The Twitter reviews are in, and people love this fresh, "yummy" drink. It's so packed with fruit that picking up a tall Strawberry Very Much Frappuccino will basically be like picking up a pint of strawberries at your farmer's market. If you're craving spring and in Japan, you'll have to head to the nearest Starbucks to try one out. As for me? I have a flight to catch.