This Is Why Sustainable Fashion Is So Expensive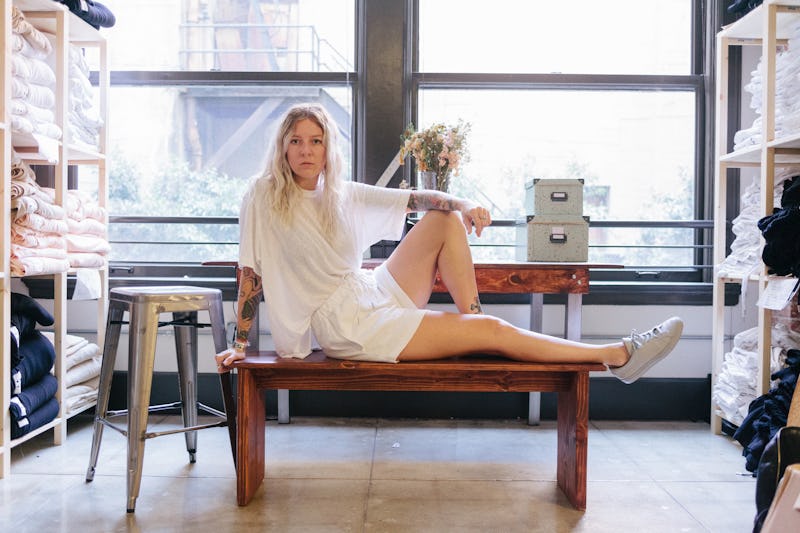 Bad Decision Adventure Club
It's 2017: a year where the world is not simply talking about issues about climate change and the like, but it's also taking steps to correct those issues and live more consciously. According to EcoWatch, the fast fashion industry is one of the highest contributors to pollution, which means many shoppers are actively looking to support companies that follow eco-friendly guidelines.
The term "sustainable fashion" has been a buzzworthy one as of late, and when you love the world you're living in, of course you want to do as much as you can to prevent an even larger carbon footprint. While it's easy to want to start buying pieces considered friendly towards the environment, oftentimes that little — or sometimes big — number on the price tags might hold you back from making that purchase and instead opt for more affordable fast fashion pieces.
Before making any sort of blind splurges, especially one on an item advertised as friendly for the planet, it's important to educate yourself and know exactly what's going into the clothes you decide to wear.
It's tempting to think the label "sustainable" means "expensive," but why not rewrite the narrative to better understand what the cost of shopping and living sustainably is. You'll quickly find that you aren't simply investing in your clothes, but also investing in the environment you live in.
What Is Sustainable Fashion Exactly?
With the fashion industry being the second highest polluter in the world behind agriculture, it's imperative for brands to start taking steps towards reducing their carbon footprints.
"Sustainable fashion is created and designed with the philosophy or goal to use a process that supports the human impact on the environment and social impact," says Rachel Grant, founder and CEO of unisex luxury (uniluxe) brand Bad Decision Adventure Club. BDAC is an eco-friendly brand that uses organic materials and fibers, and takes pride in its sustainable processes. Because of the fabric choices, BDAC ensures minimum water usage and that no harmful pesticides are used to create their pieces.
Over at Reformation, the brand is pushing for lower resource use, less pollutants and waste, and doing it all in an ethical way, according to founder Yael Aflalo. "Our goal is to make stuff and run our business in a way that respects environmental limits, and protects people's health and well-being," she tells Bustle.
But sustainable fashion is more than just how materials and clothes are made, says Livia Firth, founder of Eco-Age, the brand consultancy that verifies Emma Watson's sustainable sartorial choices on the red carpet. Firth says, "Sustainable fashion equals a sustainable wardrobe — full of memories and pieces I bought over the years, which I reuse over and over again. If I have to buy something new, I always ask myself, 'Will I still wear this when I am 60?' —if the answer is yes, I buy it."
Not only can sustainable fashion be defined by how it's made, but also how the consumer buys it. "If the article is vintage, reused, or uses recycled fabrics, it is sustainable," says Grant.
Why Is Sustainable Fashion So Expensive?
There are plenty of reasons to start shopping sustainably now, but one of the main reasons people aren't? Sustainable fashion costs more than some are willing to pay, and when you want to make your closet more sustainable, it can be hard to justify breaking the bank for a small number of items. In order to make smart, sustainable purchases, it's important to know what goes into the making of an eco-friendly garment from start to finish and how that leads to the prices at which you'll find them.
"The reason why it can get so expensive is because it takes low-impact organic crops to produce them. They are typically grown without pesticides and synthetic fertilizers and can't be genetically modified," says Grant, whose company uses hemp for its material. "There are very strict federal guidelines to be certified organic which is why it's more expensive to mill organic or recycled fabrics — you're paying for conscious fashion."
To add, most sustainable fabrics are made to order, which reduces the amount of waste in terms of mass producing fabric. Think of sustainable fashion like organic food, says Firth. "At the beginning it was so expensive, but the more people bought into it, the more the prices went down and then it became widespread," she tells me.
There's also strength in knowing exactly how much energy goes into each garment, which is why Reformation uses its RefScale, measuring the impact the brand is having on the environment in terms of water, carbon, and waste when making its clothes. "On average, we save 75 percent of the water, 60 percent of the carbon, and 50 percent of the waste of regular fashion," Aflalo shares with me. Like BDAC, Reformation uses sustainable materials, as well as deadstock or vintage fabrics, which means that fabric that would otherwise go into a landfill, is created into something new.
Of course, with sustainable fashion comes ethical fashion. This means that the people making the clothes are working on fair wages and safe, healthy environments as opposed to sweatshops. Brands that partake in ethical fashion focus on the people as well as the garments.
How Can You Be More Sustainable Through Fashion?
Research your brands, old and new, to learn if they use eco-friendly materials such as hemp, organic cotton, or vintage and deadstock fabrics. While you're studying up, you'll quickly learn if these products are constructed in a sustainable manner rather than just using sustainable materials. Grant suggests starting with your favorite brands. "See what they're doing (or not doing) to help the environment and see if it falls into your own beliefs and values."
When you're ready to increase your level of sustainability and decrease your carbon footprint, you should also keep an eye out for sustainable and sustainably-made materials, like Pinatex, a leather alternative made from pineapple leaves.
Another way to level up on your eco-friendly wardrobe is to invest in pieces that will last longer. According to Firth, the average item lasts in a woman's wardrobe for five weeks. Think about what you're wearing and how many times you actually wear it. The same goes for shopping recycled or even up-cycled clothes. You'll end up knowing which pieces matter the most to you, as well.
Organic and sustainable clothes are no longer for the plain and simple. You can look good and do good for the environment with your wardrobe. "We promote and believe in ethics and aesthetics," says Firth. Spread awareness with beautifully-designed and sustainably-made clothes.
As more brands begin to create sustainable options for your wardrobe, not only will you know what's going into the process of your clothes, but you'll also be able to share that information with your friends and in turn, do your part in saving and protecting this planet.