10 Books About Global Warming Every Engaged Citizen Should Read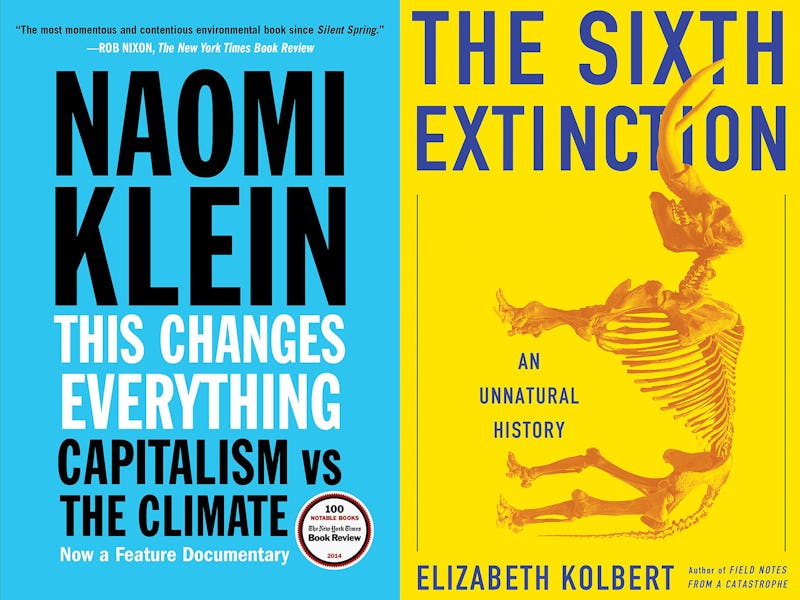 In the months since Donald Trump has become president, more and more people have become inspired to join the Resistance — whether that means volunteering, campaigning, donating, making calls, educating themselves and others on the issues, or otherwise. Bustle's 31 Days of Reading Resistance takes a look at the role of literature and writing in the Resistance, both as a source of inspiration and as a tool for action.
Arguing with someone who doesn't believe in climate change can feel somewhat like smashing your head repeatedly into a brick wall. I mean... when a person has decided that "science" and "facts" and "evidence" are irrelevant, there's really not much you can say to convince them of anything. It's frustrating. It's terrifying. And it's hard to argue when you start to think about the millions of people and animals who are already suffering due to human-caused climate change, and break down in tears. But, unfortunately, crying and hiding rarely solves anything. Arming yourself with knowledge is the first step towards fighting back. So here are a few books about global warming to inspire you to resist climate change deniers.
After all, there's a shocking amount of misinformation about global climate change floating around on the internet. In an effort to "show both sides" of a political issue, websites and news channels will frequently present climate change denial as a separate but equally researched opinion, rather than as a fringe scientific belief on par with the Earth being flat or alchemy. We need more thoughtful, factual accounts of what's happening to our world. So break out some well-researched books on the subject, take a deep breath, and keep fighting for the planet (it's the only one we have):
As the title implies, this book is a straightforward description of the science behind climate change, and how global warming is going to affect you, your family, and your home. It's a practical guide with succinct, clear answers to all of your burning questions. It doesn't quite spin out into Mad Max-style apocalyptic predictions, but it does give you a realistic sense of what irreversible damage has already been done to the environment.
We're currently in the middle of the most devastating extinction event since that big asteroid that wiped out the dinosaurs. In The Sixth Extinction, Elizabeth Kolbert explains exactly how we've managed this, weaving together research with the history of "extinction" as a concept. It's a sobering read, but also a fascinating look at how we've reached this point, and where we go from here.
Yes, this is indeed a book about climate change for Evangelicals. Faith and science don't have to be mutually exclusive! If you or someone you know finds it hard to reconcile religion with climate science, this book is an excellent, faith-based argument for caring about the Earth. It might not be the perfect read for secular folk, but it gives a great overview of the science and the moral obligation to minimize humanity's impact on the environment.
So it turns out that capitalism might not be a flawless philosophy. Surprise! Naomi Klein urges all of us to think critically about our system of economics, and to seize the fight against climate change as an opportunity to transform the way our whole society operates. It's a win/win! OK, so it might not be that easy, but This Changes Everything is an inspiring argument for looking at capitalism and climate change as one big, tangled problem that can be solved.
Is it just me, or does it feel like American politics have become just a tad partisan over the last few years? Despite being scientific fact, climate change is a deeply polarizing issue. The Madhouse Effect uses science, reason, and political cartoons to explain this polarized, hot world we live in, and to collapse the pseudo-science arguments against climate change.
So how did we get here, anyway? How did "science" become such a contentious issue? The Merchants of Doubt digs into the history of corrupt scientists and scientific advisers (almost always with ties to politics or specific industries), and how they've suppressed the truth for years. It turns out some people would rather have a lot of money right now than have a functioning Earth later. This book will fill you with a lot of righteous fury at the hypocrites who sell us junk and run our country, but it might also inspire you to act on that fury and start calling your representatives.
I would say that Six Degrees is not for the faint of heart, except that none of us can afford to be faint of heart about this issue. If the average global surface temperature rises by six degrees, most of life on Earth will go extinct. Including humans. If you need the nonfiction equivalent of a swift kick in the pants to start bugging your representatives and driving an electric car, here it is. Six Degrees explains what the Earth will look like as it gets hotter and hotter, and, if left unchecked, it really doesn't look good.
If you're already a die-hard environmentalist, a lot of this book will probably feel a little redundant. But if you need help explaining to climate change deniers that standing up for Earth is not a "radical" political opinion, this book is for you. Bill McKibben's memoir is an easy read about waking up to the realities of global warming. If you find yourself clamming up during political debates, this book will urge you to get more involved.
If you just want all the facts of climate science delivered to you in highly accurate, digestible, comic book form, then pick up Climate Changed. It's just as sobering as all of these other books, yes, but the graphic novel format helps you absorb more of the information before breaking down into sobs. Squarzoni clarifies the complex concepts, interviews a variety of experts, and calls you, the reader, to action in no uncertain terms.
Look, maybe you've already read the nonfiction books. You know the science. You've done the research. And you're exhausted, drained, and more than a little hopeless. That's when you turn to a masterpiece of environmental fiction, like Kingsolver's suspenseful Flight Behavior. Set in rural Appalachia, Flight Behavior examines the realities of global warming from the very real, human perspective. It won't help nearly as much with the science, but it will give you some much needed inspiration to keep resisting climate deniers every way you can.
Follow along all month long for more Reading Resistance book recommendations.