Trump's Habit Of Deleting His Tweets Is Cause For Concern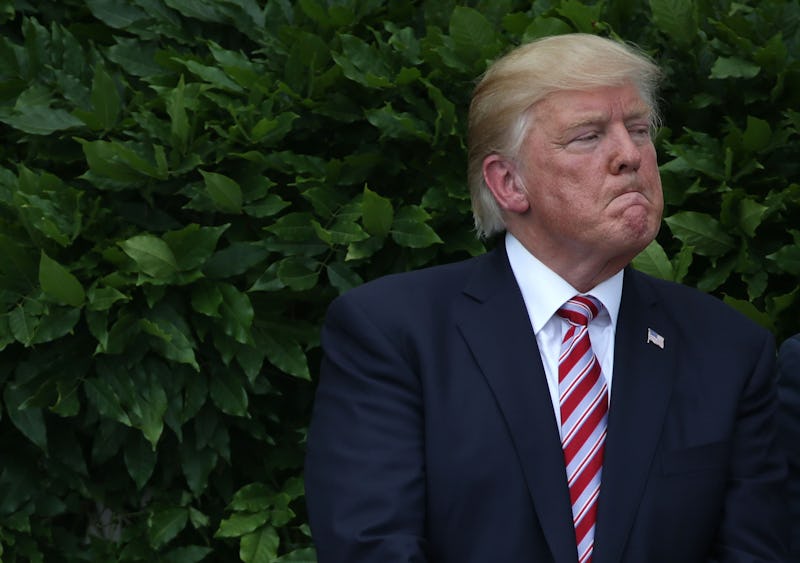 Alex Wong/Getty Images News/Getty Images
For one fateful night in May, for one fateful night, the internet was gripped by a bizarre pronouncement by the president of the United States ― namely, Donald Trump's cryptic "covfefe" tweet, which became an overnight sensation. And now, a Democratic lawmaker by the name of Rep. Mike Quigley has introduced legislation that draws its name from the famously egregious Twitter typo: so, what is the COVFEFE Act, you ask?
First things first, the why of it. The COVFEFE Act is one of those bills that bends over backwards to reverse-engineer its own acronym. In this context, the words "covfefe" ― which despite a subsequent tweet by Trump muddying the waters was quite obviously a butchered spelling of "coverage" ― stands for the Communications Over Various Feeds Electronically for Engagement Act. And in this context, that's a slightly convoluted way to say "tweets."
Here's the basic idea: the COVFEFE Act aims to legally prohibit the deletion of tweets and other social media posts by the president, putting them under a protected class of digital communications that must be preserved for the purposes of record-keeping and public accountability.
Here's how Quigley's bill defines "social media."
The term "social media" means any form of electronic communication (such as a website for social networking and microblogging) through which users create an online community to share information, ideas, personal messages, and other content (such as videos).
It had already been a subject of debate whether the president's tweets, both on his official @POTUS account and his longstanding personal @realDonaldTrump account, were technically covered under the existing Presidential Records Act. Quigley's bill, basically, would remove any question about that, legally establishing that Trump may not delete his tweets after sending them.
Quigley laid out his rationale for the bill in a statement, saying it's imperative that Trump's tweets be "documented and preserved for future reference."
President Trump's frequent, unfiltered use of his personal Twitter account as a means of official communication is unprecedented. If the President is going to take to social media to make sudden public policy proclamations, we must ensure that these statements are documented and preserved for future reference. Tweets are powerful, and the President must be held accountable for every post.
As NPR notes, the White House doesn't have much room to object to this interpretation, at least not without throwing its press secretary under the bus. Last week, Press Secretary Sean Spicer told the White House press corps that Trump's tweets should be considered official presidential statements. It was a seemingly honest answer, given following Trump's attacks on London mayor Sadiq Khan in the immediate aftermath of the London attacks, but not one that makes things any easier for the administration.
Of course, Quigley's bill is massively, almost prohibitively unlikely to actually become law ― after all, it would have to be passed through both the GOP-controlled House and Senate, and then signed into law by Trump himself. And if you think there's any chance Trump is going to sign a bill that in any way constrains his behavior on Twitter, you better not hold your breath.