The "Good Guy With A Gun" Excuse Isn't Just Outdated — It's Dangerous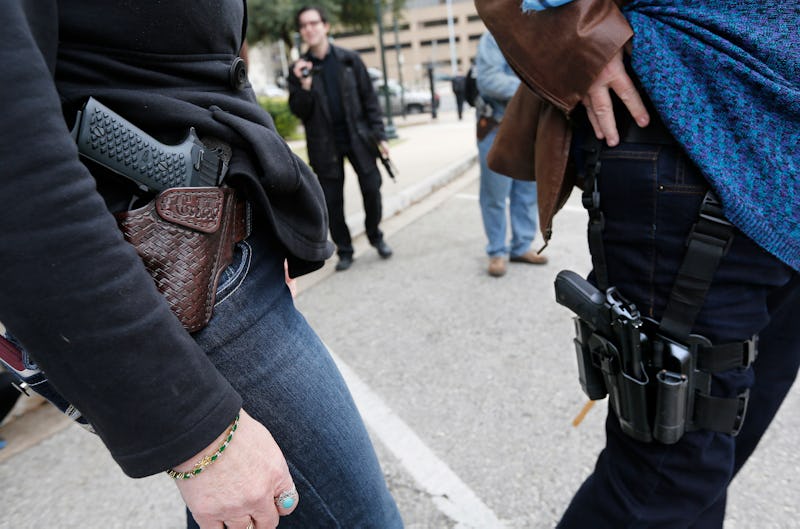 Erich Schlegel/Getty Images News/Getty Images
After a mass shooting killed at least 58 people late Sunday night in Las Vegas and injured over 500 others, America is revisiting the debate over gun control. In an effort to debunk the efficacy of stricter gun laws, some gun owners resort to the "good guy with a gun" argument. However, the circumstances that allowed the Las Vegas shooting to become so deadly makes it much more difficult — if impossible — to agree with.
The National Rifle Association's vice president, Wayne LaPierre, first coined the "good guy with a gun" argument in 2012 after the Sandy Hook school shooting that killed 20 children and six adults. During a press event in Washington, LaPierre essentially suggested that a "good guy" who carries a firearm in public could use it to take down a "bad guy" or active shooter.
"The only thing that stops a bad guy with a gun is a good guy with a gun," LaPierre said. "With all the money in the federal budget can't we afford to put a police officer in every single school?"
Ultimately, LaPierre was trying to convince Americans that being surrounded by people with concealed weapons actually makes you safer because they can theoretically protect you from a would-be mass shooter. And LaPierre isn't the only person who's stood by this. Following the November 2015 Paris attacks, the lead singer of the band playing at the Bataclan when shots rang out and killed 90 people, insisted that everyone should carry a gun.
Eagles of Death Metal frontman Jesse Hughes told French TV station iTélé that his pro-NRA views hadn't changed.
Did your French gun control stop a single fucking person from dying at the Bataclan? And if anyone can answer yes, I'd like to hear it, because I don't think so. I think the only thing that stopped it was some of the bravest men that I've ever seen in my life charging head-first into the face of death with their firearms ... Because I've never seen anyone that's ever had one dead, and I want everyone to have access to them, and I saw people die that maybe could have lived, I don't know.
Hughes' point isn't completely invalid given his experience. LaPierre's statement, on the other hand, becomes more and more disgraceful when you consider the fact that the shooter in Las Vegas shot indiscriminately from a vantage point hundreds of feet high. With the attacker shooting from the 32nd floor of the hotel, a concert-goer with a gun would have had a slim chance of hitting him from the ground. A gun rights advocate and NRA vice-president should know that.
In fact, the Las Vegas shooting changed one guitarist's mind completely when it comes to what he believes about gun control. Caleb Keeter, guitarist for the Josh Abbott Band, was at the Route 91 Harvest festival in Las Vegas on Sunday night. "I've been a proponent of the [second] amendment my entire life," he tweeted on Monday morning. "Until the events of last night. I cannot express how wrong I was."
We need gun control RIGHT. NOW. My biggest regret is that I stubbornly didn't realize it until my brothers on the road and myself were threatened by it. We are unbelievably fortunate to not be among the number of victims killed or seriously wounded by this maniac.
Politicians and even late night hosts are certainly urging Americans to pray for victims of the Las Vegas attack and keep them in their thoughts. But they're also reminding citizens to advocate for concrete action that may prevent such a needless loss of life from occurring again.