The Theme Of This Year's International Women's Day
by Lara Rutherford-Morrison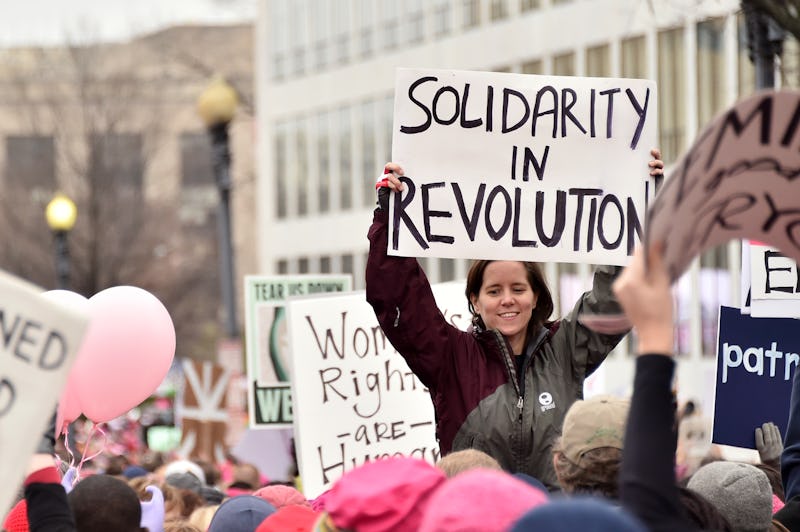 Mike Coppola/Getty Images Entertainment/Getty Images
On March 8, people in dozens of countries all over the world will observe International Women's Day, a day that for more than a century has been set aside to celebrate women's achievements and campaign for gender equality. This year's theme for International Women's Day is tailor-made for 2017: #BeBoldForChange. In a year that has already seen millions of women and their allies march in support of women's rights, International Women's Day represents an important opportunity to continue the fight for necessary change.
"For International Women's Day 2017, we're asking you to #BeBoldForChange. Call on the masses or call on yourself to help forge a better working world— a more inclusive, gender equal world," announces the IWD website. The organizers have elaborated on the theme, writing,
Each one of us — with women, men and non-binary people joining forces — can be a leader within our own spheres of influence by taking bold pragmatic action to accelerate gender parity. Through purposeful collaboration, we can help women advance and unleash the limitless potential offered to economies the world over.
The website points out that there are many ways to be bold and many points of entry in the work to improve women's lives around the world. You might focus your efforts, for instance, on preventing gendered violence, or calling out gender inequality. You could focus your activism on promoting women's education and advancement in the work force, or on celebrating the achievements of women.
International Women's Day will coincide with "A Day Without A Woman," a general strike planned by the organizers of the Women's March on Washington. You can #BeBoldForChange by participating in the strike in a number of ways, including by striking from work or domestic duties (if you're able to do so — of course, not everyone has the means or ability to strike) or by participating in the #GrabYourWallet campaign and choosing to only spend money on businesses that support women's equality.