Florida Students Are Organizing A Massive March Because "Our Lives Are On The Line"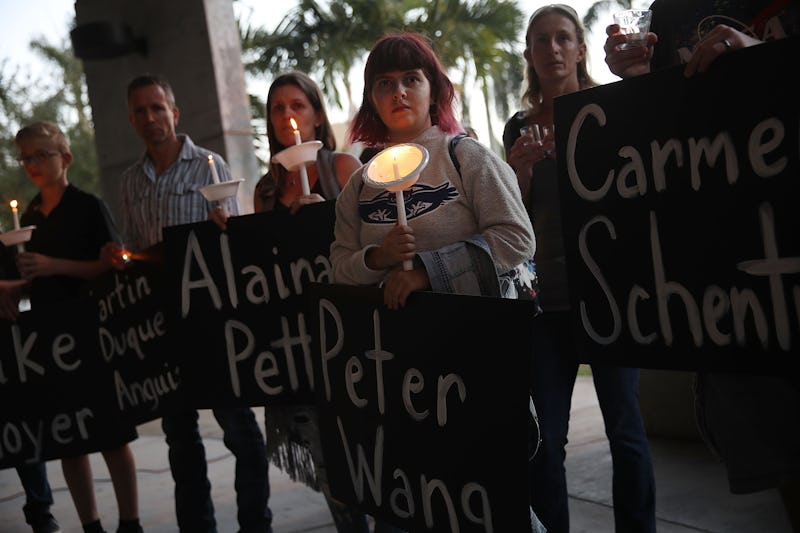 Joe Raedle/Getty Images News/Getty Images
After politicians responded to last week's mass shooting in a Florida high school with "thoughts and prayers," surviving students of the school demanded more: action on gun control. Florida school shooting survivors organized the "March for Our Lives" to build pressure on Congress and President Trump to pass meaningful gun control legislation.
The march will be held in Washington, D.C., and in other cities across the nation on March 24. The organizers' goal is to ensure that the shooting at Marjory Stoneman Douglas High School in Parkland, Florida, is the country's last. A former student killed 17 people and injured 15 more with an AR-15 last week on Valentine's Day.
The event's website allows you to sign up to receive information on the D.C. march or help organize one in your community. It also features a mission statement that explains why the student organizers are taking action:
Not one more. We cannot allow one more child to be shot at school. We cannot allow one more teacher to make a choice to jump in front of a firing assault rifle to save the lives of students. We cannot allow one more family to wait for a call or text that never comes. Our schools are unsafe. Our children and teachers are dying. We must make it our top priority to save these lives.
Some of the student organizers spoke out on talk shows in the days following the attack. "My message for the people in office is this: You're either with us or against us," Cameron Kasky, a junior at the high school and one of the march's organizers, told CNN's State of the Union on Sunday morning. "We are losing our lives while the adults are playing around."
Kasky thanked older generations for their support on other subjects but promised that young people will make gun control happen without them if necessary. "Our lives are on the line here," he told CNN. "At the end of the day that's going to be what brings us to victory and to making some sort of right out of this tragedy."
Kasky's words echoed what was said at a speech in Fort Lauderdale on Saturday, when survivors including Emma Gonzalez called "B.S." on politicians and President Trump for saying "that tougher gun laws do not decrease gun violence."
"We are going to change the law," Gonzalez told the crowd on Saturday. "It's all going to be due to the tireless effort of the school board, the faculty members, the family members, and most importantly the students: the students who are dead, the students still in the hospital, the students who are now suffering from PTSD, the students who had panic attacks during the vigil," Gonzalez said.
Gonzalez was also a guest on State of the Union the next day. She explained that student survivors had organized a group called Never Again that would continue organizing on the issue of gun control. "We're going to be facing this with trepidation and determination," Gonzalez told CNN. "We are going to be the difference."
Superintendent Robert Runcie of Broward County Public Schools, the district the shooting happened in, spoke highly of his students. "They are intelligent, they're articulate, they're passionate, and they're committed to securing a safe future for themselves. This is their moment, this is their generation and they're stepping up and doing what needs to happen," he told NBC. "I feel so encouraged that this time it will be different."
Kasky explained that this movement is not partisan. It's not about Democrats or Republicans, he said. "It's about creating a badge of shame for any politicians who are accepting money from the NRA and using us as collateral," Kasky told CNN.
These voices will make the national stage on March 24.