A Few Ways To Predict The Royal Baby's Name While You Wait For The Official Announcement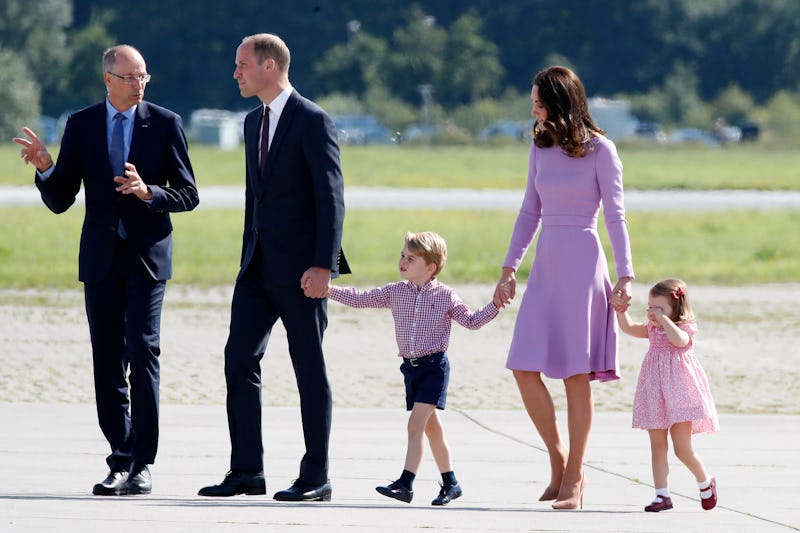 Franziska Krug/Getty Images Entertainment/Getty Images
All eyes have been on the Kensington Palace Twitter account since Kate Middleton announced her third pregnancy in September. And finally, all that patience has paid off: The new royal baby has officially arrived. As is traditional, the announcement of the birth was made first on Monday, April 23, and according to E! News, the baby name is expected to be announced soon. So if you're wondering what the new royal baby's name is, you may be in for a brief wait. However, there's one thing that seems pretty predictable: Just as they've done with their first two children, the Duke and Duchess of Cambridge will likely pay homage to the royal family with their choices.
Leading up to the birth, the name choice has been speculated about by many Brits. Vanity Fair reported that it's a tradition in Great Britain to take bets on the baby's gender —which isn't revealed until his or her birth — as well as the birthdate, birth time, weight, and of course, name. And while predicting celebrity baby names is quite popular in the United States as well, the rather set format and frequent recycling that goes into royal monikers takes royal baby name prediction almost to national pastime status in the U.K. After all, there are a great many traditions to be followed in the British monarchy, and endless lists of past regents to be honored, and that's before one even considers the Middleton side of the family tree. So options are limited significantly enough to make accurate predictions not only possible but probable.
In fact, British bookies successfully predicted the names of the Duchess' first two kids, so they may be right yet again. In 2013, George edged out James as the most popular pick in 2013, and in 2015, the name Charlotte received such a large percentage of the final bets that a source speculated to TIME that there had been a leak from within the royal family's inner circle. In the weeks leading up to the delivery, the odds on the British betting site William Hill leaned toward Arthur for a boy and Mary for a girl, with other options with particularly high odds including Alice, Albert, Frederick, and Victoria.
Both the baby's name and the most-predicted runner-ups are homages to past rulers. Prince William and Kate Middleton's eldest has a full name of George Alexander Louis. People reported that his first name is a nod to King George VI, the regnal name chosen by Prince George's grandmother, the reigning Queen Elizabeth II. The 4-year-old's middle name, Alexander, likely reflects the Queen's own middle name, Alexandra. And finally, the name Louis could serve as a tribute to multiple men: the Queen's consort, Prince Philip, whose grandfather was Prince Louis Alexander of Battenberg; Prince George's father Prince William, who counts Louis as one of his own middle names; and William's father Prince Charles, who lost his uncle and mentor Earl Louis Mountbatten to an IRA slaying in 1979.
As far as the newborn's next sibling, her full name is Charlotte Elizabeth Diana, and 2-year-old's three names honor the most important women in her parents' lives. E! Online reports that in addition to being the female styling of her grandfather Prince Charles' name, Charlotte is the middle name of Kate Middleton's mother, Carole, as well as her sister, Pippa. And the name "Elizabeth" is doing double duty as well — it's Charlotte's grandmother's legal and regnal name, of course, but also the middle name of her mother, Duchess of Cambridge. But it's her third name that really stands out. The Telegraph reports that the name Diana has never been used in the royal lineage before, nor is it in known usage on Middleton's side. Thus, it is meant solely to honor Prince William's late mother, the beloved Princess Diana of Wales, who died in a car accident in 1997.
The naming of royal babies has long been used to honor those who have come before in the lineage, and Middleton's third child is sure to be the latest meaningful addition to the family.