How The NFL Is Supposed To Handle Domestic Violence — And Why It's Being Called Out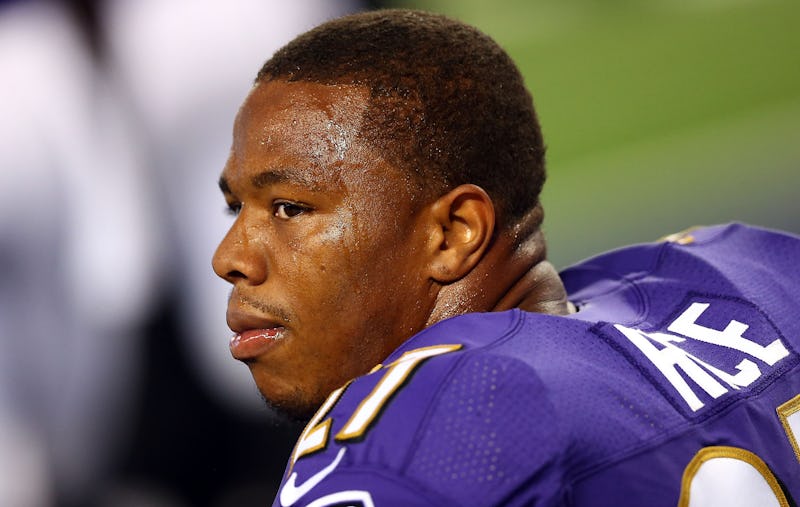 Ronald Martinez/Getty Images Sport/Getty Images
In the wake of the Harvey Weinstein scandal and the #MeToo movement, we've seen conversations about sexual violence in numerous domains, including politics, Hollywood, the music industry, and journalism. But with the Super Bowl coming up this weekend, what about football? Allegations of domestic violence have long plagued professional sports leagues, but the NFL domestic violence policy has come under fire over the past several years.
Back in 2014, the NFL was forced to reevaluate its domestic violence policy following its handling of the Ray Rice assault case. Rice, who was playing for the Baltimore Ravens, was arrested in February of that year after an altercation with his then-fiancee — who is now his wife — during which he allegedly struck her. But surveillance footage that came to light shortly thereafter showed him dragging his wife, seemingly unconscious, out of an elevator. Rice's attorney described it as a "very minor physical altercation."
So when the NFL issued a mere two-game suspension for Rice, the league faced significant backlash, and though NFL Commissioner Roger Goodell originally defended the length of the suspension, he subsequently implemented league-wide policies regarding sexual assault and domestic violence.
The new policies, which were still in place as of 2016, indicate that players involved in sexual assault or domestic violence incidents will receive a six-game suspension for a first offense and a theoretical lifetime ban from the NFL for a second offense. Additionally, when a player is "formally charged with a violent crime or sexual assault" — or if an independent NFL investigation determines that they violated the personal conduct policy — they will immediately be placed on paid leave.
But as ThinkProgress pointed out when Goodell instituted these new policies, it is unclear what they actually, concretely changed. Given that the Goodell classified the new policies under the NFL's Personal Conduct Policy, he already had the authority to give Rice a longer suspension if he wanted to. In fact, he passed down a six-game suspension to Pittsburgh Steelers quarterback Ben Roethlisberger in 2010 after a 20-year-old college student accused him of sexual assault, so it would have been a possibility in Rice's case as well.
Moreover, the NFL's 2016 Personal Conduct Policy states that upon committing a second offense, "an individual who has been banished may petition for reinstatement after one year, but there is no presumption or assurance that the petition will be granted." For obvious reasons, the league does not guarantee reinstatement, but the ban instituted after a second offense cannot accurately be called a "lifetime ban."
The Baltimore Ravens finally cut Rice in September 2014, shortly after which Goodell extended Rice's suspension to an indefinite one. But within two months, Rice successfully appealed his indefinite suspension, though he has not played professional football since then.
Bustle has reached out to the NFL for comment regarding its domestic violence policy and the criticism it has faced.
To determine whether or not Goodell's new policy actually changed anything, it would be helpful to take a look at the case of New York Giants kicker Josh Brown. After being arrested on a misdemeanor domestic violence charge in May 2015, Brown was suspended for just one game in August 2016.
The NFL revisited the case two months later because police documents contained Brown's admission that he had abused his wife. At that point, Brown was placed on paid leave and removed from the Giants' roster. Brown only faced the traditional six-game suspension in September, over a year after the original suspension was passed down, and he is not currently on any NFL roster.
The handling of Brown's case calls into question the effectiveness of the NFL's domestic violence policy. Shortly after Goodell instituted the new policies in 2014, a league representative suggested that the policy was little more than a public relations move designed to save the NFL's public image in light of multiple sexual violence scandals. As others have pointed out, NFL's domestic violence policy appears to focus more on discipline than on tackling the root systemic causes of domestic violence in the league, in order to make the public believe that the NFL cares about sexual misconduct.