The Prize For Winning 'Celebrity Island With Bear Grylls' Is Actually Pretty Cool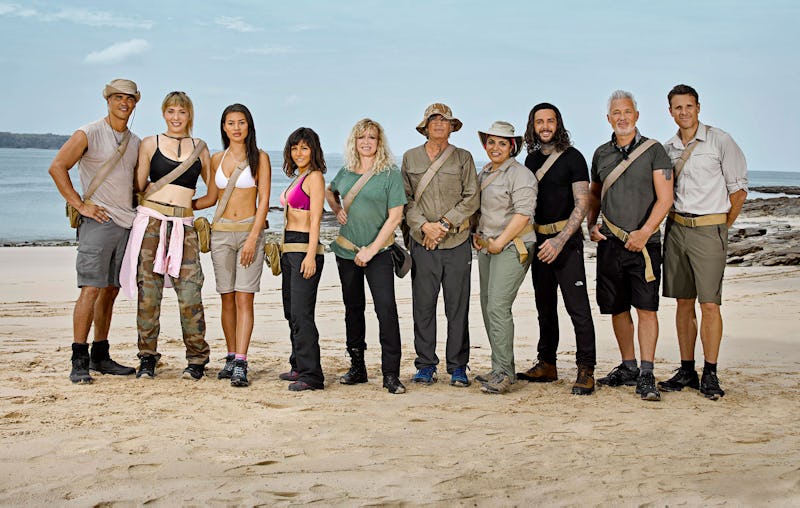 Channel 4
Celebrity Island with Bear Grylls is back with a vengeance this year and with just one more episode to go, it's going to be interesting. There's been a lot of drama this series, starting off with Celebrity Big Brother's Roxanne Pallett leaving after literally the first episode. Since then, Love Island's Montana Brown and transgender rights activist Paris Lees have also bailed on the Island, but there's seven celebs still going strong on the reality survival series. The question remains though: what is the prize for winning Celebrity Island with Bear Grylls? Well, it's a bit of a complicated answer and a bit of a mystery.
The show actually started off as special celebrity edition of The Island with Bear Grylls, in order to raise funds for Channel 4's charity Stand Up to Cancer UK back in 2016. It was revealed by the Mirror that the celebrities are actually paid to be there, however they "donate their fees to Stand Up to Cancer" which is pretty lovely.
While publications like Express have claimed that this year's edition will follow the same format and will be "in aid of the Stand Up To Cancer charity campaign," I've reached out to Channel 4 to see if anything's changed this time around. I also gave Stand Up To Cancer a shout, however their spokesperson cleared things up and revealed that "the first series of Celebrity Island was in aid of Stand Up to Cancer" but things have changed since then.
A rep for the charity said, "While the original Celebrity Island was in aid of the campaign, the latest edition is a standalone show, and isn't one of this year's TV specials."
So, that leaves me with one big question — are the stars paid to be there then? The show has got some major players this series including Spandau Ballet's Martin Kemp, TOWIE's Pete Wicks and not one but two Olympians: Anthony Ogogo and James Cracknell taking part, so it could be pretty expensive if that's the case.
Given that Metro claimed Roxanne Pallett would be making £750,000 for Celebrity Big Brother earlier this year, it wouldn't be a massive surprise if her fee would be in a similar ballpark for Celebrity Island.
Looking to the future, there's just one more episode left in the Celebrity Island with Bear Grylls series this year. In just a few hours' time, the winner will be confirmed. Whoever is crowned king or queen, it will be truly deserved as there have been a lot of torturous twists and turns this series, with last week's episode in particular drawing a lot of controversy.
After a very uncomfortable situation which saw the remaining Islanders debate whether or not they should kill a pig for food, an adamant Pete Wicks laid down the law and said it absolutely wasn't going to happen, no matter how hungry they all were. Sadly though, after putting a tough fight, when the group later returned to the animal, they found out it had actually strangled itself in a rope and died, which devastated the TOWIE star.
PETA criticised the show afterwards and told The Sun: "It's time to move beyond this worn-out trope of showing crude dominance over nature – and we urge producers to scrap the use of animals in these stupid TV stunts and replace them with challenges that don't involve bullying or purposely putting animals in harm's way." I have contacted Channel 4 for comment.
The final episode of Celebrity Island with Bear Grylls will air on Tuesday on Channel 4 at 9 p.m.