There's No Official Royal Wedding Hashtag, But Here's What You Can Use Anyway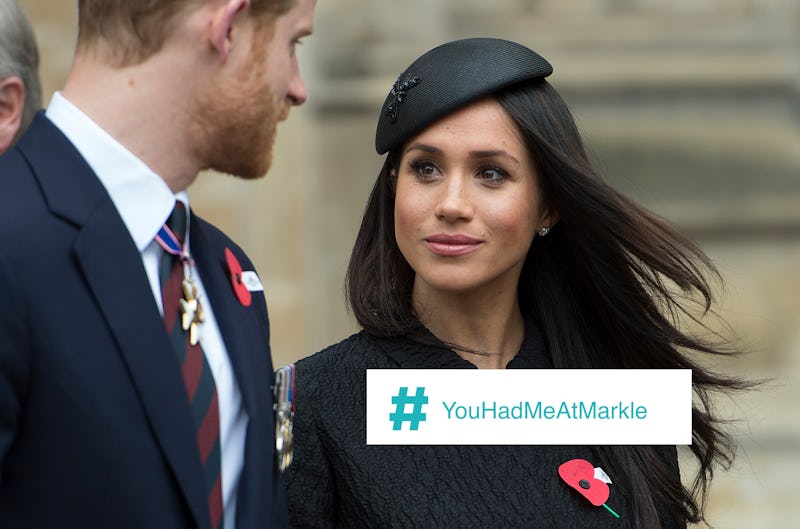 WPA Pool/Getty Images Entertainment/Getty Images
Before a first date with someone, it's important to get their last name. Not just because it's generally a good idea to Google people before you meet them, but it's important information in case you end up marrying them one day and have to incorporate a complicated name into a hashtag. Even if you don't take your partner's last name, the wedding hashtag is still relevant — it has to be unique enough that it's never been used before but simple enough that people won't forget it. And with possibly the most anticipated wedding of 2017-2018 (and beyond?) on the near horizon, the question everybody has is, what will the royal wedding hashtag be? Sadly, there isn't an official one — but you can still come up with your own for your watch party.
Royal protocol states that Markle and the prince don't have social media accounts, but if they did, they'd likely be blowing up our Instagram and Twitter feeds in the days before the ceremony. I can just picture Markle tweeting, "Eight days until I marry my best friend" or Harry sharing a corny Instagram post about how he can't wait to say "I do." These posts would, naturally, use hashtags. (This is essentially fan-fiction at this point, but bear with me.) Thus inspired, I turned to WeddingWire's Hashtag Generator to brainstorm some ideas for the happy couple.
For the sake of the exercise, I went with Harry and Meghan's chosen names instead of their legal ones, because no one calls them Henry and Rachel. I also used the royal name chosen by Queen Elizabeth for use if anyone in the family needs a last name (which, legally, they do not). Here are some of the objectively good hashtags for your own royal wedding viewing parties, or other celebrations happening this weekend.