Sweden Is Planning A Women-Only Music Festival After A Wave Of Sexual Assaults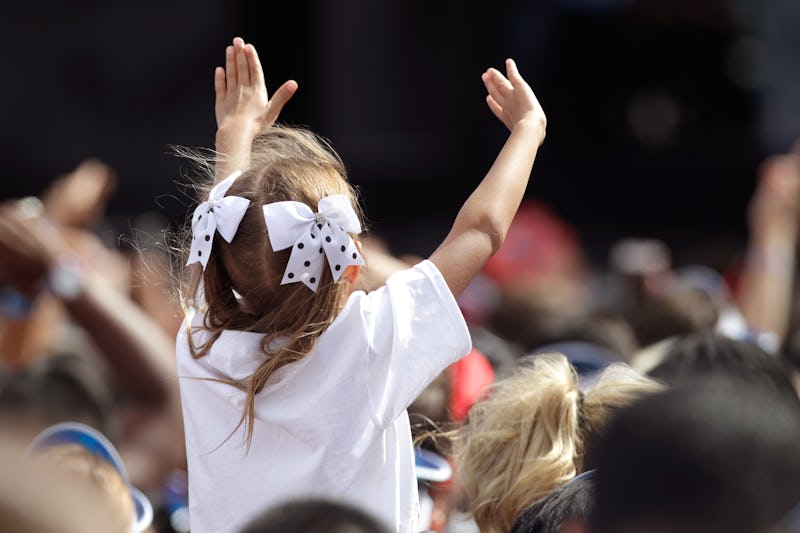 Isaac Brekken/Getty Images Entertainment/Getty Images
For a group of music festival organizers, ensuring safety at their event doesn't just come down to providing more security or adding another set of metal detectors. Instead, they're going to remove what they see as the source of an entrenched problem: cis men. Yes, ladies and gentlemen, there is officially a women's-only music festival happening in Sweden next summer, thanks to a successful Kickstarter campaign that has so far raised 533,120 Swedish crowns (over $65,000) to make the festival a reality.
The festival is the brainchild of Swedish comedian Emma Knyckare, who came up with the idea as a reaction to a spate of alleged sexual violence that has taken place at Sweden's biggest music festivals. The popular Bravalla festival saw four reports of rape and an addition 23 reports of sexual assault in 2017, which led to the cancellation of its 2018 iteration. Another Swedish festival, Putte i Parken, also found itself dogged by numerous reports of sexual assault and groping on its grounds, with men as the alleged perpetrators and women the victims in every case.
This new festival, which Knyckare named the Statement Festival, wants to get rid of sexual assault on its grounds entirely — which doesn't seem like it should be too much to ask, but the other festivals have proven otherwise. It aims to "create a safe space for the people who want to attend a festival without feeling scared for their personal safety," according to the Kickstarter description.
The whole thing originally started out as a tweet from Knyckare, saying "What do you think about putting together a really cool festival where only non-men are welcome, that we'll run until ALL men have learned how to behave themselves?" And now that it's actually going to happen, that's exactly what they aim to provide for all attendees — a really cool festival, where cisgendered men aren't allowed. Cis women, trans women, and non-binary (or genderqueer) people will all be welcomed with open arms — and they won't have to deal with any advances, welcome or unwelcome, from cis men.
It's a sad state of affairs and truly depressing proof of the prevalence of rape culture; why should women not feel safe in the presence of men and alcohol and good music? Even the organizers behind the now cancelled Bravalla festival understood it in their statement on the cancellation, though. "Certain men … apparently cannot behave," they said. "It's a shame. We have therefore decided to cancel Bråvalla 2018."
Festivals are already a place where people tend to let loose, whether in terms of their public behavior or their dress. Women behaving 'provocatively' or wearing 'provocative' outfits are often thrown out as reasons that men rape women — when of course the men raping the women are the only reasons that rape ever takes place. Rather than trying to make things safer for women by, for example, suggesting a dress code, the very premise of this festival cuts out the actors behind the vast majority of rapes. There's no guarantee that this premise will completely get rid of sexual assault or harassment on festival grounds, but given that all of the alleged perpetrators at the previous festivals were cis men, there's at least a good chance that it'll help.
In a perfect world, it would never come to this. Sexual education would teach men not to rape instead of teaching women how to best avoid situations in which they might be raped. Men and women and non-binary people would be able to attend music festivals all together without fear — but certain men need to learn how to behave before that can happen. In the meantime, you can buy your ticket to Sweden and enjoy Statement Festival without any shadow of fear hovering in the back of your mind.