The "Women Only" Music Festival Is Actually An Embarrassment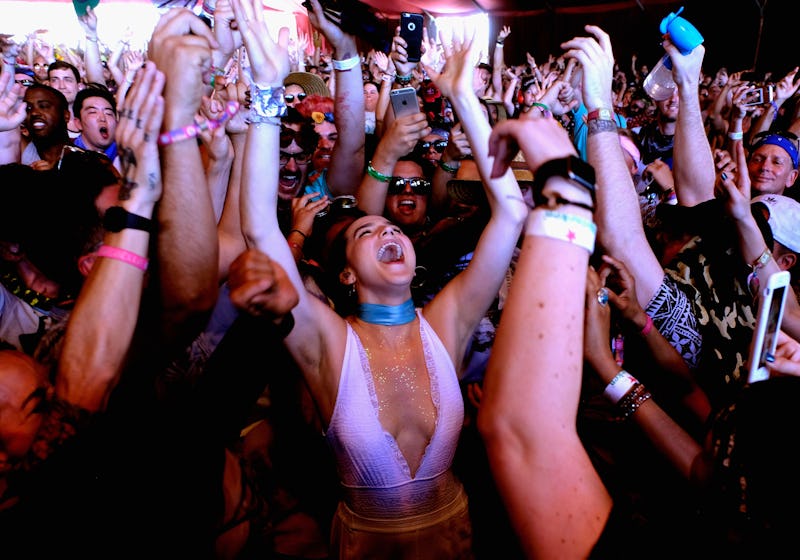 Frazer Harrison/Getty Images Entertainment/Getty Images
When I first saw a story about the new women's-only music festival in Sweden, I was thrilled. I pictured a sort of gynic Nirvana, a Themyscira-type paradise full of women dancing and singing and drinking and braiding each other's hair and swapping skincare tips and tossing their bras into the air at the end of the festival like sweaty mortarboards to celebrate graduating into full-blown Amazon warriors. Would we, over the course of three days, high on sisterhood, stale beer, and blown eardrums, begin the process of forming a new, women's-only, autonomous state? I don't know, but maybe! Then, I read the story below the headline.
The idea for a man-free rock festival came from Emma Knyckare, a Swedish comedian and radio show host. Knyckare put forth the suggestion after the organizers of Bråvalla, Sweden's largest music festival, announced that the 2018 festival would be cancelled after reports of four rapes and 23 sexual assaults at this year's event.
"Certain men … apparently cannot behave," Bråvalla's organizers wrote in an official statement following the close of this year's festival. "It's a shame. We have therefore decided to cancel Bråvalla 2018."
My dreams of a female utopia shriveled up, scorched by a painful realization: the idea for this festival didn't come from a desire to celebrate women; it came from a desire to protect them.
I'm not saying the festival won't be a celebration, or that creating safe spaces for women is not important, but the fact that our only answer to women being attacked was to kick out men altogether feels like a failure on our part, as a society.
This man-free festival is an acknowledgment that men and women cannot currently exist in the same space without women being assaulted. It is an acknowledgment that women cannot be or feel truly safe if men are around. It is an acknowledgment that rape culture permeates every facet of our existence, and that a woman cannot even enjoy music without having to worry that her body and dignity will be violated by a man.
As a woman, I'm excited about this festival. As a human, I'm ashamed.
Rape and sexual assault have been huge problems at music festivals for many years. In 2015, a guy at Coachella was proudly pictured in a shirt that said "Eat Sleep Rape Repeat". In 2016, five rapes and 12 sexual assaults were reported at Bravalla, and five more at the Rokslide Festival in Denmark, and in June of this year, a woman was sexually assaulted on a bridge at the Glastonbury Festival in England.
Recently, festival organizers have begun to take notice (due in part to falling revenue — ticket sales for Bråvalla fell from 52,000 in 2016 to 45,000 in 2017). Some festival promoters are offering classes on sexual harassment for their staff and fans, and making medical teams available at the events who are trained in sexual assault. In 2016, Glastonbury introduced The Sisterhood, its first stage reserved exclusively for individuals who identify as women.
That steps are finally being taken to make music festivals into safer spaces for women is important, and banning men from certain events will almost certainly curb the threat of assault. Still, banning them is only a temporary fix, and a problematic one at that. Banning men suggests sexual assault is inevitable, like there is something written on the Y chromosome that makes guys powerless to violating women, when the truth is that some men make a choice to assault women. Sexual assault is not a given, and talking about it as such is detrimental both to the women who are led to believe this is their lot in life, and the men who feel they are not to blame for their own actions.
I have no doubt this women's-only festival will be wonderful. I am sure it will be a beautiful, fun, and memorable experience for the women who go. I am sure there will be dancing and singing and hair braiding. But the fact that it has to take place in order for women to be able to safely enjoy music should make us, as humans, pretty embarrassed.