Trump Could Be Against The Texas Bathroom Bill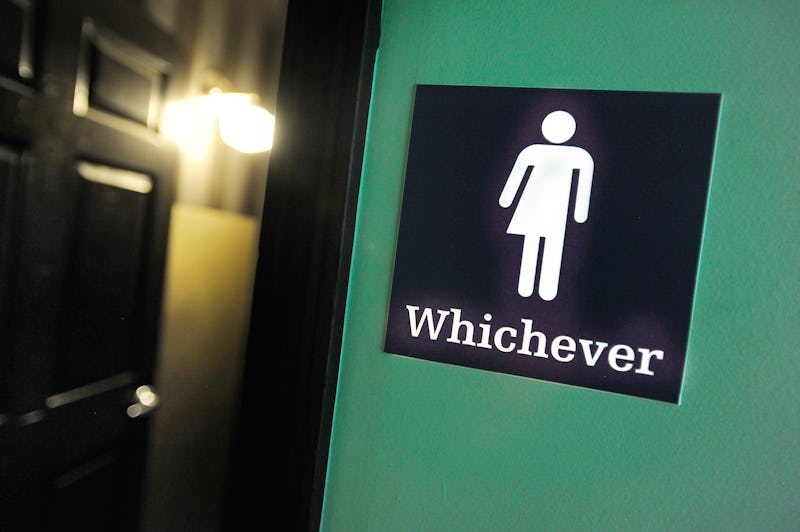 Sara D. Davis/Getty Images News/Getty Images
Over 140 celebrities, including big names like Laverne Cox, Lady Gaga, Amy Schumer, Britney Spears, Jennifer Lawrence, Emma Stone, and Ariana Grande, have signed a letter urging Texas legislators to prevent the implementation of Texas Senate Bill 6 and House Bill 1362. The NFL released a statement warning Texas lawmakers that, if made law, the state's potential as a future Super Bowl host would jeopardized. Given the president's previous support of the transgender community's right to use whatever bathroom each individual feels comfortable with, it does beg the question of whether President Trump will speak about against Texas' bathroom bill.
The proposed legislation would force the people of Texas to use bathrooms, locker rooms, and similarly segregated spaces in accordance to each individual's "biological sex." The law would be limited to public spaces, such as schools, libraries, and government buildings, meaning owners of private businesses or organizations would be able to choose their own bathroom policies.
A similar bill was pushed in North Carolina in 2016, resulting in a disastrous loss of $600 million in revenue. The NBA changed its location for the All-Star game to New Orleans in opposition to the measure, which came at the loss of $106 million for North Carolina. The NCAA and ACC also turned their backs on the state in protest, amounting to a loss of nearly $100 million.
In January, Republican Texas House Speaker Joe Straus went against his party by opposing the bathroom bill, arguing that it would harm the state's economy and workforce tremendously. Straus estimated that the law could mean a loss of $8.5 billion in revenue and 185,000 jobs. "I think we should be very careful about doing something that can make Texas less competitive for investment, jobs, and the highly skilled workforce needed to compete," he said.
In April of last year, Trump spoke about the situation in North Carolina, also noting the economic issues brought about the bill. He went on to say that those who identify as transgender should use whatever bathroom felt most comfortable, including in Trump Tower. "North Carolina did something — it was very strong," he said, "and they're paying a big price. And there's a lot of problems. And I heard — one of the best answers I heard was from a commentator yesterday saying, leave it the way it is, right now."
Speaking out against Texas' new bill would be a prime way of proving himself to be an ally to the LGBT community, as Trump claimed to have been during his campaign.