#ThisIsNotConsent Is Taking On Victim Blaming & Rape Culture In This Powerful Way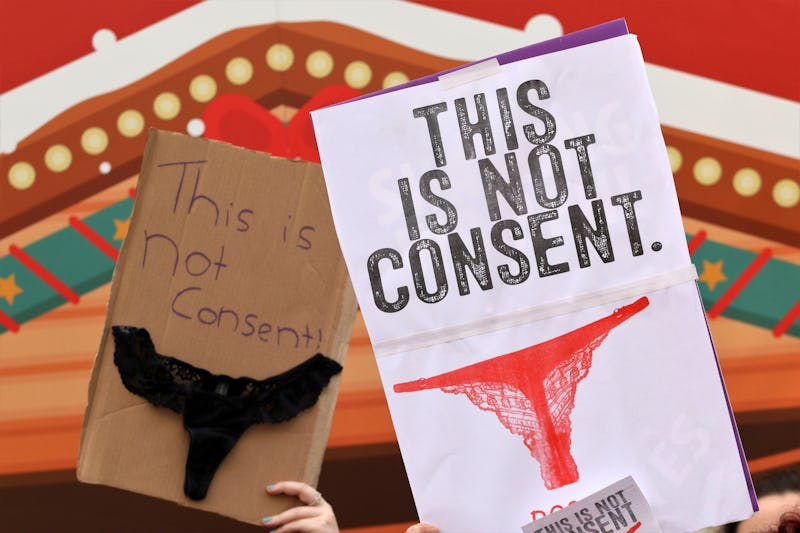 Conall Kearney/Shutterstock
Despite #MeToo campaigners working tirelessly to shift the focus from the victims of sexual assault to the perpetrators, it seems courts are still yet to get the message. You'd think that, in the year 2018, law professionals would not resort to mentioning a woman's outfit in a rape trial. However, one Irish barrister's comments have rightfully angered women into starting the #ThisIsNotConsent campaign.
On Nov. 6, a 27-year-old man was found not guilty of raping a 17-year-old girl in County Cork, Ireland. As the Irish Examiner reports, a jury of eight men and four women delivered a unanimous verdict. But it was the female defence barrister's closing argument that proved to be the controversial point.
Elizabeth O'Connell argued that the teenage girl's underwear choice gave the impression of consent. "Does the evidence out-rule the possibility that she was attracted to the defendant and was open to meeting someone and being with someone? You have to look at the way she was dressed. She was wearing a thong with a lace front," she said in court, the newspaper reports.
Meanwhile, on the prosecution side, Tom Creed stated: "You have heard her say she did not consent. You have heard him say she did consent. The major issue you have to deal with is whether she consented to sexual intercourse. It is one way or the other. Either she did or did not. If you are satisfied she did not consent and that he knew she did not consent then you convict."
The head of Dublin Rape Crisis Centre, Noeline Blackwell, promptly issued a statement to the paper, explaining that she was unfortunately unsurprised by the barrister's use of "rape stereotypes."
According to the Independent, a private Facebook group called Mna na hEireann (Women of Ireland) then started the #ThisIsNotConsent hashtag. This quickly spread to Twitter and has resulted in thousands of tweets from both men and women decrying such archaic tactics.
In case the point wasn't clear enough, some women are also posting pictures of their own lacy underwear alongside sarcastic comments.
Protests across Ireland have also been organised by feminist group ROSA. Spokesperson Fiona Ryan told the Independent that they weren't just protesting this specific case, but "calling for an end to victim-blaming in courts."
"The international solidarity that's been extended to these awful cases when they're exposed will go a long way towards pushing for genuine legal change, and unfortunately that comes from above, but we're going to push from below to ensure it happens." A further protest is set to take place in London on Nov. 16.
Who knows how long it will take for all legal experts to understand that a woman's outfit is not a visual marker of consent? Neither is the fact that a woman kissed a person or the fact that a woman says she is even attracted to a person.
Quite frankly, it's horrifying that some individuals are still trying to sow these seeds in jury's minds and that rape victims are sometimes forced to hold up their underwear in court.
Only one thing signifies consent, and that is a loud, clear, affirmative "yes."