Here's Where You Can Expect Hurricane Harvey To Travel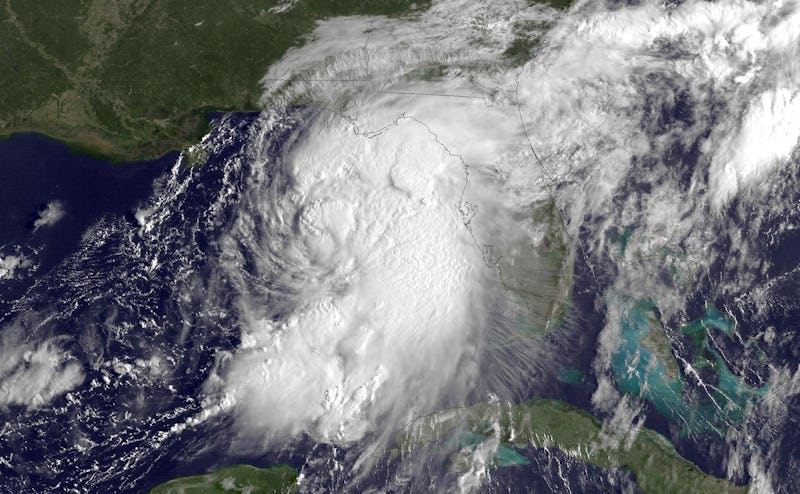 Handout/Getty Images News/Getty Images
Before Hurricane Harvey was categorized as a Category 2 hurricane by the National Hurricane Center, it was treated as a strong tropical storm. On early Thursday morning, weather forecasters showed the storm drifting into the Gulf of Mexico, slowing inching toward Texas' coastline. Now, with its increasing intensity, Gov Greg Abbott has urged locals in at least 30 counties to take preemptive measures in order to avoid being harmed by the hurricane. As more details emerge, some may be wondering what the trajectory of Hurricane Harvey is. Forecasters predict that it is set to make landfall in Corpus Christi, Texas, on Saturday morning.
In case you didn't know, "landfall" is a specific term used for when a hurricane or storm heads toward land after it was over water — just like Hurricane Harvey is headed closer to Texas' coast. Such a natural phenomenon can cause significant damage to buildings and even threaten human and animal life due to its rapid tropical winds and accompanying storm surge.
It is because of the sheer power of a landfall that Mayor of Corpus Christi Joe McComb has issued an official voluntary evacuation order for locals. On Thursday afternoon, the hurricane was 335 miles southeast of Corpus Christi. Given the potential magnitude of the hurricane, the Texas Department of Transportation issued a detailed and informative guide for residents to observe during Hurricane Harvey.
According to forecasts given on Thursday morning, it was predicted that Hurricane Harvey would make landfall in Corpus Christi, but would also potentially hurt Houston, according to meteorologist David Paul. Paul told KCEN-TV, an Houston NBC affiliate, that the main concern for locals in Houston is the possibility of flooding which could be a threat that extends over several days. Because of this reason, weather forecasters have likened Hurricane Harvey to 1999's powerful Hurricane Bret due to the similarities between their intensity, length, and threat level.
At this moment, Hurricane Harvey is expected to cause 12 to 20 inches of heavy rainfall along the Texas coast, while The National Hurricane Center said that the storm is expected to "slow down once it reaches the coast, increasing the threat of a prolonged period of heavy rain and flooding across portions of Texas, southwest Louisiana, and northeastern Mexico into early next week." It seems that the hurricane's trajectory will stretch over a considerable amount of the Southern parts of the United States.
While taking note of the warnings from forecasters, Gov. Abbott placed emphasis on the need for locals to remain proactive in the face of the hurricane as opposed to wanting to "ride [the storm] out."
In a statement to the press, Abbott said, "I'm not going to risk our fire people and police people to risk themselves to get somebody out of the home. They got relatives and they got family and we don't want to put them in harm's way because someone wanted to stay in their home."