'RHONY's Tinsley Mortimer Is A (Mostly) Self-Made Woman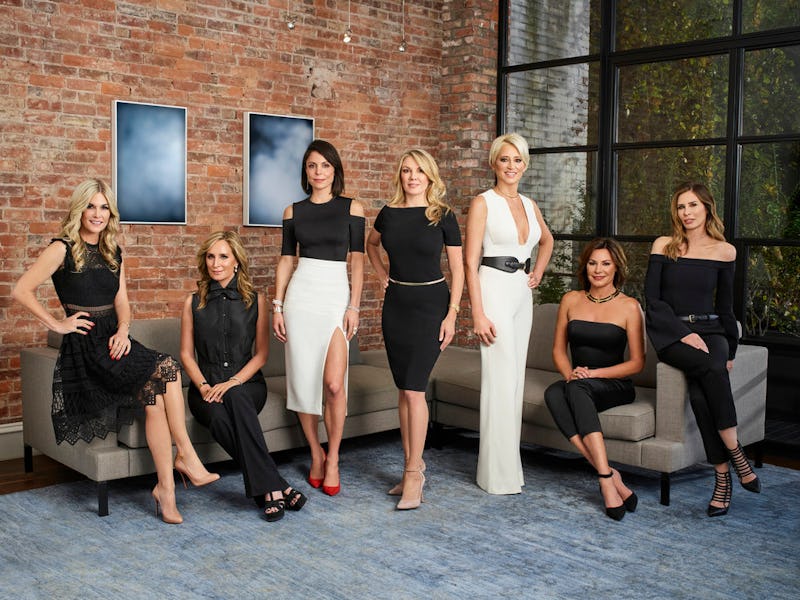 Patrick Ecclesine/Bravo
Doesn't it seem like it's been way too long since you've checked in with the ladies from The Real Housewives Of New York City? Since the show's last dramatic season, Jules Wainstein has officially departed the cast. Of course, fans had been eager to see who would be invited to replace her, and now the spot is filled. Socialite Tinsley Mortimer will be joining The Real Housewives Of New York City in Season 9, and she is sure to fit right in with this crowd. Trust me, Tinsley Mortimer's net worth qualifies her as a bonafide Real Housewife.
According to Celebrity Net Worth, Tinsley's net worth is rumored to be $35 million, but that's not confirmed and the number is most likely not accurate. But whatever the actual amount, Tinsley has a lot of different avenues through which to make bank. To begin with, The New York Times reports she was born Tinsley Mercer to a wealthy family in Virginia. She attended an elite boarding school in New Jersey, where she rubbed elbows with other high society offspring and met her future ex-husband, Robert Livingston "Topper" Mortimer. According to The Observer, Topper's family founded Standard Oil. So their marriage was akin to an old-money fairytale. The couple divorced in 2009 after seven years of marriage, per the same The New York Times article, but Tinsley kept her bank account flush with her own business endeavors.
RHONY isn't Tinsley's first foray into reality television. In 2010, she was the star of a "blink-and-you-missed-it" CW series called High Society that focused on her socialite lifestyle. She made appearances as herself on America's Next Top Model and Gossip Girl. Between 2009 and 2011, she also was a judge on Bravo's reality series The Fashion Show, which also featured supermodel Iman and Isaac Mizrahi.
Tinsley also dove headfirst into the fashion world, designing a line of handbags called Samantha Thavasa By Tinsley Mortimer and a clothing line called Riccimie. To pile onto those successes, Tinsley designed a line of home essentials that bear her name. She even managed to round things out by dabbling in other creative endeavors, like penning the novel Southern Charm in 2012.
Tinsley has clearly mastered the hustle and doesn't appear to rely solely on her old-money beginnings. It will be truly interesting to see how the entrepreneur manages the massive amounts of drama that she'll definitely encounter on this season of The Real Housewives Of New York City.