Of Course Trump Plans To Livetweet Comey's Testimony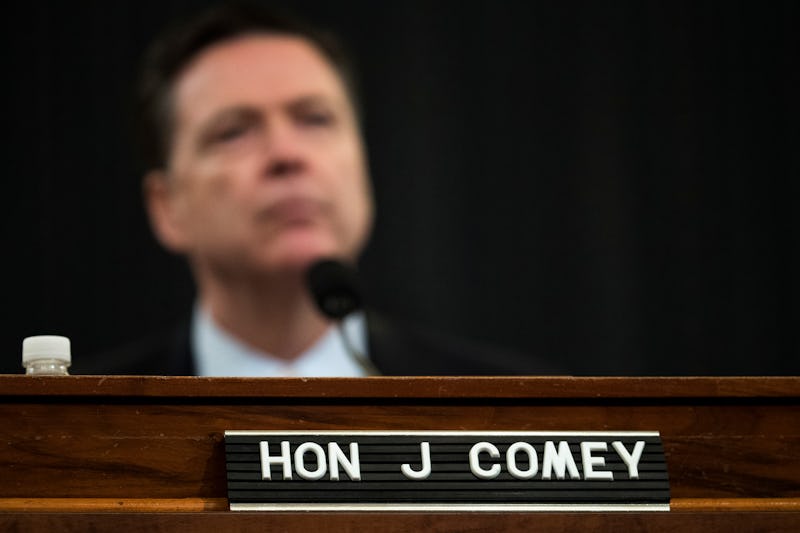 Drew Angerer/Getty Images News/Getty Images
Few things in this world are certain: The sun will set, the sun will rise, and President Donald Trump will find a way to tweet through every cultural or political event he can manage. With that in mind, it's no surprise that once plans were set for former FBI Director James Comey to testify before the Senate Intelligence Committee, reports also began to emerge that Trump intends to tweet through Comey's testimony on Thursday.
It's expected that during his testimony, Comey will shed further light on the events surrounding his abrupt firing earlier this year as well as more information on allegations that Trump sought to influence and end investigations into Russian interference with the 2016 election. The prepared statement already has provided much insight into Comey's initial testimony, but questions from the Senate committee are sure to offer even more information.
Trump has denied any allegations of collusion with Russia, and per a report from the Washington Post on Tuesday, he isn't prepared to let the much-anticipated event take center stage without a fight.
In fact, the outlet reported that the White House has been prepping for the testimony for some time — even considering erecting a "war room" for the event.
Trump's allegedly livid attitudes toward Russia investigations, Comey, and his impending testimony are further reflected in the comments that former House speaker and Trump ally Newt Gingrich made to the Post:
He's infuriated at a deep-gut, personal level that the elite media has tolerated [the Russia story] and praised Comey. He's not going to let some guy like that smear him without punching him as hard as he can.
Additionally, the Post reported that Trump's camp is planning a "campaign-style line of attack" with the aim of discrediting Comey and drawing attention to his past controversies. Among them, of course, is the way he handled investigations into Trump's former presidential opponent Hillary Clinton's emails in 2016 — which is, at least on paper, considered one of the reasons Comey was fired.
The past few weeks have seen increased concerns over the president's tweets, often fired off furiously, imprudently, and against the advice of lawyers. Meanwhile these tweets are considered "official statements," according to Press Secretary Sean Spicer.
Given Trump's history of preferring to speak for himself (remember John Barron?), the decision to take to his Twitter account, in addition to the other channels at his disposal, isn't at all out of character. However, this livetweet may still prove to be a big deal for the future of the Russian investigation.