Here's Everything You Need To Know About #TwitterLockOut & What It Really Means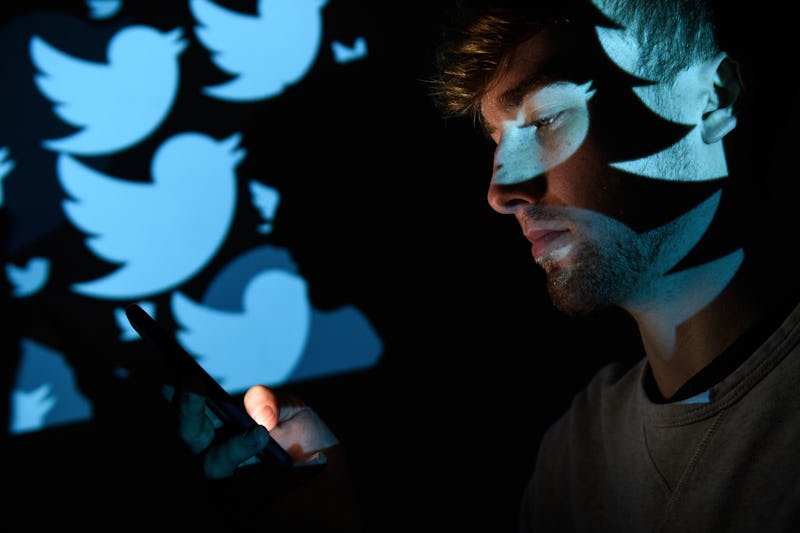 Leon Neal/Getty Images News/Getty Images
There's a brand new controversy involving Twitter, Russia, and American conservatives. According to some Twitter users, the social media platform may have purged a few more Russian tweet bots, which resulted in a massive loss of followers for some accounts. This sparked the trending hashtag #TwitterLockOut, as the Russian bot debate wages on.
".@POTUS @realDonaldTrump is the best thing to hit @Twitter since it was founded in 2006," wrote professor and conservative commentator Oliver McGee Wednesday morning. "How does Twitter repay its #MAGA conservatives? #TwitterLockOut, erasing 2K followers overnight on our accounts, RT!"
What exactly happened is so far unclear (Bustle has reached out to Twitter for comment), but in late January, thousands of accounts disappeared from the site after The New York Times detailed how some people bought fake followers and fake engagement with their tweets. Speculation arose that this new "purge" could be related to special counsel Robert Mueller's Russia investigation, which found that a Russian "troll farm" had a plan to influence American voters during the 2016 presidential election.
Mueller found that the Internet Research Agency's specific purpose was to sway the American opinion about the political system. Last week, the special counsel indicted 13 Russian nationals, charging them with conspiracy to defraud the United States.
"The defendants allegedly conducted what they called information warfare against the United States, with the stated goal of spreading distrust towards the candidates and the political system in general," Deputy Attorney General Rod Rosenstein said, according to CNN.
"Twitter is currently purging the followers on conservative accounts only," Candace Owens, the director of urban engagement for conservative organization Turning Point USA, tweeted. "I just lost 3000 followers in one minute. Check out the trending hashtag to confirm that it is ONLY conservative accounts that are being affected."
Other conservatives and, apparently, the Russian embassy in South Africa, took to Twitter to claim that the company was censoring their opinions. The verified Twitter account "Russia in RSA" wrote:
'@Twitter labels thousands of accounts as bots, locks them out - most of them turn out to be actual people that, weirdly enough, adhere to non-mainstream opinions. Coincidence? In before this "purge" is explained as yet another hunt for imaginary #RussianBots / #TwitterLockOut
Meanwhile, liberals said that no opinions were being censored, since the accounts that had disappeared were reportedly bots. "Most of the bots locked out are trapped in the basement of a pizzeria that doesn't have a basement which is funded by George Soros. #TwitterLockOut," writer Tony Posnanski joked, taking aim at conspiracy theories about Hillary Clinton.
Republican political strategist Rick Wilson also said he believes this was a move made against Russian meddling, tweeting:
#TwitterLockout demonstrates that @Jack has done more to push back against Russian digital interference than the US government run by Donald Trump.
President Trump is clearly still thinking about the Russia investigation as well. After spending much of the weekend tweeting about it, he posed a question to his followers Wednesday morning, asking:
If all of the Russian meddling took place during the Obama Administration, right up to January 20th, why aren't they the subject of the investigation? Why didn't Obama do something about the meddling? Why aren't Dem crimes under investigation? Ask Jeff Sessions!
But as The New York Times pointed out, while some former Obama officials agree he could have been more vocal on the topic, when it comes to meddling that took place on social media platforms, there's not much he could have done. The president doesn't control what gets posted on Facebook and Twitter, so it's up to the platforms to take action on stamping out political interference.
Perhaps, in this case, that's what Twitter has done.