ITV's Creepy Drama 'Unforgotten' Is Back SO Soon With A Truly Terrifying Storyline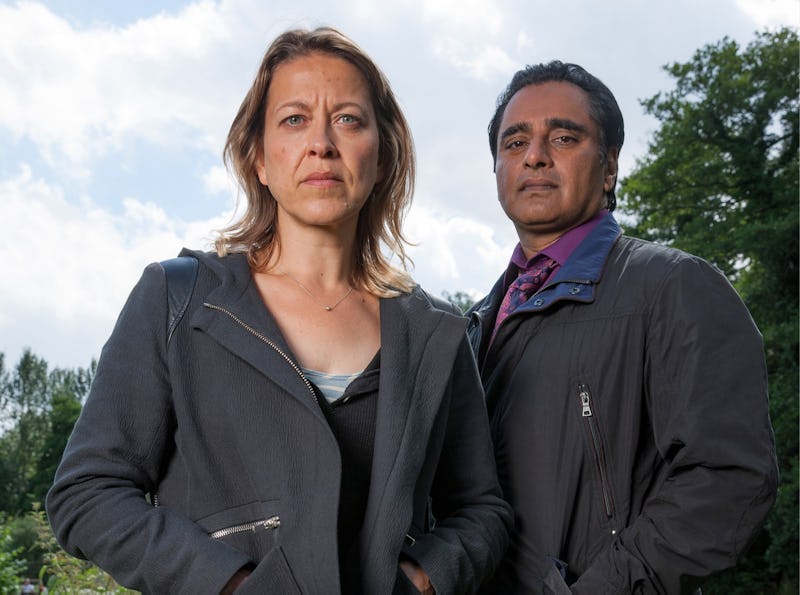 ITV
Unforgotten first hit screens in 2015 and, despite the lengthy gap between seasons, has kept viewers enthralled enough to warrant a third series which will air this month on ITV. The series follows detectives DCI Cassie Stuart (Nicola Walker) and DI Sunil "Sunny" Khan (Sanjeev Bhaskar) as they try to solve historical crimes that at first seem impossible to crack. Like the two previous series, Season 3 will span six episodes and see both Walker and Bhaskar return as the crime fighting duo charged with tackling yet another cold case. So, what is Unforgotten Season 3 about? And, when will it air?
Season 3 of Unforgotten will once again focus on a new mystery case that the detectives have to solve. According to ITV and the official Unforgotten Season 3 trailer, the third series will see detectives Stuart and Khan called to investigate a body found at a building site off the M1 motorway. The body is later discovered to be that of 16-year-old Hayley Louise Reid, who disappeared on New Year's Eve in 1999. Over the six episodes, you'll then see the duo delving into the history of the case to try and find exactly what happened. Previous seasons of the show have been critically acclaimed, and Season 1 saw British actor Sir Tom Courtenay winning a Best Supporting Actor TV BAFTA for his work on the show, so you can have high expectations about what's coming.
Who Stars In Unforgotten Season 3?
As well as providing a juicy first look into Unforgotten's third season, the trailer includes a lot of new characters that should actually look pretty familiar. Indeed, the third series of the ITV drama has recruited a pretty impressive ensemble cast; managing to wangle The Crown actor Alex Jennings, Pirates of the Caribbean's Kevin R McNally, Line of Duty's Neil Morrissey, and The Vicar of Dibley actor James Fleet, in recurring roles.
The four new additions will play a close-knit group of old school friends that may or may have something to do with Hayley Reid's death. Each will find themselves questioned by the police and one another about their innocence or guilt with regards to what happened to Reid. And they're not the only stellar cast additions this season around.
The Unforgotten Season 3 trailer also features Northern Irish actress Bronagh Waugh, who first found notoriety as Cheryl Brady on Channel 4 soap Hollyoaks, before leaving the soap and securing the role of Jamie Dornan's onscreen wife for three seasons of BBC Two serial killer drama The Fall, and a small role in US fantasy series, Supernatural.
According to IMDb, Waugh's Unforgotten character is called Jessica Reid — which suggests she is a relation to the missing dead girl of the same surname. Of course, we'll have to wait until Season 3 starts to find out for certain.
When does Unforgotten Season 3 start?
The good news is, you won't have to wait long to watch the third series of Unforgotten.
Indeed — according to TVWise — ITV has confirmed Unforgotten will debut its third season at 9pm on Sunday, July 15. If that date sounds familiar, that's probably because it's also the date of the FIFA 2018 World Cup final, which is bad news for football and Unforgotten fans if the England team continues to win games in the tournament like that tense AF Tuesday night victory over Colombia and lands a spot in the final.
Luckily, the World Cup final actually airs at 4 p.m. (BST) which means it will be very much over by the time Unforgotten airs. But, nonetheless, if England do win the World Cup, nestling up with a crime drama will probably be the last thing on people's minds, right?
Of course, if England fails to make it past the quarter-final or semi-final stage of the World Cup, the third series of Unforgotten could actually come as a great distraction from yet another year of national football disappointment.
How Can I Watch Unforgotten Season 1 and 2?
For those still unfamiliar with the show, both Unforgotten Season 1 and 2 are available to watch on the ITV Hub, while Season 1 is also available to Netflix users.
So, what are you waiting for? Catch up now and you'll be ready when Unforgotten Season 3 comes a-knocking.
Unforgotten Season 3 premieres at 9 p.m. on Sunday, July 15 on ITV