#WaistcoatWednesday Is Trending On Twitter & It's About So Much More Than Football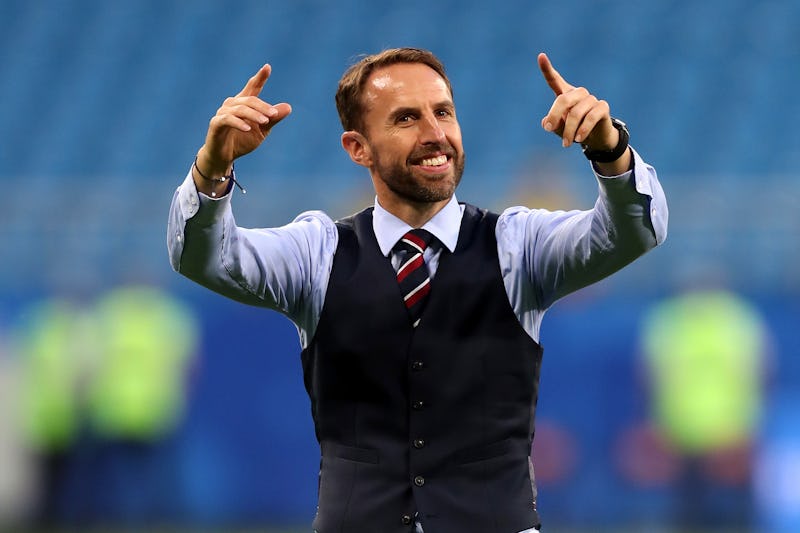 Alex Morton/Getty Images Sport/Getty Images
Football's coming home. I mean, at least it could be. After winning four games and breaking records, the Three Lions have made it all the way to the World Cup semi-final. They'll be playing Croatia on Wednesday in the hope of making it to the last leg of the competition. But while everyone's super proud of the players, it's manager Gareth Southgate that's been trending on Twitter. Well, actually, his waistcoat has. But what is "Waistcoat Wednesday", and why is it so important? Allow me to explain.
Southgate has pretty much transformed into a national treasure after becoming the third man in history to get England to this stage of the World Cup (seriously, hats off to him), reports the Metro. And because of that, fans have been paying close attention to his every move — including his wardrobe choices. For every match England has played, the man of the moment has been donning a very beautiful waistcoat. You've probably noticed. It's become his trademark accessory. And now, thanks to the power of Southgate, the waistcoat appears to be making a comeback in shops and is trending on Twitter in the form of the hashtag "Waistcoat Wednesday".
Amid the new craze, sales of waistcoats at Marks & Spencer have increased by "more than 35 percent" according to The Sun. Of course, this comes as no surprise given that the retailer itself is the "official tailor of the England team", and has been since 2007. But the new trend is completely unanticipated. Seriously, type "Marks & Spencer" into Google at the moment, and the next word suggested is waistcoat.
But it's not just M&S that are benefiting from World Cup fever and "Waistcoat Wednesday". eBay, too, has reported "that searches for waistcoats increased by 25 percent last weekend," according to the Independent, and tailoring retailer T.M. Lewin also tweeted that thanks to Southgate and "England's lucky charm," sales of their waistcoats "are going through the stadium roof." Not bad, eh? It seems like everyone is getting into the spirit. I mean to me, it definitely looks as though England are totally embracing this newfound sense of optimism, and if we do indeed win the World Cup — and it's more than likely — can waistcoats be classed as the nation's lucky charm? Bless you and your fashion choices, Gareth Southgate.
But retailers aren't the only ones benefiting from Southgate's waistcoats. In fact, the hashtag now has a deeper new meaning thanks to Blood cancer charity Bloodwise. The organisation has launched a new initiative in light of the trend, asking England supporters to "grab a waistcoat (or print one — in England colours of course!) and button up to beat blood cancer."
To take part, all you have to do is display the charity's poster, perhaps at work, to encourage your friends to put on a waistcoat and make a donation to help raise money for "life-changing blood cancer research".
By donating even just a small amount, as stated on the charity's about page, you'll be "helping [to] fund over 400 leading researchers working in over 160 projects across the UK," and in turn you will aid "vital life saving research into blood cancers and [...] improve the lives of those affected." What a worthy cause.
The "Waistcoat Wednesday" hashtag seemed to begin after England's 2-0 win over Sweden on Saturday, July 7, and has increasingly picked up traction along with the continuous chant of England's newly adopted national anthem, Three Lions (Football's Coming Home). But now it's taken on this amazing new cause, make sure you get involved. All you've gotta do is click here, make a donation towards "life-changing blood cancer research", and keep those flags raised high because obviously, football's coming home.