Wet N Wild's Saving Base Has Major Benefits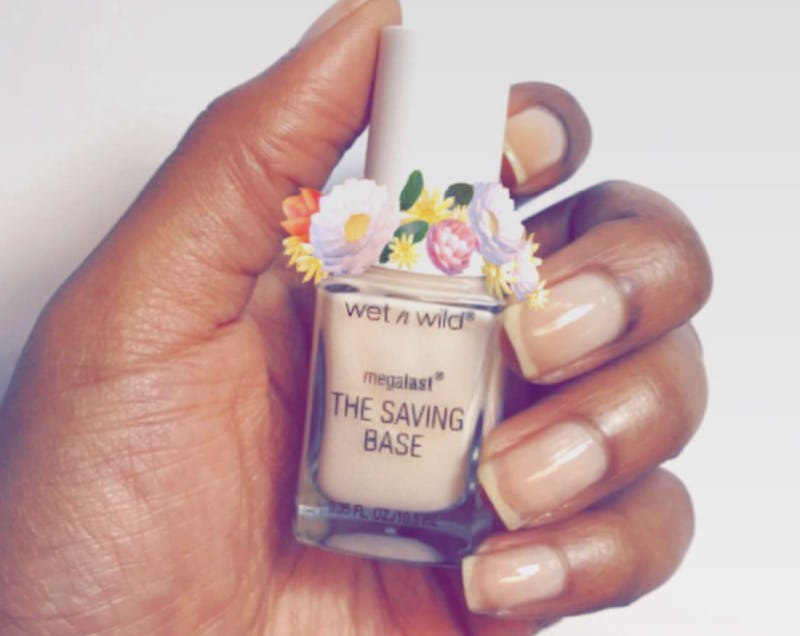 Wet N Wild Snapchat
Wet N Wild has been on a roll with their launches this year. They've already launched their MegaCushion Line and two MegaSlim eye products, and now they've adding some nail items to the list as well. While the brand already has polishes out, Wet N Wild created a nail base and top coat. The Saving Base is way more than your typical base coat though. This product primes, protects, and does so much more.
I can personally attest to how great Wet N Wild's nail polishes are. They have great colors and they stay on forever. So now that there's a top coat and a base coat, it's about to get even better. This isn't your average base coat either. According to their Snapchat, it not only protects your nails, but it has nine other benefits as well. The Saving Base supposedly primes, fills ridges, strengthens, protects, brightens, hardens, hydrates, smoothes, conditions, and protects. That's pretty darn amazing, if you ask me.
MegaLast The Saving Base Fortifying Base Coat, $3, Walgreens
Want to hear the best part? It only costs $3. Considering how many benefits you get, I'd say this is definitely worth the price. According to Snapchat, you can use The Saving Base on it's own or with other colors and it works just as well.
They also launched a Hard As Ice To Coat as well. Although it doesn't have as many benefits as the base, it's still pretty great. According to the site, it will keep your polish on for an entire week. It's also only $2.99, so you can stock up without feeling any buyers' remorse.
MegaLast The Saving Base Fortifying Base Coat, $3, Walgreens
If you're as excited about this launch as I am, you'll be happy to know that you don't have to wait. You can shop both new nail items on the Wet N Wild website right now. It looks like these products will be a part of their permanent collection as well.
MegaLast The Saving Base Fortifying Base Coat, $3, Walgreens
So what are you waiting for? Go stock up on these amazing products, and see for yourself how much they benefit your nails.