Here's What Happened When I Organized A March For Sex Workers' Rights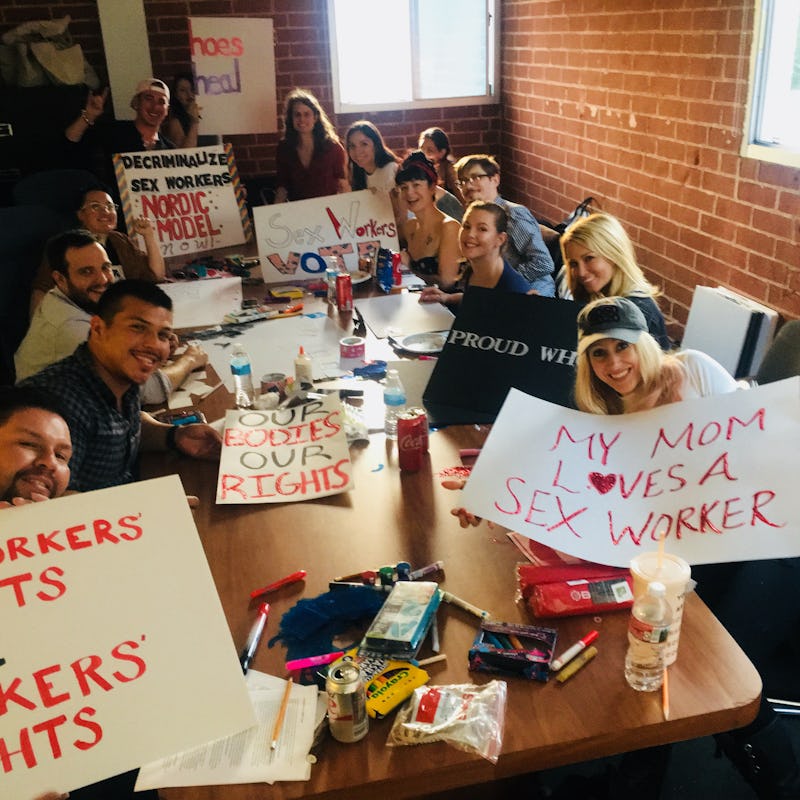 Courtesy of Antonia Crane
On June 2, 2018 in Los Angeles, about 200 sex workers gathered in an outdoor patio bar in Hollywood to rally. We set out to interrupt traffic in the busiest intersection in Hollywood during rush hour on a Saturday afternoon. We called it "Let Us Survive" and held the march on International Whores' Day, a day that honors sex workers' occupation of Église Saint-Nizier in Lyon, France, along with five other churches, in 1975 to protest police harassment and brutality.
As a sex worker and activist for over 25 years, I was one of several organizers of the Let Us Survive march. Our protest was a direct response to recent anti-sex worker legislation aimed at criminalizing sex workers and expanding definitions of "pandering" to include non-profit organizations who provide direct service to sex workers at risk.
We sex workers are livid about SESTA/FOFSTA— the Stop Enabling Sex Workers Act, designed to stop sex trafficking by shutting down websites and blaming third parties, which Trump signed into a law in April — and Senate Bill 1204, introduced by California State Senator Pat Bates in February, which expands the definition of pandering to include direct service organizations that help sex workers and has shut down websites and censored online content. The FBI has seized sex workers' Instagram accounts, and the most vulnerable among us face eviction and struggle to eat, which invites more desperation and more risk — physically, emotionally and financially.
"To organize back then, you had to be inconvenienced by showing up in person. You had to do more than scroll through Instagram, choreograph provocative memes, and post alluring selfies."
My activism began in the early '90s, before PrEP and dozens of other different HIV meds, before Google, GoFundMe, Venmo, and PayPal — all the ways money can appear in bank accounts from anywhere in the world to help people with medical emergencies. I was in ACT UP San Francisco — an international direct action group known for being disruptive in our demands for federal funding to help the men and women suffering from AIDS and the stigma that accompanied it.
ACT UP SF meetings took place on 14th Street across from what used to be the projects in an office building. The room had a raised stage where speakers spoke under fluorescent lights. Dozens of our friends had died from AIDS so we sat in the cold metal folding chairs and burned with loss until we were on fire.
Once, I met my ACT UP posse near a vegetarian restaurant on Market Street where all the strippers ate before our shift. Our action was to stampede a medical convention and destroy their materials. We were fighting against the HIV medication AZT because it was ungodly expensive, quite toxic, particularly in the dose used at that time, and it finished the job that AIDS started by obliterating a generation of gay men and women of color. I remember sprinting on my tiptoes, kicking over tables in my oxblood Doc Martins and tearing up pamphlets. They told us to "Be civil" but we knew silence equaled death. Fuck them, we thought.
To organize back then, you had to be inconvenienced by showing up in person. You had to do more than scroll through Instagram, choreograph provocative memes, and post alluring selfies. You had to put on shoes. Catch the 22. Carry your own water and walk for blocks with your sign and your pens. When you yelled, people heard you and responded with honking horns or they flipped you off.
Aggressive protests and sit-ins are an important part of sex worker and queer history. As a member of ACT UP SF and a union organizer of the Exotic Dancer's Alliance for the Lusty Lady in 1998, rebel rousing is my beat. So why aren't more people stepping up to help fight the laws and bills that hurt sex workers?
Our existence has been made illegal thanks to SESTA and SB 1204. Our free speech has been muzzled; our identities erased — our hashtags shadowbanned (blocked to everyone but our current followers). At the same time, Stormy Daniels, a sex worker, has refused to be silenced regardless of a gag order, demonstrating that no matter how powerful the man, he will always consume women's bodies and try to dispose of them.
In direct opposition of the grave nature of SESTA and its impact, many of us dressed in stripper gear during the march to flaunt the celebration of sex work — to squash stigma and highlight the voices of the most vulnerable members of our community: WOC, trans, and all LGBTQ sex workers.
Strippers in New York City had already been organizing their New York Stripper Strike for a year, fighting racism, body shaming, mandatory tipping and their status as employees. We joined forces. The ACLU reached out to us to support our cause— especially immigrant and LGBTQ sex workers. They provided a meeting space, supplies, and vegan cupcakes. Members of the Free Speech Coalition, SWOP (Sex Worker Outreach Project) and APAC (Adult Performer Action Coalition ) also joined us to make posters and graphics.
Sex workers are busy people. Sex work is freelance at its most feral. A client beckons and off we go to perform and collect — lickety split. To make the march a reality, we met with our allies and made decisions over email threads, on the phone and in person. We delegated and showed up and picked up where the others left off — the synergy of sex workers was a seamless, devoted rhythm. And we didn't always agree on things. But we listened and learned and moved forward as a united front.
For the first time in 25 years of activism, I'd never seen so many sex workers present. I was so proud of my sex worker community and our allies. I've never seen more enthusiasm, drive, tenacity and generosity. I fell in love 10 times a day with every person involved in planning our Let Us Survive March and the efforts they made, from poster-making parties to a self-care day, to digging up funds to fly Gizelle Marie, organizer of the NYC Stripper Strike, from New York City to LA to speak and represent strippers for our Lobby Day.
We made graphics and began our colorful campaign on social media. I went to gay bars and I attended the Dyke Day Benefit where spankings and raffle tickets were sold to pay for the Dyke Day event at Gay Pride in LA. I bought a roll of raffle tickets and a spanking for a friend, but when it came time to show up at the Let Us Survive March, neither the spanker nor the friend showed up. Hardly any gay men attended the march — or men in general. Your absence was noted. We need your help now.
As a woman who has spent decades of my adulthood marching in the streets for queer rights, I've experienced a lack of support from people I thought were allies — gay men and feminist groups included. Sex workers' rights are a feminist issue, a women's issue, and an LGBTQ issue. Trans and queer sex workers are struggling to live. Perhaps some didn't know about the protest or didn't feel welcome.
I am cordially inviting you to step up.
In contrast to the massive, corporate sponsored, celeb-studded women's marches in LA, our Let Us Survive March had small-town heart and grit. It was reminiscent of the wily '90s Act Up meetings and early Dyke Marches: tough as nails, quietly angry — a crackling spark.
On the day of the rally, our mission to interrupt a busy intersection was accomplished when a marcher in a cheerleading costume waved a sign that said "A sex worker saved your marriage" and many pedestrians honked and waved. But a wedding party slammed their doors shut on a reception in a courtyard as we yelled "One, two, three, four, I'm a human, I'm a whore. Five, six, seven, eight, we get paid to masturbate."
And although I will continue to show up for any march that promotes the visibility and voices of all women and our rights, my heart will always belong to that punk-ass stripper with glossed lips and chipped nails — water bottle in one hand, poster in the other, ready to fuck shit up.
I am proud of those who did show: Allies with signs that said, "Someone I love is a sex worker," all the millennial Seeking Arrangements girls and Cam Girls, Pro Dommes, porn performers, strippers, a young sober male escort, the lifestyle sub friend and trusted ally, Stephen Elliott. I was in awe of our speakers and their profound stories: Kristen DiAngelo, Gizelle Marie, Jessica Drake, Conner Habib and Tara Coccinelle. I'm especially thankful to the organizing committee who were tireless, phenomenal, and brilliant.
But I wasn't the only one who felt this way. "Never before have I witnessed such a celebration across class, race — and especially lines of sex work," Lizzie Borden (she/her), participant, film director, and writer tells Bustle. "In the '80s, when I had been in contact with organizations like PONY and COYOTE, which worked valiantly for prostitutes' rights, it was difficult to get media attention or to reach sex workers on the street or women inside, such as Dommes. But even though the issue at stake — SESTA/FOSTA — is a matter of life and death, everyone proudly marched together — ecstatic, joyful."
Ryan "Wry" Mantione (male), participant, organizer, dominant, service top, non-monogamy consultant, educator, speaker, sex worker, pro dom, stage performer, and consent activist, also noticed that men were largely absent from the march. "Where the fuck were the men? Where are the regular clients who hire sex workers and Pro Dommes? Where are the lifestyle male subs? The male activists for freedom and free speech? One or two present, but not enough," he tells Bustle. "Where are the gay men, leather men, Domme men, sub men, johns... like seriously, I'm down for a redo at this point."
For Annemarie Davies (she/her), participant, and stripper, the march was incredibly inspiring. "The speeches before the march were extremely eye opening for me, even as someone who has identified as a sex worker for the last 16 years, there were things that I was unaware of, but now that I know these things, I MUST do something. Standing by is not an option."
Organizers were also amazed by how it came together so quickly. "There were a lot of moving parts, a lot of hands on deck, and I'm impressed by what we were able to accomplish in a short amount of time," Lotus Lain (she/her), organizer, participant, adult performer/activist, and industry relations person at Free Speech Coalition, tells Bustle. "It was good to see so many sectors of the sex work community come together."
And for march organizer and participant Ashley Madness (she/her), who's a legal consultant and sex worker, it was a chance to send an important message loud and clear. "I looked at our representatives and neighbors in the eye as a trans woman and told them that their whorephobia and criminalization of sex workers and their families is causing hunger, mental illness, kidnapping, and murder right here at home, and needs to end."
If you want to help the sex worker community right now you can donate funds to sex work organizations and our intersecting communities:
You can be vocal and public about supporting sex worker rights and opposing SESTA. You can show up to our events by following us on social media (#LetUsLive, #sexworkersunite, #sexworkisrealwork, #stripperpride) Follow me @antoniacrane and other organizers @therealwhorenextdoor @thegizellemarie @mialittle @LotusLain. For more information, you can check out this helpful article by Emma McGowan on how to be an ally to the sex work community.
Unfortunately, mainstream media coverage of the march was lackluster and the public attention was quickly diverted. One filmmaker was at the march with her mother and a couple of other sex workers filmed our efforts. Even though much of our presence was hidden on social media, participants posted wildly from sea to shining sea and our siren call can still be heard — if you listen.
Antonia Crane is the author of the memoir, Spent (Barnacle Books, Rare Bird Lit). She is a writer, professor, sex worker, stripper and activist in Los Angeles. She has written for The New York Times, The Believer, The Toast, Playboy, Cosmopolitan, Salon.com, The Rumpus, Electric Literature, DAME, The Establishment, The Los Angeles Review, Quartz: The Atlantic Media, Medium.com, Buzzfeed, Lenny Letter, HuffPo, and lots of other places.