What It's Like To Be A 13-Year-Old Girl And In Jail For Shoplifting
by Lindsay Rosenthal with Michelle Diaz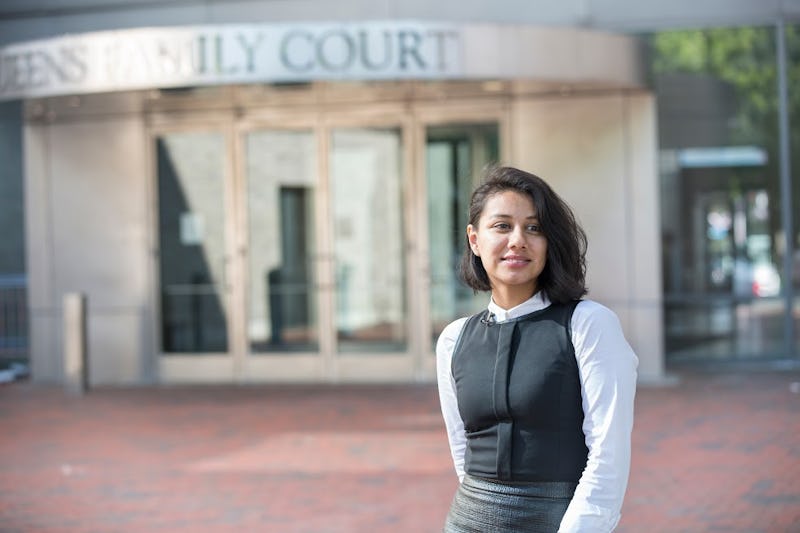 Joanie Tobin
When she was 13 years old, Michelle Diaz was arrested for stealing a $25 shirt from a store in New York City. Her boyfriend put it in her book bag and told her to carry it out of the store, even though she told him she did not want to. When they got caught, her boyfriend — who was significantly older — asked Michelle to take the blame because she was just a kid and wouldn't get in trouble for stealing the way he would. But Michelle did end up getting arrested, received a year and a half of probation, and was ultimately locked up in juvenile detention and placement — all despite the fact that she had been coerced by an adult. "Nobody tried to find out if I was really guilty or not," Michelle says. "They didn't consider how a young girl could be manipulated or if I even understood what was going on. No one asked or explained, they just assumed I was bad."
As the country grapples with the question of how to reduce our over-reliance on incarceration as the default response to crime, the conversation has centered on the majority of the incarcerated population: men and boys. But every day in the United States, thousands of girls are confined in the juvenile justice system for petty offenses that pose no risk to public safety — and like Michelle, their lives are rarely part of the national discussion about incarceration.
During the tough-on-crime era of the 1990s and 2000s, the number of girls committed and detained annually in the juvenile justice system's detention and placement centers doubled from 47,500 in 1990 to a peak of more than 99,100 in 2002, growing much more rapidly than the incarceration of boys. The increase helped to generate a racially coded media hype around "bad girls," the female counterpart to the "super-predator," adding momentum to the onslaught of increasingly punitive policy changes. This image of a violent "bad girl" contradicted the overlooked fact that the vast majority of girls who wound up behind bars were imprisoned for minor offenses, such as petty theft or fighting with a parent — which are typically rooted in underlying trauma, everyday adolescent rebellion, or both.
Successful juvenile justice reform over the past decade has undone a lot of this damage by changing policy on low-level offenses and investing in more effective community-based services, reducing the numbers of girls' detentions by the juvenile justice system in 2014 to almost what it was before the '90s: 44,600. Despite these gains, the majority of girls still enter the justice system for minor offenses—like stealing something worth $25 — even though research shows that reliance on juvenile incarceration exacerbates serious underlying problems.
Studies have repeatedly demonstrated that upwards of 80 percent of girls in the juvenile justice system have been victims of sexual or physical abuse, and the majority have faced not just one but multiple forms of trauma. Troublingly, the context of girls' trauma and victimization is not adequately considered by courts as a mitigating factor for girls' justice consequences. As Michelle explains, "They don't go back early enough. They don't look for the trauma. They just look at what you did wrong."
In New York City, where Michelle was arrested, the misdemeanor arrest rate in 2014 for Black girls under the age of 16 was more than 20 times higher than the rate for white girls, and the rate for Latinas was 6 times higher.
Once girls are involved in court, it can be very hard to break free from the ensuing cycle of justice system involvement, especially when girls don't receive help to address underlying needs. For example, after Michelle received probation for shoplifting, other minor misbehavior stemming from challenges at home and school — like running away and cutting class — violated the terms of her probation and resulted in more serious consequences. She spent the better part of her teenage years on probation and in and out of juvenile justice facilities. As states and cities across the country are pursuing criminal justice reform, why are girls—disproportionately girls of color (Black girls, Latinas, Native American girls), as well as LGBT/gender-nonconforming girls— still winding up behind bars for things like skipping school or conflicts with family members?
One reason is the same inherent biases that face women generally are also present in the juvenile justice system: research shows that girls often face harsher punishment than boys for less serious offenses. A recent analysis of 5,019 cases in Texas found that not only were girls typically punished for less serious offenses than their male counterparts, but they also spent more time in juvenile justice facilities as a result.
For girls of color like Michelle, sexist biases are compounded by persistent racial disparities. In New York City, where she was arrested, the misdemeanor arrest rate in 2014 for Black girls under the age of 16 was more than 20 times higher than the rate for white girls, and the rate for Latinas was 6 times higher. LGBTQ and gender nonconforming girls and youth face similar overrepresentation in the system.
Another important factor contributing to girls' incarceration is that for too long, reform efforts have not focused on the unique needs of girls in the justice system, which have been documented by decades of research. In most jurisdictions, diversion programs are geared toward boys, who make up the majority of the juvenile justice population. But these programs may not be working for girls, which means that girls are still being swept into the system for things that shouldn't lead to incarceration. For example, even though there has been an important focus on school discipline disparities and how they relate to boys' incarceration, less attention has been paid to biases that girls of color experience in schools, or how sexual harassment and sexual violence in schools contributes to girls' decisions to skip class.
Today, Michelle is a bright young college student who works as an advocate for children struggling with mental health issues.
As we continue the critical work of driving down all youth incarceration, we need to bring girls into the justice reform conversation. In New York City, the Vera Institute of Justice is working with city agencies, to provide a national model for how we can not only reduce, but end, girls' incarceration. After successful reforms, the number of girls in the city's system is quite small — just a few hundred — and as is the case nationally, they have not usually committed serious crimes. Our goal of ending girls' incarceration achievable, but it will require the city to truly focus on girls' incarceration for the first time. Now, the Taskforce on Ending Girls' Incarceration in New York City is developing a plan to do just that.
After her initial arrest, it was several years before Michelle got the support she needed to find her way out of the justice system. Ultimately, her story turned around when she was assigned a diligent and supportive case worker, and connected with a local community-based organization where she met someone who helped her see and reach her aspirations. Today, Michelle is a bright young college student who works as an advocate for children struggling with mental health issues. She also serves on the youth advisory council to the Vera Project's taskforce to end girls' incarceration in order help other girls like her. Michelle embodies the potential that can be lost when we don't invest in supporting girls and keeping them out of the justice system.
Let's see more girls like Michelle have their stories end with the support they deserve, not the criminal justice system.
The Vera Institute of Justice is a national nonprofit that drives change in the criminal justice system by working to secure equal justice, end mass incarceration, and strengthen families and communities across America.