Katherine Heigl Still Has SO Much Love For Izzie Stevens From 'Grey's Anatomy'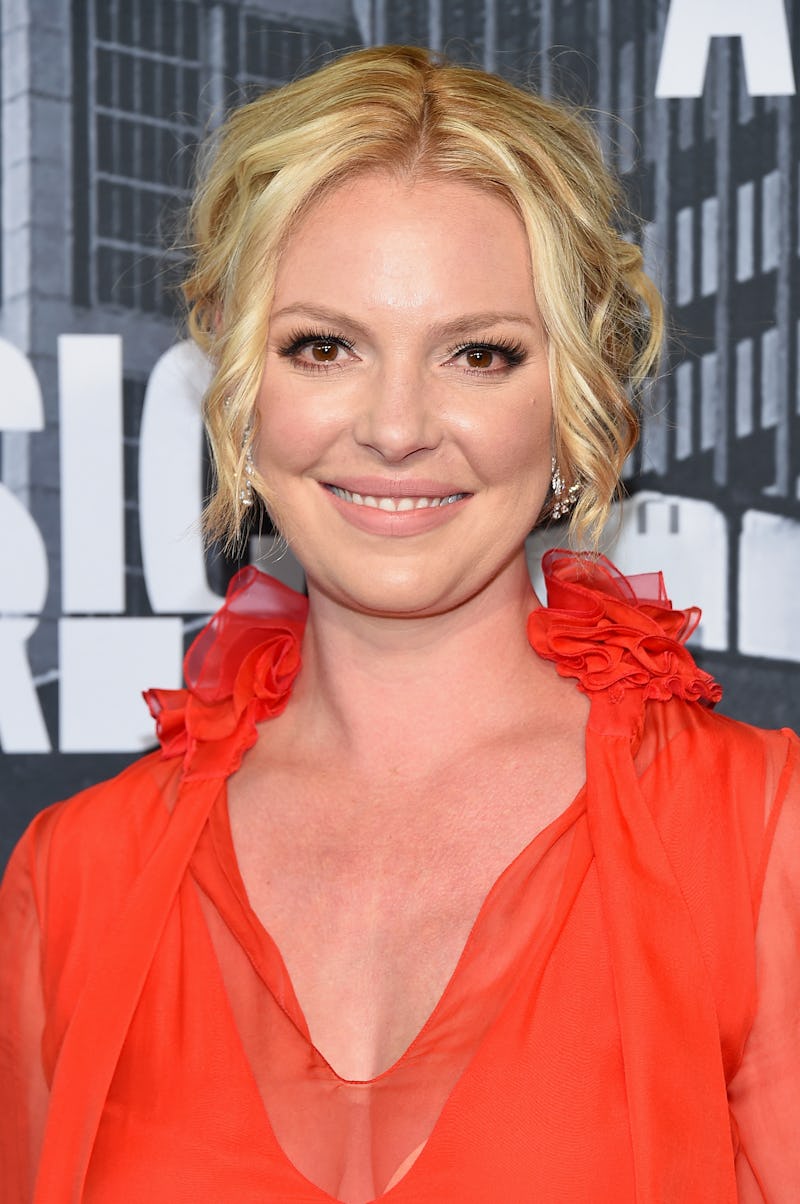 Michael Loccisano/Getty Images Entertainment/Getty Images
After her character's ambiguous fall from (Seattle) grace in 2010, Katherine Heigl is now imagining where Grey's Anatomy's Izzie Stevens might be today. While discussing the Season 14 marriage of once onscreen husband Alex Karev (Justin Chambers) and Camilla Luddington's Jo Wilson, in a recent interview with TVLine, she — like many Grey's fans — said she'd "have to start wondering where Izzie is. Like, what is she doing? Where did she go?"
Heigl, of course, has her own theories. Noting that she "would hope that [Izzie] pursued her [medical] career," after leaving Seattle, the 27 Dresses actress hypothesized that her character "could have children by now ... She could be married."
Just as she admitted to TVLine that "Alex needed to find love — true love," Heigl thinks Izzie would be equally supportive. After all, her character is the one who sent him divorce papers by mail on the ABC hit medical drama. "If she has moved on, then I would expect Izzie to be very happy for him," Heigl told TVLine. "She would want him to be happy."
But if Izzie hadn't found her "person" yet? "She'd be jealous [of Jo] for sure, right?" Heigl joked to the publication. "She'd want him to hold out for her."
While her character's onscreen exit was left up in the air to viewers, Heigl's own contentious departure from the show played out very publicly. As fans well remember, Heigl won the Emmy for Outstanding Supporting Actress in 2007. Then, the actor, who was one of Grey's OG cast members, famously withdrew her name for Emmy consideration in 2008. Citing that she was given lackluster storylines that season, she told the Los Angles Times, "I did not want to potentially take away an opportunity from an actress who was given such materials."
In a 2012 interview with Oprah Winfrey, Grey's creator Shonda Rhimes said the following about Heigl's comments: "On some level it stung and on some level I was not surprised. When people show you who they are, believe them. I carry that [mantra] with me a lot. It has served me well."
Thus began a reported feud with the Rhimes, and after going through a series of onscreen misfortunes, including a brutal cancer battle, Heigl made her last appearance on the series in January 2010.
Reflecting on the situation in a 2016 interview with Howard Stern, Heigl said that she did regret the move, however, and feeling "really embarrassed," she apologized to Rhimes. She recalled:
I went in to Shonda and said, 'I'm so sorry, that wasn't cool; I should not have said that. I shouldn't have said anything publicly, but at the time I didn't think anybody would notice; I didn't think that journalists would see who submitted and who didn't. I just quietly didn't submit. And then it became a story and then I felt I was obligated to make my statement."
With the controversy now basically a decade old, Heigl is suiting up for her next role. Beginning July 18, the Knocked Up actress will play lawyer Samantha Wheeler on USA Network's legal drama Suits, filling the hole left by now-Duchess of Sussex, Meghan Markle. "I'm a giant fan of the show, and the actors, and what they do and the stories," Heigl gushed in a May interview with E! News host Giuliana Rancic. "So, I get to walk into something I know I already love and it's just been thrilling."
Still, no matter what roles Heigl goes on to play in the future, fans will always remember her as Grey's Anatomy's Dr. Izzie Stevens and are sure to be interested to hear where she may be today.