Joe Biden Is The Most Qualified Person To Be President In 2020, According To Joe Biden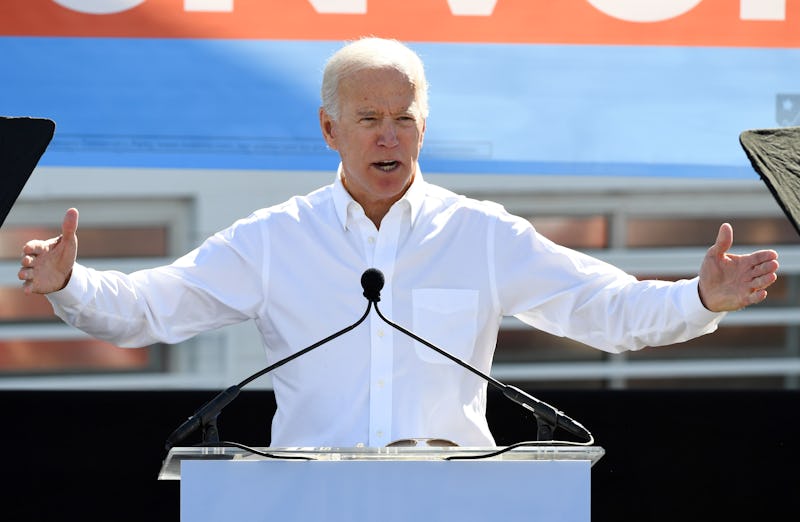 Ethan Miller/Getty Images News/Getty Images
Although he was officially in town to promote his new book, it's what Joe Biden said about 2020 that drew people's attention a recent event in Missoula, Montana. The former vice president expressed supreme confidence in his qualifications to be America's next Commander-In-Chief, and in fact, explicitly said that nobody is as qualified as him.
"I think I'm the most qualified person in the country to be president," Biden said Monday while promoting his new book Promise Me, Dad, according to the Missoula Current. "The issues that we face as a country today are the issues that I've worked on my whole life — the plight of the middle class and foreign policy."
Of course, the first votes in the next Democratic presidential primary won't be cast for more than a year. But this hasn't stopped pollsters from asking Democrats which candidate they prefer to challenge Trump in 2020, and in those surveys, Biden regularly leads the pack. Most recently, a November Reuters/Ipsos poll found that 29 percent of Democrats support Biden in 2020, with Sen. Bernie Sanders in second with 22 percent.
But despite his strong position and obvious desire to become president, Biden stressed that "my family and I need to decide as a unit whether we're ready" for him to run in 2020.
"We do everything as a family," he said.
Biden said in Montana that he'll decide within the next two months whether or no to mount what would be his third presidential campaign, according to CNN.
"I have two young grandchildren my son left who love me and adore me and want me around. I want to be there to take care of them, so we've got to figure out whether or not this is something we can all do as a family," he said. "We're going to make that decision in the next six weeks to two months, and that's the basis of the decision."
Biden came close to running for president in 2016, but decided not to on account of the death of his son, Beau, from cancer. This was the third sudden death in Biden's immediate family during his political career; his first wife and daughter were killed in a car crash in 1972, after he won his first election to the Senate but before he had been sworn in.
If Biden runs in 2020, it will be his third presidential campaign after failed runs in 1988 and 2008. He acknowledged on Monday that his reputation as a "gaffe machine" could hurt him in another national election — but also said that, when running against Trump, his gaffes could be a source of strength.
"I may be a gaffe machine, but my god, what a wonderful thing compared to a guy who can't tell the truth," Biden joked. "No one doubts what I say — the problem is, I sometimes say all that I mean."
Sen. Elizabeth Warren, who could find herself running against Biden for the Democratic nomination in 2020, was asked Tuesday whether or not she agrees that Biden is the most qualified person in the country to be president.
"I think the vice president has many wonderful qualities," Warren responded. "I'm glad to hear he's out talking about them."