Princess Eugenie's Personal Connection To Her Charity Work Is So, So Heartwarming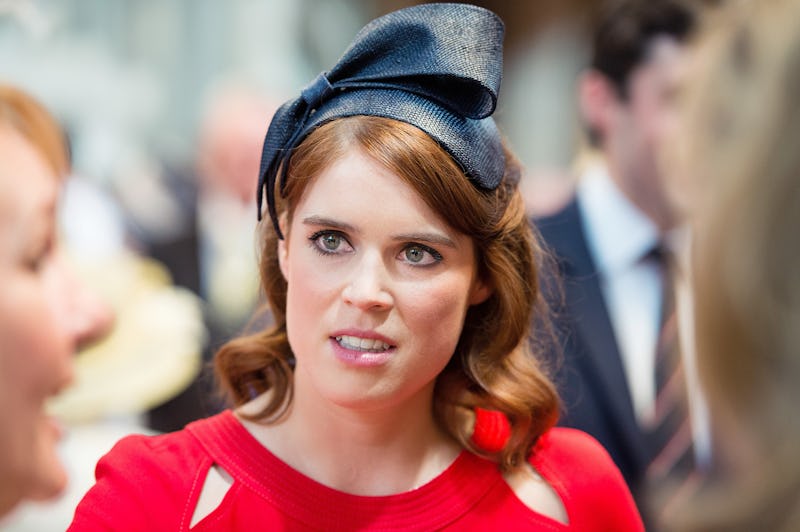 Jeff Spicer/Getty Images Entertainment/Getty Images
Princess Eugenie may not technically be a working royal, but she certainly has the workload of one. Like the rest of her relatives, she uses her powerful platform to raise awareness for a number of charities that support everything from Asian elephants through to budding young medical talents. So, what kind of philanthropy does Princess Eugenie do? The short answer is that she basically does it all, which is nothing short of a miracle given that she has to juggle her day job in the art world as well.
According to Eugenie's official royal profile, she's a patron for a number of charitable efforts which touch on medical progress, artistic endeavours and the environment. While I'm sure she believes strongly in all the charities she supports, there's a few initiatives that are incredibly personal to her.
For example, she works very closely with the Royal National Orthopaedic Hospital in Stanmore — a place she spent some time in as a patient when she was younger. At twelve years old, she underwent back surgery as part of treatment for her scoliosis (a condition where your spine curves), and she's supported the hospital ever since.
According to her profile, she is "keen to support others going through similar treatments" and became a patron of the National Orthopaedic Hospital's Redevelopment Appeal back in 2012. It turns out that a part of the hospital will actually be named after her, an "accommodation unit" called Princess Eugenie House.
She took to Instagram recently in support of the charity for International Scoliosis Awareness Day, sharing an X-ray of her spine and the titanium rods placed in it below.
In the caption, she added a link to a personal essay she'd written about her experience at the hospital and her scoliosis treatment which included an eight hour surgery, three days in intensive care, and a week of recovery.
"I'm living proof of the ways in which the hospital can change people's lives," she wrote on the charity's website. "It's because of what the RNOH has done for me that I'm so enthusiastic about being Patron of its Redevelopment Appeal, and giving my name to its new state-of-the-art facility, Princess Eugenie House."
Beyond sharing her own experience, she also took place in a cycling fundraiser called Nightrider to raise money for the charity back in 2012. According to The Daily Mail, she cycled for 63 miles over seven hours and raised £9,000 for the hospital.
More recently, Princess Eugenie also joined her sister Beatrice and mother Sarah "Fergie" Ferguson as a patron to the Teenage Cancer Trust in 2016. In a post on Instagram, she praised the charity for its "important work" in supporting young children battling cancer.
According to the trust's website, it's "the only UK charity" aimed at aiding young people diagnosed with cancer and their efforts span everything from providing specialised cancer units, group events for those all fighting the same fight and resources for those who need more guidance.
Beyond providing support to those afflicted by illness, Eugenie is also involved in helping the next generation of medical specialists. Last April, she became a patron of the European School of Osteopathy which her royal profile calls "a world renowned provider of high quality osteopathic education available from undergraduate and up to postgraduate levels."
It's no surprise that Princess Eugenie also backs a lot of artistically-minded charities, as she's incredibly involved in the art world. By day, she works as the associate director for art gallery Hauser & Wirth and she's brought her passion for the creative industries to her philanthropic efforts as well. Earlier this May for example, she became a patron of the Tate Modern for their Tate Young Patrons programme.
According to her site, the initiative supports a "group of collectors, philanthropists and art enthusiasts aged under 40, who contribute to conserving historic works, acquiring new works for the Tate collection and supporting education and learning programmes."
In an Instagram post, she said, "This institution does remarkable work for the arts and I'm very proud to begin working with them."
Beyond art, she also serves as a patron of the Coronet Theatre — a gig she's had since November, 2016. Eugenie also does her bit to save the environment, working with Elephant Family — a charity that dedicates its efforts to saving Asian elephants and their habitats — alongside some of her royal relatives.
She serves as an ambassador for Project 0, an initiative which aims to "restore and protect the ocean" with the help of experts, passionate individuals, ocean scientists and a handful of celebrities. Earlier this June, she helped kick off the charity's joint project with Sky Ocean Rescue in which a massive whale called Plasticus was placed in Carnaby street, crafted completely out of single use plastic.
"I'm so excited to have recently become an Ambassador of Project 0 whose aim is to restore and protect the ocean," she wrote in an Instagram post of her standing before the sculpture.
And finally, she's also set up her own human rights charity called the Anti-Slavery Collective with her close friend Julia de Boinville. She and de Boinville revealed in an interview on the charity's official Instagram that the goal of the charity was to raise awareness about the issue on a global scale.
She said, "[The goal of the Anti-Slavery Collective is] convening people to a website where we can hear these credible stories, we can share data...it should be a way for all kinds of people to look at [data and stories] from millennials to businesses to religious leaders, we want everyone to use it to come together."
Since its launch, she's campaigned on behalf of the charity to organisations such as the United Nations. That's rather a lot of good work, but it still isn't the end of Princess Eugenie's philanthropic efforts, as every now and again she's been known to lend her voice to other charities that her relatives are associated with. (And believe me, there's hundreds of charities that the royal family take an interest in.)
So don't let anybody tell you the royal family don't pull their weight. As Eugenie proves, they do a lot of work lifting up the voices of those who need it.