The Las Vegas Shooter Reportedly Had A "Cache Of Weapons" With Him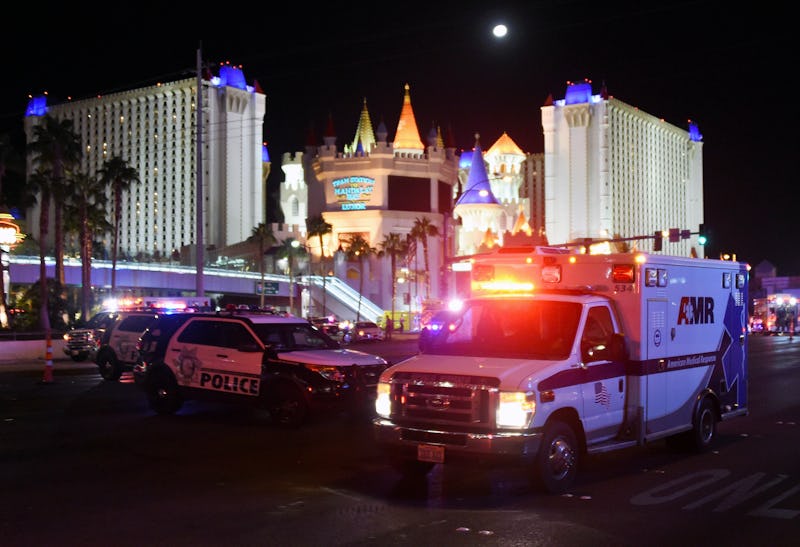 Ethan Miller/Getty Images News/Getty Images
Late on Sunday night, a gunman opened fire on a crowd of thousands of concertgoers in Las Vegas, Nevada. So far, at least 50 people are reported dead, and over 400 injured, making it the deadliest mass shooting in U.S. history. According to authorities, the shooter fired down on a country music festival on the Las Vegas Strip from the 32nd floor of the Mandalay Bay Resort and Casino. Although it remains unclear exactly what type of weapons were used in the Las Vegas attack, Las Vegas Metropolitan Police Sheriff Joseph Lombardo said that upon entering the shooter's hotel room, authorities found "a cache of weapons, including 10 rifles."
Most of the victims were attending Route 91 Harvest festival, a three-day country music festival which drew around 30,000 attendees this weekend. Approximately 22,000 people were believed to be in attendance Sunday night. The open-air concert venue was across Las Vegas Boulevard from the Mandalay Bay Resort and Casino where the shooter was staying. The gunman began firing down at the crowd across the Strip as singer Jason Aldean, the final performer of the night, was playing.
Initial reports suggest the shooting went on for as long as 10 to 15 minutes. SWAT teams entered the hotel, where they found the gunman dead. So far, police say they believe the shooter acted alone.
According to CNN's law enforcement analyst James Gagliano, audio and video recordings of the shooting suggest the gunman used military-style automatic weapons.
Automatic weapon(s) like that — had to be numbers of magazines or a very large drum, it sounded to me like a belt-fed weapon, a military-style weapon and then to be shooting down, to use the analogy, it was like shooting fish in a barrel in that space.
While details of the shooting are still emerging, the horrific events of Sunday night are already raising questions about guns in the United States, with many gun control advocates calling once again for a ban on assault weapons. There was a law in place banning the sale of assault-style weapons from 1994 to 2004, but the ban was not renewed, in part because it had little impact on the homicide rate in the U.S.; indeed, the majority of Americans murdered by guns every year are killed by handguns.
Still, handguns are not able to inflict anywhere near the amount of carnage an assault weapon can in the same amount of time. Because they are capable of firing an enormous amount of ammunition in a limited period of time, and with high-levels of accuracy, assault-style rifles are particularly deadly in mass shootings. According to a database compiled by Mother Jones, assault-style weapons have been used in 14 public mass shootings since 2006, including the 2012 attacks in Newtown, Connecticut, and Aurora, Colorado, which killed 28 and 12 people respectively; the 2016 attack in San Bernardino, California, which killed 14 people; and last year's massacre at the Pulse nightclub in Orlando, which left 49 people dead.
Nevada has some of the most permissive gun laws in the United States. It is an open carry state that does not require that gun owners have licenses or register their weapons with the government. There is no waiting period to purchase a gun, nor are there any restrictions on the number of firearms an individual can possess, or any limit on the amount of ammunition a person can buy at a time.
Meanwhile, in Washington, D.C., a series of pro-gun bills are making their way through Congress, including one which would make it easier to purchase gun-silencers, and one which would allow concealed carry holders to carry their weapons into other concealed carry states.
Here are some ways you can help the victims in Las Vegas.