What Kirsten Gillibrand Has Said About 2020 Hints A Presidential Run Is On Her Mind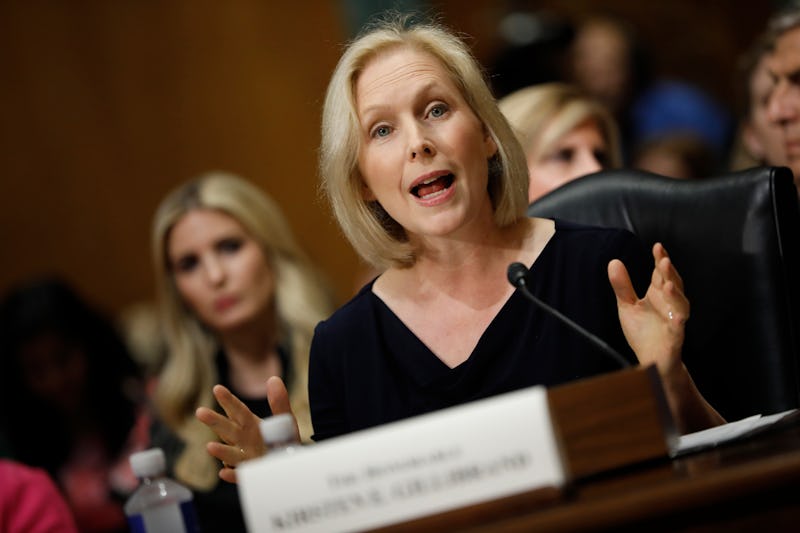 Aaron P. Bernstein/Getty Images News/Getty Images
Although it may feel like 2016 was just yesterday, there's another presidential election cycle just around the corner. One high-profile New York senator has been floated as a potential Democratic contender, but what Kirsten Gillibrand has said about 2020 doesn't necessarily indicate she's going to jump into a presidential campaign — though it's definitely on her mind.
Sen. Gillibrand has, at times, said that she is considering a run. Like many elected officials, she only offers this information when asked directly, which has happened more and more frequently in the two years since President Donald Trump was elected into office.
"I do think it's an important question," she told Stephen Colbert early in November 2018, when he asked her about a potential presidential run, according to CNN. She continued:
I believe it is a moral question for me ... And as I've traveled across my state, across this country for all these candidates, I've seen the hatred and division that President Trump has put out into our country and it has called me to fight as hard as I possibly can to restore the moral compass of this country.
Gillibrand was just reelected in November's midterm elections, and she has said that she plans to complete her next term in the Senate. ("I want to be senator for the next six years," she told The New York Times.) But, as the Times pointed out in the very same report, Gillibrand spent remarkably little money on her reelection, relative to what she spent on her election in 2012. This, the Times points out, could potentially be because she's saving money for a 2020 presidential bid.
In spite of her proclamation about being a senator for another six years, after her reelection, Gillibrand told CNN that she was thinking "long and hard" about whether or not she would run in 2020. However, it's important to keep in mind that her intention to finish her upcoming term isn't necessarily mutually exclusive with a presidential run if she were to, say, run in 2024.
If Gillibrand were to announce that she planned to run for the presidency in 2020, she would risk defining herself as a presidential candidate for two solid years, which could distract from any meaningful work she wants to get done in Congress. And indeed, she told New York magazine in October that her work in the Senate was her priority, because much is at stake there within a much shorter span of time.
"The issues are so urgent," she told the magazine, pointing to topics like health care, education, jobs, Title IX, and workforce training. "I think anybody who's mentioned, those considerations will be after the elections," she said, "because if we don't do this right, we won't get to do anything right in the future."
Because there is so much attention put on whether or not she will attempt to run against Trump, Gillibrand hasn't been as vocal about who she would like to see take on the president, if she weren't to do so herself. But she has made clear, through her actions and her platform, that she believes it's important to combat the president's agenda, as well as his policies. So whether it's another Democrat or whether it's her personally, when it comes to 2020, Gillibrand will definitely support a candidate who runs counter to President Trump. That much is clear.